Music Community Remembers Ken West, Big Day Out Co-Founder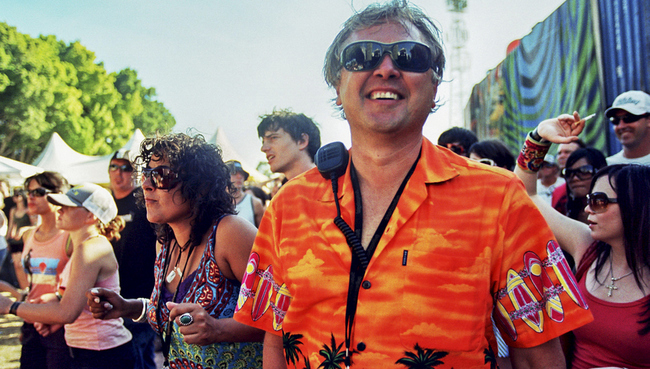 Ken West, co-founder of the Big Day Out, is being remembered as a mentor, a music man, and a party animal, whose instinct for a good show helped change the face of music festivals in Australia. 
West created the Australasian touring juggernaut, a brand known the world over which, at its peak, sold more than 330,000 tickets in a single year, and built countless side-shows for those acts who made the long haul to these parts, as a means to give them access to more fans.
The promoter died Thursday (April 7) at the age of 64.
Frontier Touring tour director Sahara Herald leads tributes to West. 
"Utterly heartbroken. I spent the best part of two decades on a daily basis with Ken, he was my friend, my advocate, my inspiration, my mentor and on the odd occasion my tormentor too. I was even Best Man at his wedding," she writes on social media.
"We did bloody great things together, and his vision changed the face of Australian live music. I will miss him terribly. This photo is of one of the happiest nights of my life, in Ken's Blue Bear suit that he lent me so I could at his insistence dance on stage with the Flaming Lips at BDO 2004."
Adam Zammit, former owner of The Music Network, now part of The Brag Media, paid respects to his good friend.
"We lost Ken West last night. Ken was quite simply, the most important man I ever had in my life. He was a beautiful man of abstractions, enormous ideas and endless generosity and support for those closest to him," he writes.
West "leaves behind his loving wife Cathy, his son Oliver and a million music fans he gave a billion wonderful memories too. Thank you Westy. I love you so much and will miss you for eternity. My heart breaks for all my friends who knew and loved Ken so much too."
Johanna Greenway remembered West, and how he "encouraged, empowered, inspired and made so many of our minds dance in different and amazing ways. Our fearless leader truly changed our lives, he made us fearless, made us feel that we can do anything. I hope we never let Westy's spirit die. "
Bluejuice co-founder Jacob Stone writes, "I'm in awe of what he achieved. This man created a generation-defining festival, and hosted the best and biggest acts in the world."
Bluejuice, he continues, "were lucky enough to play BDO over four years, to thousands of people. I'm so grateful to Ken, and the whole crew for those tours."
"He lived 1000 lives in 64 years," writes Grinspoon's Phil Jamieson. "He gave so much not only to me, but to thousands of music fans."
He lived 1000 lives in 64 years. He gave so much not only to me, but to thousands of music fans. My first festival experience was 94 @bigdayout – I then was lucky enough to play at over 20 of them. The loss is indelible & hard to comprehend, thank you for everything Ken West xxx

— Phil Jamieson (@philjamieson) April 7, 2022
Bad news travels fast. Legendary British singer and songwriter Billy Bragg remembered West and the BDO. "Ken made the whole thing like a party for punters and artists alike. UK bands called it the Big Day Off. Lots of fun memories hanging with Ken and the BDO crew. So long mate."
Sorry to hear of the sudden death of Ken West, founder of the Australian touring festival the Big Day Out. Ken made the whole thing like a party for punters and artists alike. UK bands called it the Big Day Off. Lots of fun memories hanging with Ken and the BDO crew. So long mate

— Billy Bragg (@billybragg) April 7, 2022
West and his business partner Viv Lees were the brainstrust behind the BDO, which toured Australia and New Zealand from 1992 through to 2014.
Every important act in the alternative music world played the traveling one-day fest, from The Prodigy to Nirvana, Rage Against the Machine, Nick Cave and the Bad Seeds, Red Hot Chili Peppers and many more.
The BDO would become know as the "Big Day Off" by many of its assembled artists, its hot, summery route, often close to the beach, a world away from the northern winter they'd escaped from.
Starting small with a single event playing out in Sydney in 1992, the BDO would, in time, expand to a six-city roadshow with a leg in Auckland.
At its peak in 2009, the tour drew an estimated 335,000 fans across the country and contributed to an unusual post-Christmas sales spike, an anomaly for any music market.
All good things must come to an end. Lees dropped a bombshell when he split with West, leaving his colleague to piece together – and carry the burden – for the BDO's 20th milestone show.
As festival-land entered a state of flux, BDO found itself under pressure from every side. West's iconic brand later struck a partnership with C3 Presents, the U.S. promoters of Lollapalooza and Austin City Limits Music Festival, but the finish line was in sight.
The famous festival was last presented in 2014.
Earlier this year, in January, West announced a new project, a book to mark the 30th anniversary of the inaugural Big Day Out.
The website at kenfest.org was meant to be a repository for thousands of photos, artwork and documents, all updated by West.

"I wanted to share some crazy memories to hopefully brighten up what continue to be sad days, especially for the producers, artists, workers and fans in the music world," he explained in an email earlier in the year.

"It was a different world, still innocent but very intense. It was also a lot of fun. The Big Day Out for me was life-changing, and the first six years were the heart and soul of a great adventure."
News of his dead with confirmed in a statement issued Friday morning. "We bring unfortunate news that, Ken West; a father, husband, mentor and most of all a legend, has passed away peacefully in his sleep on the morning of the April 7, 2022," the message reads. 
"Our family would appreciate respect and privacy during this difficult time. Ken was big and noisy in life, but passed quietly and peacefully."
West is survived by his wife Cathy, son Oliver.
This article originally appeared on The Industry Observer, which is now part of The Music Network.
The Music Network
Get our top stories straight to your inbox daily.