Sweat, drugs and rock 'n' roll: Ken West remembers Big Day Out on 30th anniversary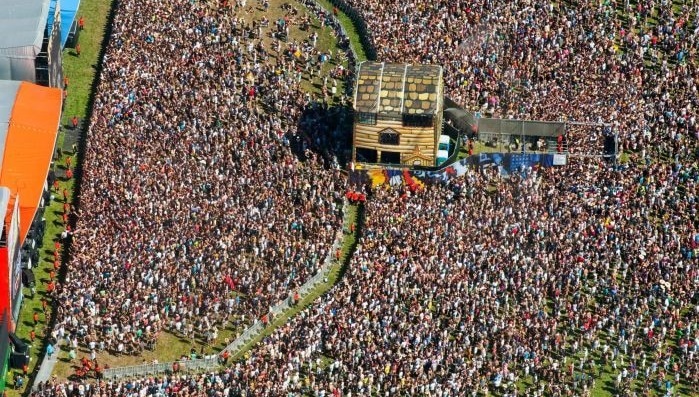 Everyone has a Big Day Out memory, though most are turning hazy with each turn of the calendar.

For some, it was The Prodigy playing in the sauna that was the Gold Coast leg's Boiler Room.
Or a young Daniel Johns, with his back turned to an enormous crowd for the coming-out party that was Silverchair's 1995 Sydney show. Perhaps Rage Against the Machine telling us that, "fuck you, I won't do what you tell me," and igniting a spark among tens of thousands of hot-headed teens and 20-somethings.

No one has more memories than Ken West.

Today, Jan. 25, marks the 30th anniversary of BDO, a moment that isn't lost on the touring festival's co-founder and creator.

West is opening the vault and publishing the memory banks, in the form of an evolving online document at the newly-launched KenFest.org, a nod to the event's working title.
The website will, over time, become a repository for thousands of photos, artwork and documents, says West, who has compiled a playlist to accompany his tales.

"I wanted to share some crazy memories to hopefully brighten up what continue to be sad days, especially for the producers, artists, workers and fans in the music world," he explains in an email.

"It was a different world, still innocent but very intense. It was also a lot of fun. The Big Day Out for me was life-changing, and the first six years were the heart and soul of a great adventure."

BDO wasn't just about the music – and there was a lot of that.
It was a summer ritual with mates, a rite of passage. An experience, shared.

West shares the first fruits of his efforts by way of several chapters recounting those thrilling early years, with context, origin stories, anecdotes and, of course, sweat, drugs and rock 'n' roll.

Among the tales, an unforgettable scene when, in 1992, West realised he'd underestimated Nirvana's pulling power.

"Soon we were facing the reality that the Hordern, with a 6,000 capacity but with 10,000 people on site we were going to have problems with Nirvana. By that time, they were literally number one worldwide & even with two other stages operating it was obvious that virtually everyone wanted to see them," he writes in chapter 21, "1992 – Build a Better Mousetrap."


What transpired, was a story that will outlive us all.
"The fire hoses were on the audience, Nirvana was amazing and the best live radio cross ever happened mid-set. Helen Razor from triple J was in the mosh pit, simply phoned up the station & held the clunky phone in the air. It sounded rough but incredible, this was also just as the station had gone national."

For West, the night flamed out in rock 'n' roll fashion. "Soon after Nirvana's set, thanks to sleep deprivation and a pot cookie Duckpond gave me I lost it and was sent home babbling. I didn't even get to see the Femmes finish."
The BDO would, in time, expand to a six-city roadshow with a leg in Auckland. At its peak in 2009, the tour drew an estimated 335,000 fans across the country and contributed to an unusual post-Christmas sales spike, an anomaly for any music market.
For overseas visitors, it carried the nickname "Big Day Off," such was its great sunny adventure.

All good things must come to an end. Co-founder Viv Lees dropped a bombshell when he split with West, leaving his colleague to piece together – and carry the burden – for the BDO's 20th milestone show.
As festival-land entered a state of flux, BDO found itself under pressure from every side. West's iconic brand later struck a partnership with C3 Presents, the U.S. promoters of Lollapalooza and Austin City Limits Music Festival, but the finish line was in sight.
The famous festival was last presented in 2014.
Read West's insights into the first six years of BDO here.
This article originally appeared on The Industry Observer, which is now part of The Music Network.
The Music Network
Get our top stories straight to your inbox daily.