K-POP superstars BTS made an indie Australian duo famous overnight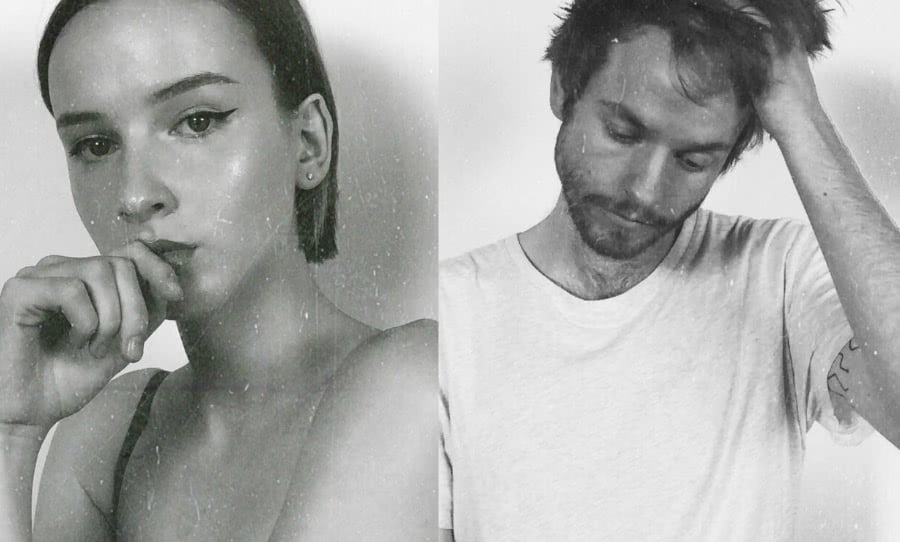 BTS had quite the year in 2018. The Korean boy band owned it at every station, leading the Billboard 200 Albums Chart with two titles Love Yourself: Tear and Love Yourself: Answer (no other K-pop group has cracked the top 10), burning up the box office with a concert film, and setting social media alight.
Their ubiquity is constant, and without warning, thanks to their aptly-named fanbase, the ARMY. If bandmate Jimin raised an eyebrow in a music video, #BTSARMY was on it.
Australian duo Chymes got a BTS shoutout and found themselves in a full-blown ARMY assault. A wave of social media fan-love rushed the young band, their social and streaming numbers exploded in quick-time.
It was a dream ride and no one saw it coming. With fresh confidence and a brand new arsenal, the duo and their band are strapped in for the next chapter.
Chymes are singer and songwriter Kiersten Nyman and producer Cameron Taylor, an early-20s pair from the New South Wales' Central Coast with a small, but sweet collection of dreamy, electro-pop bedroom creations.
In 2016, Chymes announced themselves with "Grow," a four-track EP which showcased their atmospheric, dreamy sound and grabbed the attention of selectors at Triple J's Unearthed. A string of singles dropped in the following years, "Bloom," "All Time Low,"  "Shade" and "Dreaming," all building on Chymes' understated indie productions.
The latter of those found the ultimate champion in Jeon Jung-kook, better known to his millions of fans as Jungkook, or just JK, songwriter, producer and main vocalist with BTS.
Perhaps feeling the festive spirit, Jungkook showed his love for "Dreaming." On Dec. 22, he grabbed a screenshot of the track from Apple Music and shared it on the official BTS Twitter account, which counts more than 17.7 million followers.
Chymes have been dreaming ever since. In a matter of days, the tweet earned more than 1.18 million "likes" and over 350,000 retweets, with engagement numbers still growing.
Chymes' Twitter following ballooned from just under 130 on December 2 to more than 10,700 in under two weeks. There's also been a huge spike on their digital streaming platforms with the Aussies impacting the Spotify Top 50 Viral Charts in several countries, including Japan, Malaysia, Turkey and Thailand.
Two of Chymes' songs – "Dreaming" (No. 2) and "Oracle" (No. 1) – placed at or near the top of the Korean digital streaming platform Melon, proof that followers are actually engaging with Chymes and their music.
#JK#Dreaming pic.twitter.com/XDmqXlCuIS

— 방탄소년단 (@BTS_twt) December 21, 2018
Over a seven-day period, Chymes enjoyed more than 10.2 million tweet impressions, upwards of 14,300 mentions and over 1.02 million profile visits. The BTSArmy clamoured for BTS to collaborate with the Aussie duo and the storm was pushed forward with fan-made videos. It was the best Christmas present of all time.
HELLO IS THIS REAL??? https://t.co/jcw580RbCc

— Chymes (@chymesau) December 21, 2018
"We actually thought it wasn't real," Nyman recounts to TIO. Though the flow of thousands of welcoming tweets and DMs made it very much real.
"It's so weird to think that someone of that calibre thought our music was good enough to share to millions of their fans. It also was a huge confidence boost. A dream come true."
The action spilled out on Chymes Spotify, where the group has nabbed more than 141,000 monthly listeners.
Over on their YouTube channel the duo added 2,100 new subscribers; and on Instagram, 1,500 new followers flock to their account in just three days.
Chymes is now intrinsically linked with BTS. The aftermath on Spotify and the streamer's algorithms have now connected them with K-pop's biggest stars.
our song #Dreaming went up 200k streams on @Spotify since #JK @BTS_twt tweeted about it ?? thank u guys for showing us so much love and support – and of course thank u to Jungkook ?? can't wait to show u guys what we've got for 2019 ?? pic.twitter.com/73739Ov5fU

— Chymes (@chymesau) December 30, 2018
The entire experience was "literally a dream," explains Chymes manager Sarah Miller of management company Be Like Children.
"I mean, you never think something like this will happen to you. This only happens to the Justin Biebers and 5 Seconds of Summers', right?! Once it was confirmed real by the #BTSARMY, it was an emotional rollercoaster of shock, excitement, gratitude, and then around again."
With everything moving so fast, Chymes pounced on their surprise gift. They returned the favour with an acoustic video of BTS' "Euphoria" on Boxing Day, with the promise of a fully-formed studio cut later this week.
The cover has enjoyed more than 240,000 views on Twitter alone.
"Hopefully all of this momentum will call for Chymes to do some shows in Korea," Miller says.
For Nyman and Chimes it's just the start. But what a start.
"Hopefully we can meet JK — and the whole band — to say thank you. We can't wait to show everyone where we take our music this year."
This article originally appeared on The Industry Observer, which is now part of The Music Network.
The Music Network
Get our top stories straight to your inbox daily.