Jeremy Neale edges out Amy Shark, claims Song of the Year at Queensland Music Awards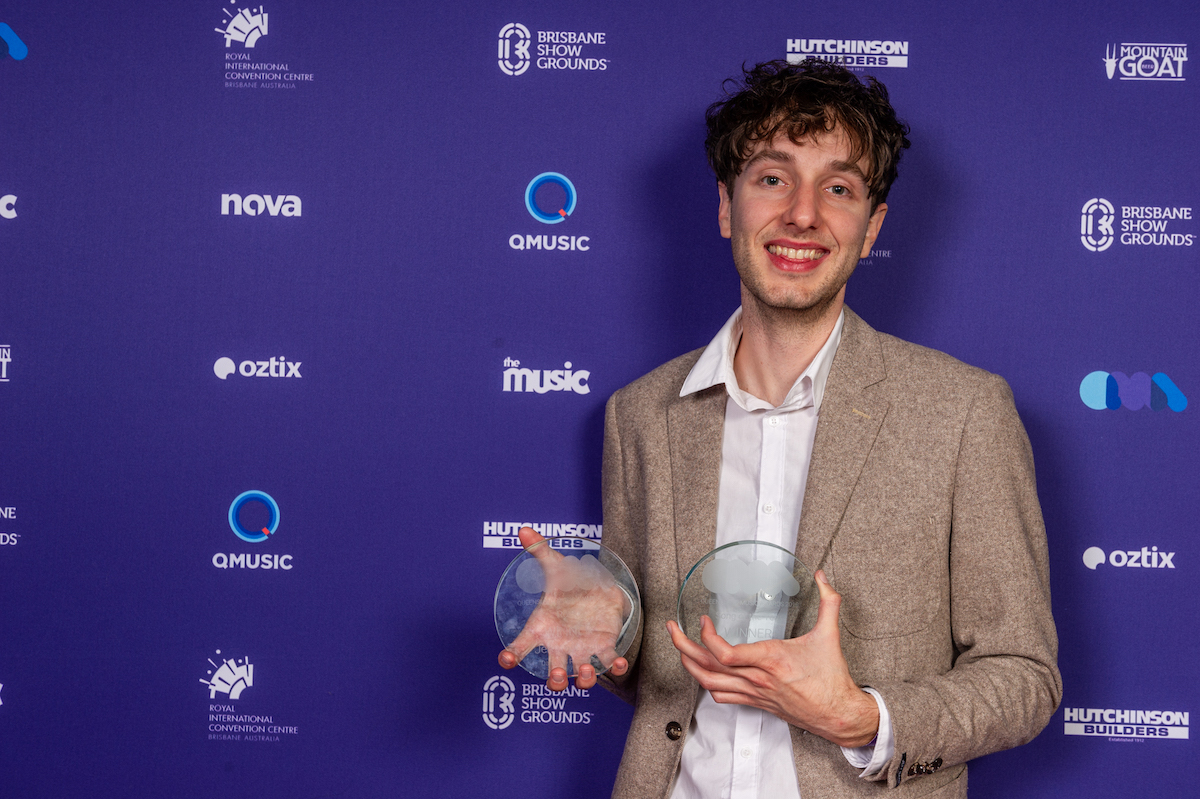 Last night's Queensland Music Awards proved to be a celebration of both anticipated winners and some surprise names, with  Amy Shark, The Jungle Giants and Jeremy Neale among the artists receiving gongs.
Coming off the back of her Vanda & Young songwriting competition win, Gold Coast local Amy Shark picked up five accolades in total, including the Pop genre, Regional and Singer-Songwriter and Highest Selling Single awards. The 32-year-old was also received the 2018 Export Achievement Award, recognising the international success of her breakthrough song 'Adore'.
But one of the best surprises of the night was saved until last, with Brisbane singer-songwriter Jeremy Neale handed the coveted Song of The Year trophy for 'Dancin' & Romancin', along with a prize pack worth $20,000.
Despite receiving little radio play across the country, the track while was recognised by the judging panel to be the best effort among the other genre winners after taking out the Rock category.
"I couldn't be happier and am still in disbelief," Neale told TMN.
"I hold the Queensland Music Awards in such high regard and to be honoured with these awards really is a dream come true."
Neale was recently named the latest recipient of the Grant McLennan Fellowship and is soon to embark on a three-month songwriting scholarship to New York.
Other big names to receive awards on the night include The Jungle Giants (Album of The Year for Quiet Ferocity) and Greta Stanley, who received the 2018 Billy Thorpe Scholarship and scores $10,000 prize to put towards recording her next release.
"Greta is turning heads with her youthful, electric and emotional songs, and with the support provided through this prize Greta will continue to grow musically, collaborate and keep writing," Queensland Arts Minister Leeanne Enoch said.
This year also saw the Queensland Music Awards recognise contributors to the local music scene beyond just the artists themselves, with The Big Pineapple Music Festival, Brisbane's The Tivoli and Maroochydore's Solbar all honoured.
The full list of winners is below.
2018 Queensland Music Awards winners
SONG OF THE YEAR
Jeremy Neale
Song: Dancin' & Romancin'
Songwriters: Jeremy Neale
ALBUM OF THE YEAR
The Jungle Giants
Album: Quiet Ferocity
POP
Amy Shark
Song: Weekends
Songwriter: Amy Shark
ROCK
Jeremy Neale
Song: Dancin' & Romancin'
Songwriter: Jeremy Neale
ELECTRONIC / DANCE
The Kite String Tangle
Song: The Prize (feat. Bridgette Amofah)
Songwriters: Daniel Harley, Michael Tighe
BLUES / ROOTS
Karl S. Williams
Song: Blood to Give
Songwriter: Karl Williams
HEAVY
The Brave
Song: Ethereal
Songwriters: Nathan Toussaint, Daniel Neucom, David Mead, Brett Thomson, Kurt Thomson, Jonathon Deiley
JAZZ
Trichotomy
Song: Asset or Liability
Songwriter: Sean Foran
SCHOOLS
Xander Holmes
Song: Something Real
Songwriter: Alexander Holmes
INDIGENOUS
Emily Wurramara
Song: Ngarrukwujenama
Songwriter: Emily Wurramara
HIP HOP / RAP
Crooked White
Song: Put Me On
Songwriter: Zac Eakin
COUNTRY
Brad Butcher
Song: Well Dressed Man
Songwriter: Brad Butcher
WORLD / FOLK
Sue Ray
Song: Junior Was His Name
Songwriter: Sue Ray 
SINGER-SONGWRITER
Amy Shark
Song: Weekends
Songwriter: Amy Shark
SOUL / FUNK / R'N'B
Eleea 
Song: Without You
Songwriters: Eleea Navarro, Chris Naughton
REGIONAL
Amy Shark
Song: Weekends
Songwriter: Amy Shark
VIDEO
WAAX
Video: Same Same
Filmmakers: Greg Kelly, Pernell Marsden
2018 BILLY THORPE SCHOLARSHIP
Greta Stanley
GRANT MCLENNAN LIFETIME ACHIEVEMENT AWARD
Chad Morgan
2018 People's Choice Awards
METRO VENUE OF THE YEAR
The Tivoli (Brisbane)
REGIONAL VENUE OF THE YEAR
Solbar (Sunshine Coast)
FESTIVAL OF THE YEAR
The Big Pineapple Music Festival
2018 EXPORT ACHIEVEMENT AWARD
Amy Shark
HIGHEST SELLING SINGLE
Amy Shark
Song: Adore
HIGHEST SELLING ALBUM
Keith Urban
Album: Ripcord
The Music Network
Get our top stories straight to your inbox daily.