Indie-Con Australia & AIR Awards to go ahead next week as online-only events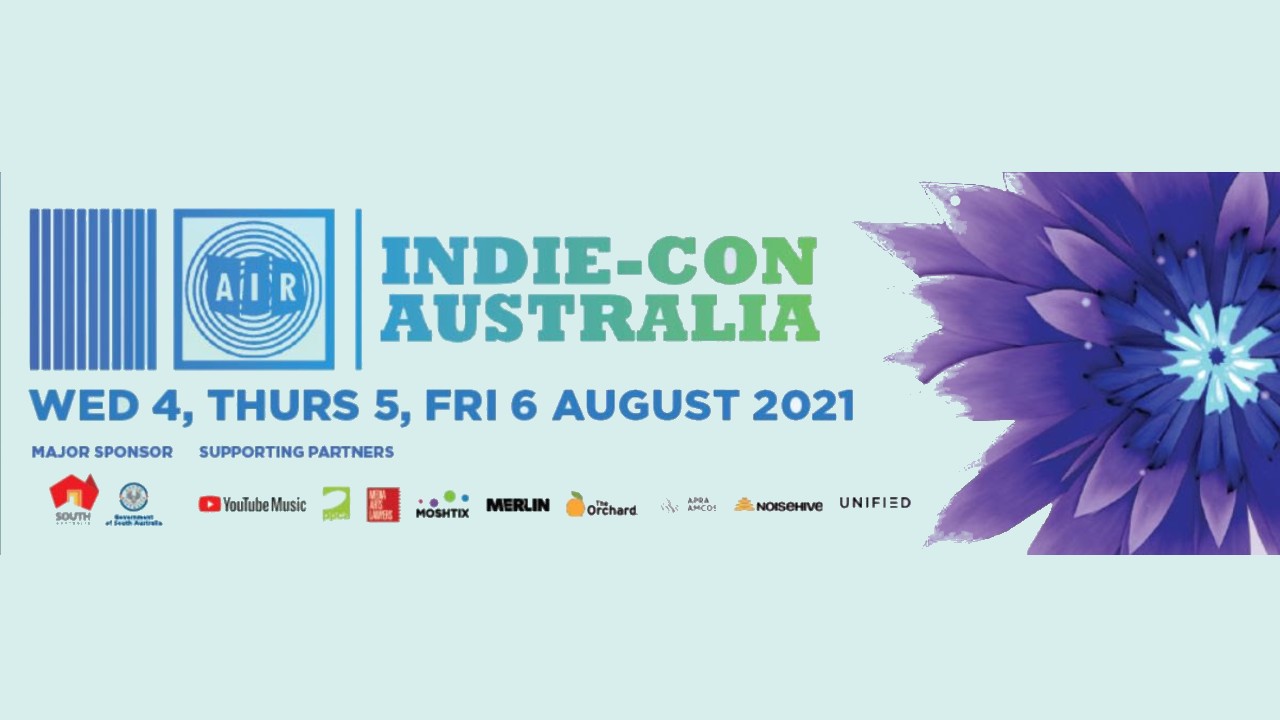 A week out from its intended kick-off date, the Australian Independent Record Labels Association (AIR) has announced that Indie-Con Australia and the 2021 AIR Awards will be both held as online events.
Initially scheduled to be held as a hybrid event at Adelaide's Freemasons Hall between Wednesday 4 – Friday 6 August, the conference will now shift to a fully virtual setting due to Australia's ongoing COVID-19 situation, with all physical presentation now being allocated to its online portal.
Covering everything from NFTs and live-streaming through to licensing, start-ups and beyond, this year's Indie-Con will feature a range of discussions with industry professionals, independent label heads and prominent Australian artists and producers.
Speakers involved in this year's summit include Jessica Ducrou (Dew Process, Secret Sounds), Joshua Simons (Vampr, US), Jaddan Comerford (UNIFIED Music Group), Anthony Zaccaria (Linktree, Bolster), Sarah Guppy (This Much Talent, Gig Life Pro) and Linda Bosidis (Mushroom Group).
A series of live networking sessions have also been built into this year's program, while on-demand presentations from APRA AMCOS, ARIA, PPCA, Noisehive and Single Music will also be available to watch.
The 2021 AIR Awards, which are typically held in conjunction with the summit at the Freemasons Hall, will also pivot to a virtual setting and will be available for all to watch live via AIR's YouTube channel from 8pm on Thursday, August 5.
Speaking to The Music Network, AIR CEO Maria Amato confirmed that no audience would be in attendance at the awards, with Adelaide's current border and venue restrictions rendering the event impossible.
"We had intended to have a watching party of Adelaide industry workers, however current venue and border restrictions made that impossible," Amato said.
"As it is supremely important to shine the spotlight on the Australian independent artists and labels who, notwithstanding all the limitations imposed on them by the pandemic, have continued to release music, it is our duty to celebrate their success any way we can.
"Even though half the country was in lockdown and we also found ourselves paralysed, we pulled out all stops to find a way to pull elements together to be able to deliver a celebratory package which we will stream on AIR's YouTube channel.
"We hope you make the AIR Awards nominee playlist your listening and viewing pleasure – as these artists need our support, our applause, and our encouragement to keep creating."
This year's AIR Award nominees include the likes of Spacey Jane, Ball Park Music, DMA's, Gordi and Emma Donovan & The Putbacks, while ABC Music, etcetcc, IOHYOU, Spinning Top and UNFD have each been nominated for the 2021 Independent Label of the Year Award.
The Music Network
Get our top stories straight to your inbox daily.