Triple J's Hottest 100 Countdown Will be a Nail-Biter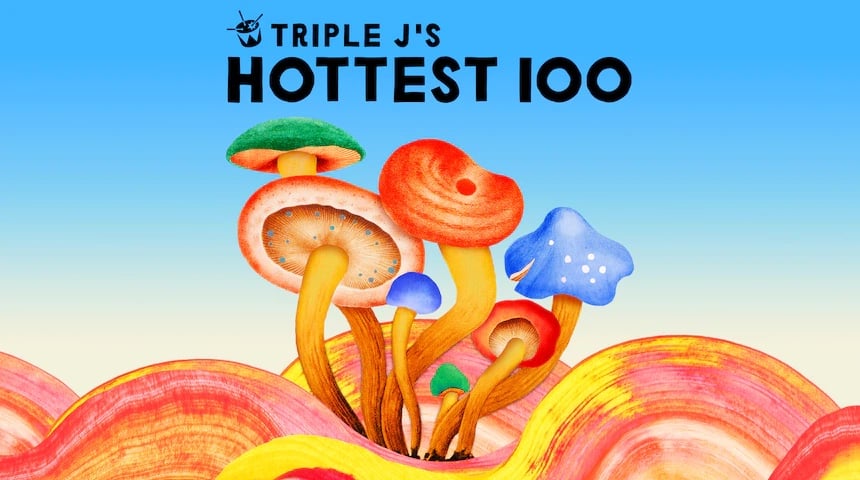 It's tight at the top of the Hottest 100 poll.
How tight?
Well, according to reps at triple j, just 125 votes currently separate the top two vote-getters in the annual countdown, with both songs swapping places in recent days and weeks.
That's tight like your jeans after the Christmas break.
We've been here before. Hottest 100 anoraks will remember the wafer-thin margin that separated Muse's "Knights of Cydonia" and Silverchair's "Straight Lines" for the 2007 edition.
When all the votes were cast, just 14 split those monsters of rock.
The Hottest 100, once celebrated as the world's biggest music democracy, one that regularly raked-in north of one million votes, will close voting on Monday, Jan. 23 at 12pm AEDT.
Then, the good times roll from 10am on Jan. 27 when the top 200-101 songs of the year are revealed.
The big day arrives Jan. 28 when those hottest 100 songs from 2022 are played from bottom to top, starting at midday AEDT.
The following weekend, the Hottest 100 music videos of 2022 will be counted down on ABC's Rage.
This year, triple j is aiming to raise money for the Australian Conservation Foundation (ACF), through donations and the sale of exclusive, $45 t-shirts.
All proceeds will go to help ACF fund vital projects to protect the environment.
The Hottest 100 winner can expect to dominate the talking points in music for the early stage in the year. Positions in the poll can grease the wheels of marketing and publicity campaigns for the year ahead.
A handy breakdown of all the important dates is below.
The 2022 winner will take the mantle from beloved children's group The Wiggles, which won the last countdown with their groovy cover of Tame Impala's classic "Elephant," mashed up with "Fruit Salad."
Controversial for some, the Wiggles' win was the first in a spectacular year for the veteran entertainers, which went on to scoop industry awards, a first-ever ARIA No. 1 album and a cover story in Rolling Stone Aus/NZ.
2022 triple j Hottest 100 Dates
December 13th, 8AM AEDT: Voting Opens
January 23th, 12PM AEDT: Voting Closes
January 27th, 10AM AEDT: Hottest 200-101 of 2022
January 28th, live from 12PM AEDT: Hottest 100 of 2022
January 29th, 10AM: Double J's Hottest 100 of 2002
February 3rd, from midnight: Hottest 100 videos of 2022 on rage
Stream triple j's Hottest 100 countdown here.
The Music Network
Get our top stories straight to your inbox daily.