Heidi Lenffer's new 'Solar Slice' FEAT project teams with Lime Cordiale for environment-friendly touring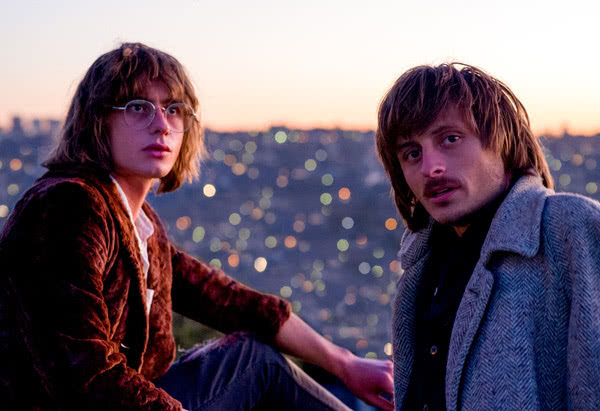 Lime Cordiale is saving the planet, one ticket at a time.
The reigning ARIAs best Australian live act is the first to sign up for FEAT. Live's "Solar Slice," a new sustainability initiative which directs a cut from the price of entry to environmental projects.

The "Solar Slice surcharge" can be built into the booking fee of partner events as an industry commitment to prioritising sustainability, in this case Lime Cordiale's 12-date The Squeeze tour, announced Monday (Nov. 29).
The brainchild of Heidi Lenffer, a founding member of Cloud Control, the Australian Music Prize-winning alternative rock outfit, 1.5% is the suggested "Solar Slice" surcharge price point, a symbolical reinforcement of the 1.5 degree warming target of the Paris Climate Agreement.
Lime Cordiale came into the mix when Mark Muggeridge, from the indie band's management team at Chugg Music, connected with Lenffer in 2019, the same year she presented FEAT. to the wider entertainment industry.

The Liembachs were keen to build Squeeze festival on environmentally sound principles, and a meeting was arranged with Lenffer in a Redfern café, where they "dreamed big about fast-tracking our industry into a solar-powered era," she explains.
Ever since, they've "sketched and iterated various plans" as the pandemic shifted the goal posts, while "sussing out various showgrounds for solar viability, and connecting solar engineers with live music engineers to talk tech and site specs," Lenffer notes.

"Thanks to this process we now have a solid solar power pilot project to implement at the Squeeze."

As artists begin their journey to carbon-neutral gigging, FEAT. can apply its know-how by incorporating mobile solar arrays at selected venues to capture energy-use data and partially power the event operations with clean energy, purchase quality offsets to further minimise the tour footprint, and more.

Dependent on the total budget allocated from ticket sales, the program will starts things off by calculating the carbon footprint for the entire tour in order to identify emissions hotspots, and levers for reduction.
For the entire Squeeze tour, this is forecast at 15,800 tonnes CO2, or 2,460 tonnes CO2 per show, which is roughly equivalent to the annual emissions of 1,000 Australian households.
Using its modelling, "Solar Slice" revenue can be funneled into carbon reduction measures, fund Lime Cordiale's sustainability priorities (in collaboration with the FEAT. Live advisory board), and invest in industry solutions needed for long-term low-carbon live event operations, reads a statement.
Produced by Chugg Music and Roundhouse, the festival rolls around the country from next April with a lineup including Thelma Plum, Client Liaison, THE VANNS and others.
Across all dates, $1 from each ticket will be pumped into funding a carbon reduction program, designed to reduce the environmental impact of their jaunt.

"Our goal is for the Solar Slice to become a visible symbol of change in action," Lenffer tells TIO.
"We want audiences to expect it to appear on tickets and tours and posters and feel a sense of ownership over the environmental outcomes."

This pilot program with The Squeeze and Lime Cordiale is the "first of many live event partnerships" that FEAT. Live has in the works for 2022, reps say.

Chugg Music's Michael Chugg is thrilled to be involved. "The team at Chugg Music and I are so proud of our association with Oliver, Louis, and Lime Cordiale and what we've created with The Squeeze," he says.
"Taking this positive step forward with FEAT. Live to help the environment is something that we are equally proud of".
FEAT. Live is the sister company to Future Energy Artists (FEAT.) and a joint venture between Lenffer and James Clarke, Managing Director of entertainment and culture marketing specialists Bolster.
Visit feat.ltd for more.
This article originally appeared on The Industry Observer, which is now part of The Music Network.
The Music Network
Get our top stories straight to your inbox daily.