Gilles Peterson talks Australian music, Brexit and 'earning your stripes' in the record biz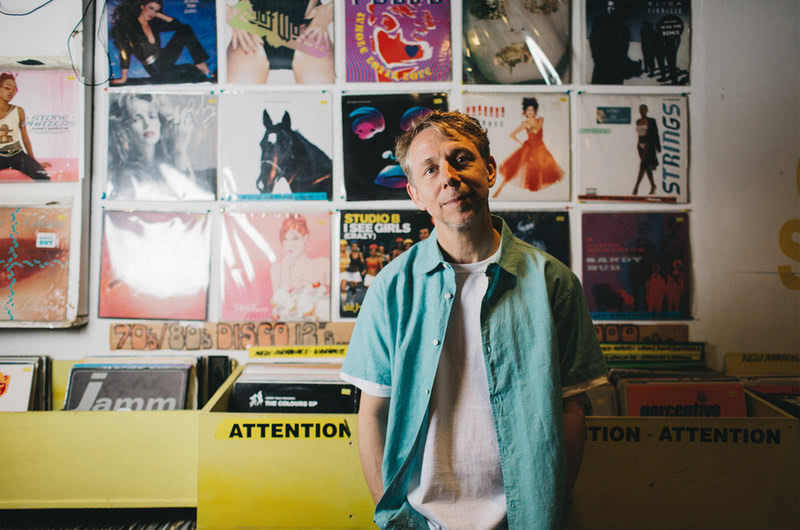 Gilles Peterson is the man with the golden ears. Over a decades-long career, the British-based DJ has mined gems and selected tunes for the airwaves, dancefloors and for a string of record labels, including Acid Jazz in the late '80s, Talkin Loud in the '90s through to his current venture, Brownswood Recordings, a playground for music light years from the mainstream.
A prolific compilation creator (he's put together and released more than 100), he shares a selection of his finest stuff each Saturday afternoon with listeners of his BBC 6Music show and each year he stages the Worldwide Awards in London and the Worldwide Festival, which has expanded with legs in France, the country of his birth, and Switzerland, the homeland of his father.
Peterson also founded the new global music radio platform Worldwide FM, based in London. In recent months, Gilles has interviewed some of his favourite DJs in his WeTransfer presented series "The Psychology of DJing," which explores life behind the turntables.
Peterson is currently in Australia, where he's lined-up for speaking engagements at the Electronic Music Conference in Sydney this week and a special Melbourne Music Week performance along with Swooping Duck and Mandarin Dreams. And be sure, he's on a mission to find some special new tunes to share with the world. TIO caught up for a chat.
Giles, how are you?
I'm alright. But I'm not very happy with your prime minister.
You're not the only one. Are you happy to talk politics?
I've got myself in trouble in the past when I was telling people on the radio to go on a peace march during the first Gulf War and got fired the next day. After that I never really got politics and music mixed up, apart from when I'm in a club and I say something (on the mic).
An artist is in a strong position to share their feelings. They've got attentive fanbases, they're creators. So why not? We saw Taylor Swift go political.
True. It's really important if you are (going to speak out), to know what the fuck you're talking about. What's interesting is how people treat Israel now as artists and their position on that. It's become a really touchy subject.
Another touchy subject is Brexit. There are concerns that, post-Brexit, U.K. musicians will spend a fortune on visas just to travel Europe.
I need to go get myself a British passport. I don't have one, despite having lived here for over 40 years. That's my first priority. I have a French and a Swiss passport. Generally I can blag it either way, with those two because of the EU and the neutrality of Switzerland gets you into most places without too much problem. I need to hurry up and see if I can qualify as a British person. It's a massive issue for me.
You're heading to Australia. If you take a glance at the nominations for the ARIA Awards or the winners of the AIR Awards, it's pretty diverse. Gurrumul, Courtney Barnett, Tash Sultana, 5SOS, Troye Sivan. What's your take on the Australian music scene.
Obviously the last five or 10 years has been explosive for music in my area, particularly the music coming out of Melbourne. You can say it's led by groups like Hiatus Kaiyote, and that's been brilliant to watch and see it explode internationally. You've got some electronic music that's been coming out as well. It feels like the confidence and swagger has come into black and dance music and electronic music in Australia.
There's always been a tradition for rock. In the early days when I was coming to this side of the world, it was always a bit more interesting going to New Zealand. I always thought there was more going on there. Certainly in the last five-to-10 years Australia has come back and taken control again.
You currently run Brownswood Records. Is now a good time to be a label chief?
Now is a good time to be involved in music if you've been through the pains and the struggles of the last 15 years. You've earned your stripes going through the difficult times and in a way we have come out the other end and we've learned a lot about how to find a formula that works for ourselves. I'm really enjoying it as a record exec.
These days the A&R side is hardly there, because the artists don't really need us in the same way they did in the past. It's about having great partnerships with the artists you've signed. And using your skills and allowing them to develop naturally and organically. At the moment there's such a flourishing scene, particularly around jazz and improvised music.
We're putting out lots of records and we're not losing any money, I'm not saying we're making much. But we're not losing money (laughs). Everything is a little more controlled now, shall we say. I'm really enjoying it.
We have absolutely no associations with outsider brands that would put pressure on us. That was one of the things for me, having spent many years learning both sides of the industry, from an independent point of view and from a major point of view, Browns was all about developing a team around the record label and for it to be self-contained. That's been a great achievement for us.
A report found that most people stop listening to new music at 30. That doesn't apply to you. What drives you to constantly chase new tunes?
It's an interesting place I find myself. Because I came from the backroom, I was the backroom DJ, I enjoy not having to play the hits in a way. I like hits, but if I started in the main room banging out the big tunes, I would have run out of energy and steam and passion for it. I was always fighting for the underdog, musically speaking.
Whether that was jazz or hip-hop or early days of dance and electronic music, I've always enjoyed seeing a scene grow into something. Being on the radio I've also had this parallel life where you get to appreciate and really support music.
Living in the U.K., the music I liked was never that well promoted, you had to find it on pirate stations. The BBC and regular outlets were playing stuff I didn't relate to. We were pushing our music in an underground, subversive way.
The rules have changed over the last 10-20 years. Working on the BBC and 6Music, they don't question what I'm going to play. I can play anything I want, and they want me to because that's what the audience is demanding, in a way. There's a reaction to being thrown the algorithm, the lowest common denominator.
With time, the curator and that side of music has become more important. I've benefited from that, being someone who loves music. And my whole thing is, I love legacy acts. We need to remind people where it all comes from. I can go from that old record to the very latest thing, made by a 17-year-old in his bedroom in Hull. If I can make the link, it keeps me excited.
Finally, you've also working on a project in Melbourne?
We're going to make an album like We Out Here, a taster of the British jazz scene. I'll do a similar record about the Melbourne scene when I'm down there. I'm really excited about that.
This article originally appeared on The Industry Observer, which is now part of The Music Network.
The Music Network
Get our top stories straight to your inbox daily.