6 Music Festivals Making Good of Govt Funding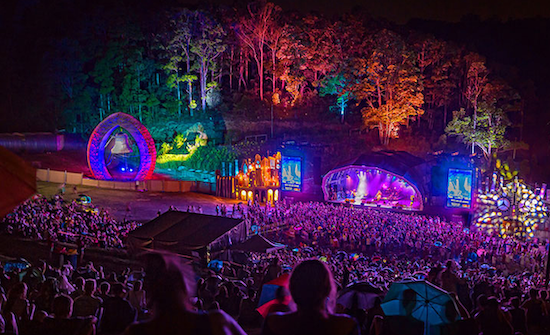 Woodford Folk Festival
State governments are increasingly funding music festivals and events with funding as part of post-pandemic economic recovery in a bid to drive tourism and jobs.
How well is the strategy working? We look at six examples.
ALWAYS LIVE, VICTORIA
Victoria tested its Always Live program with Foo Fighters, Amyl and the Sniffers and the Meanies before 30,000 at GMHBA Stadium in Geelong on Friday March 4.
The state has yet to release economic impact figures for the event, delivered with Frontier Touring.
But City of Greater Geelong revealed in June Spendmapp data that showed the concert injected an extra $1.3 million into its dining and entertainment sector, up 26% from the previous Friday, and up 10% in travel-related spending.
Deputy mayor Trent Sullivan called it "the highest night-time spending we've seen since our records began in 2018" and that the concert "surpassed the spending we would typically expect to see in the days leading up to Christmas."
VIVID SYDNEY
This month, the City of Sydney gave $100,000 in cash funding to Vivid Sydney (May 27 to June 18) and a value-in-kind injection of $300,000.
The cash portion will fund the 'X/Celebrate' live music program, which will "continue support of Sydney's thriving music scene with a particular focus on programming events in the villages". 
The value-in-kind is through fee waivers for outdoor spaces, indoor venue hire, cleaning and waste services, marketing support, and visitor information services.
Back after two years, Vivid could see $172 million in overnight visitor spending and 2.4 million people over 23 days, if 2019 figures are repeated.
UMBRELLA SA
Now in its seventh year, South Australia's live music venue winter bonanza is steadily growing. 
It's not known the extent of funding from the SA Government through the Music Development Office and Events South Australia for 175 events in 90 venues between July 1 and July 31. 
There's a new ticketing partner in Moshtix to cope with increased demand and new investment in a digital marketing campaign.
In 2021 Umbrella had over 55.6K attendance which generated $1.8 million for South Australia.
The recent SA 2022-23 state budget put aside over $21 million for the music industry.
This included $3.3 million over two years for vouchers and grants for hospitality venues and festivals, $1 million for 200 music venues to upgrade facilities, $250,000 for mental support, $500,000 to bring music back to the Royal Adelaide Show after 20 years, $8 million over four years for Adelaide Fringe and $8 million over four years to artists and organisations.
Compare this spend to the state's benefit.
Government figures show the music sector's contribution increased by $8 million 2014 to 2018 while in 2018-19, music and performing arts businesses directly contributed $183.4 million in Gross Value Add to the economy and was the highest employing sector within the creative industries, providing 4,559 jobs.
DARK MOFO, HOBART
In 2021, the Tasmanian Government finalised a new three-year agreement providing $7.5 million to the Dark Mofo music festival as part of its $21.5 million fund to secure Tasmania's events.  
The agreement included dedicated marketing support from Tourism Tasmania.
Dark Mofo cancelled in 2020 and ran a mini-version last year.
The 2022 instalment (June 8 to 22) is on track to reach 2019 numbers, with 100,000 tickets and $3.7 million at the box office (a 25% increase).
19,000 came from the mainland and generated over $20 million to the visitor economy.
According to creative director Leigh Carmichael, weeks before gates opened, the box office had clicked $3.2 million and 40,000 tix had shifted.
WOODFORD FOLK FESTIVAL, QLD
Woodford Folk Festival in Queensland which hosts 25,000 people on its Woodfordia site each day, was cancelled in 2020 and 2021, with a scaled-back version Bushtime for 2,200 last December.
In May, 400 organisers, stallholders and volunteers met and overwhelmingly voted to bring the event back in December/January.
In December 2021, the Queensland Government invested $4 million in funding over four years.
Director Bill Hauritz senses Woodford will return to a 100% format, saying, "We're seeing the slow dissipation of COVID."
If that is the case, the music festival will more than return the investment.
Deputy premier Steven Miles said, "At its peak, Woodfordia creates over 2,500 employment opportunities for artists and arts workers and contributes $29 million in economic impact to the Queensland economy each year."
CALOUNDRA MUSIC FESTIVAL, SUNSHINE COAST
The Caloundra Music Festival is back for its 15th year, from September 30 to October 2, at the beachside Kings Beach Amphitheatre.
It is an initiative of Sunshine Coast Council and supported by the Queensland Government through Tourism and Events Queensland.
Its future was thrown in doubt last year when a new councillor questioned if the event should be supported saying it had run at a loss since it began in 2007, and wanted a full financial review.
However a 2019 council report calculated the festival cost ratepayers more than $675,000 a year for the previous three years.
 It stated the 2019 event drew 30,000 punters and injected $4.4m into the region and an additional $1 million for Queensland.
This article originally appeared on The Industry Observer, which is now part of The Music Network.
The Music Network
Get our top stories straight to your inbox daily.