Festivals & Venues: April 19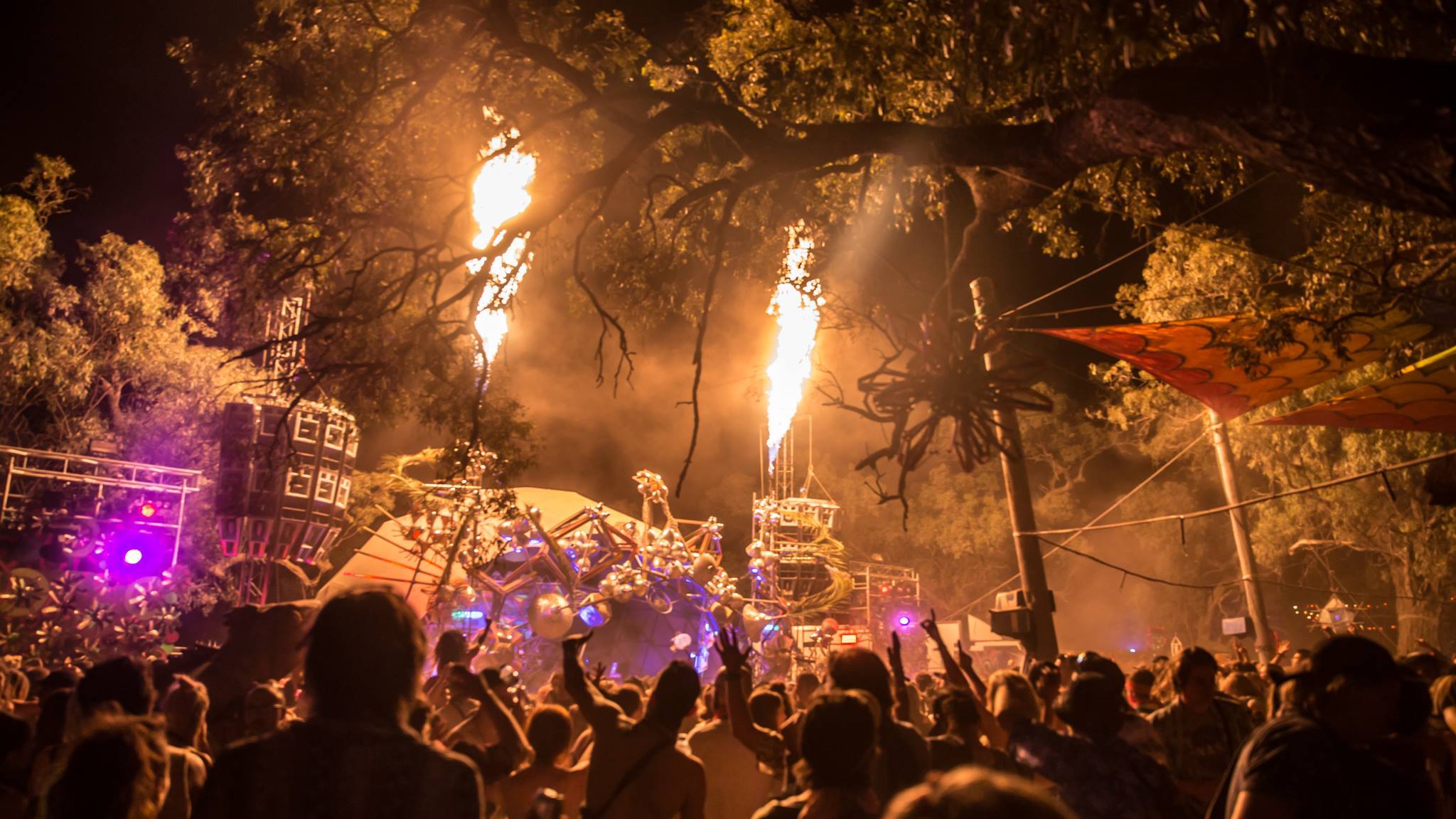 COUNCIL DENIES MAITREYA PERMISSION
The Buloke Shire Council in country Victoria has turned down a permit application from Maitreya Festival to stage at Lake Wooroonook.
This came after advice from the Department of Environment Planning and Water.
The decision is not surprising as council and festival organisers have locked horns before, one time ending up in the Victorian Civil and Administrative Tribunal (VCAT).
According to council minutes, in 2015 promoters allegedly refused to hand over documents and, a year later, refused to follow court orders to stop works and leave the site.
"In addition to the reasons listed, the environment at the lake is only beginning to recover from the two events," the council stated.
The festival was drawing around 10,000 punters.
..AND IT'S GONE. SPLENDOUR 2018 SELLS OUT
Tickets for the always-popular Splendour In The Grass were announced this morning to be completely sold out.
It took a little over 20 minutes for all tickets for the event to sell out, leaving many unlucky punters frustrated.
The official resale facility opens at 9am Monday May 14, and organisers have stressed that would-be ticketholders should not attempt to purchase tickets from Facebook, Gumtree or any other unauthorised reseller.
BIRDS, BUTLER FIRST ACTS FOR CALOUNDRA
Birds of Tokyo, John Butler Trio, The Living End, The Waifs and The Temper Trap are among the first round of acts for Caloundra Music (September 28-October 1).
Tickets go on sale today (April 19) at 1 pm.
Festival director Richie Eyles said the program has broad appeal, including top Australian acts, exciting emerging "artists and quality internationals."
The full first round is at the official website.
Two returning acts from the US – Arkansas funk rock outfit Groovemen and LA's Red Young – made their Australian debuts at last year's festival.
VICTORIA GETS NEW WINTER FESTIVAL LOW LIGHT
Victoria gets a new festival over the dark winter months, Low Light.
Focussing on music, arts and culinary talents, it will run over four weekends beginning June 22-24.
Held in the seaside resort of Queenscliff, it derives its name from one of the regional city's two lighthouses, High Light and Low Light.
Organisers are marketing it as a day trip (it's 90 minutes from Melbourne) or a weekend away, with town's public spaces, galleries, cafes, bars and restaurants playing host to an array of art exhibitions, film premieres and screenings, spoken word and literary readings and music performances to round out the weekend offerings.
Dan Sultan, All Our Exes Live In Texas and Justin Townes Earle are booked for the inaugural run.
COME TOGETHER EXPANDS TO GOLD COAST
Returning after a year's hiatus, Come Together is back (under the banner Come Together Recharged) and plays Sydney's Luna Park on Sunday June 10 before expanding to the Gold Coast's Nightquarter on Saturday June 30.
Spiderbait headline, with The Superjesus, Melbourne's Mammal, Brisbane's Osaka Punk and Sydney's RACKETT also joining.
STONNINGTON JAZZ ANNOUNCES CLUB SESSIONS
Melbourne's Stonnington Jazz (May 10-20) has confirmed the lineup of its Club Sessions, late night events "featuring Australia's finest future soul, funk and R'n'B outfits".
May 11: Jazz-funk keyboard player and composer Billy Davis with The Good Lords. hip hop artist P-UniQue and DJ Mz Rizk.
May 12: Sydney's improvisational hip hop, jazz, soul and psychedelia ensemble Godte, supported by DJ Shio Otani and La Sape DJs.
May 18:  Emma Donovan and The PutBacks, joined by Hope Street Records label mates Leisure Centre (formerly known as The Do Yo Thangs) and DJ Lyndelle Wilkinson.
May 19: self-described dirty beatnik rock 'n' roll band Jazz Party and DJ Richie1250.
HER MAJESTY'S THEATRE CLOSES FOR GLAM UP
Adelaide's 105-year-old Her Majesty's Theatre on Grote Street is closed until 2020 while it undergoes a $66 million upgrade.
Builder Hansen Yuncken will virtually raze the place and build up again, providing better a better viewing experience for the audience, new bars and foyers and upgrading the dressing rooms which have been described as "primitive".
The 1,500-seater is expected to draw the major shows which are currently bypassing Adelaide.
A farewell concert was held last month, featuring 95-year old Phyl Skinner (who first tread the venue's boards 91 years ago) as well as Tim Rogers, Nancye Hayes, Robyn Archer, Michaela Burger and Rob Mills.
It served as a fundraiser to add an extra $5 million to the revamp budget.
SYDNEY'S STARFVCKERS PULLS BACK WEEKLY SESSIONS
A month after celebrating its 12th birthday, promoter Disorder and Hookie announced that Sydney club event Starfvckers will wind back its weekly sessions to concentrate on special nights "to make them grander".
Held last weekend, the final weekly session saw original DJs return to guest spin.
"Starfvckers Club has always been greater than the sum of its parts," the promoter pair stated.
"We've been fortunate to watch the Australian music scene grow with us, and some of world's prolific pioneers of dance music lay paint on the canvas of our creation.
"It's time now for a new and exciting era in the Starfvckers Club legacy."
MANCHESTER ARENA TO SHUT ON ANNIVERSARY
Manchester Arena will stay shut on the first anniversary of the May 22 attacks, in respect of the 22 victims who died and the 100 who were injured after the Ariana Grande concert.
The city will host a number of events on the day, including a memorial service at Manchester Cathedral, a Manchester Together event at Albert Square and There Is A Light series of projections onto St Ann's Church, with a minute's silence during the Great Manchester Run two days before.
HUMAN RIGHTS ARTS & FILM UNVEILS PROGRAM
Canberra's 11th Human Rights Arts & Film Festival (May 29-June 2) has unveiled its program for the 15,000-strong crowd that regularly attends.
A focus of this year will be shining a light on Indigenous rights, gender equality, conflict, people movement, and the environment.
The event aims to make human rights relevant, accessible and engaging to Australians through film, art, music and forums.
Among the films are Claudia Sangiorgi Dalimore's Her Sound, Her Story, an examination of sexism in the Australian music industry, and The Song Keepers, the joyous and poignant story of an Aboriginal women's choir.
EXPANDED BEER & BBQ DROP FIRST ACTS
Beer & BBQ Festival, which this July stages in hometown Adelaide and now Sydney, has The Preatures, Holy Holy, Jen Cloher, Bob Evans, Maddy Jane, Gooch Palms and Mojo Juju in its music component.
The food and drink component seems interesting, as do the panel discussions.
Full details at the official website.
HUMMINGBIRD FLIES INTO NEWMARKET
Hummingbird is a fresh Melbourne venue inside The Newport Hotel in St Kilda.
Run by Heather Para, it has a new stage and sound system, and Para says a friendly atmosphere, food options and a diverse musical format.
"I've had my eye on this room for some time and am so lucky to be able to collaborate with a venue that already had a fantastic reputation for food and hospitality."
"It's the perfect space to present the best Australian and International touring artists of many genres. From Jazz to heritage acts, Soul Funk, Reggae,  RnB, Comedy and everything else in between."
The Hummingbird will host most nights, with two shows per night on Fridays and Saturdays: early dinner show 6-10pm and then a more danceable show for the late night crowd from 10pm.
VENUES HIT THE MARKET
Entertainment showcasing Miss Maud in Perth has finally been sold after going on sale last August. New owners Stockholm Hotel Management paid $10 million, allowing the previous operators to focus on expanding their coffee house business.
In the meantime, the Carlton site of Dracula's in Melbourne (which suddenly closed last December after 37 years) is on the market for $10 million, with the owners hoping the venue will go to a nightclub or restaurant operator.
NEW CLUB NIGHT AT THE ARGYLE
Sydney's The Argyle (whose tagline boasts "we're the only city destination!") launched a new Saturday club night last weekend. Called The Night Is Ours, the inaugural night was headlined by Tigerlily.
It's free entry before 9pm.
CHRIS MARTIN FESTIVAL EXPANDS
Coldplay frontman Chris Martin's Global Citizen festival is expanding to Johannesburg before the end of the year.
The event was set up in 2012 by the charity of the same name to end global poverty by 2030, and brought Martin in to curate the fundraising events until then.
NOOSA'S MAJESTIC TO GET A BAILOUT?
Noosa Council will next week debate whether to bail out Majestic Theatre after its not-for-profit owner of the last 12 years, Pomona Arts Inc, signalled it needs financial help to battle mounting costs.
The popular option is to inject $16,000 to keep the shows going. But Noosa Times says that some in council believe it should buy the theatre outright because the 1921 building is one of the region's most iconic and loved features.
The Music Network
Get our top stories straight to your inbox daily.