"What happened to Red Bull?" We review the best (and worst) brand activations at Splendour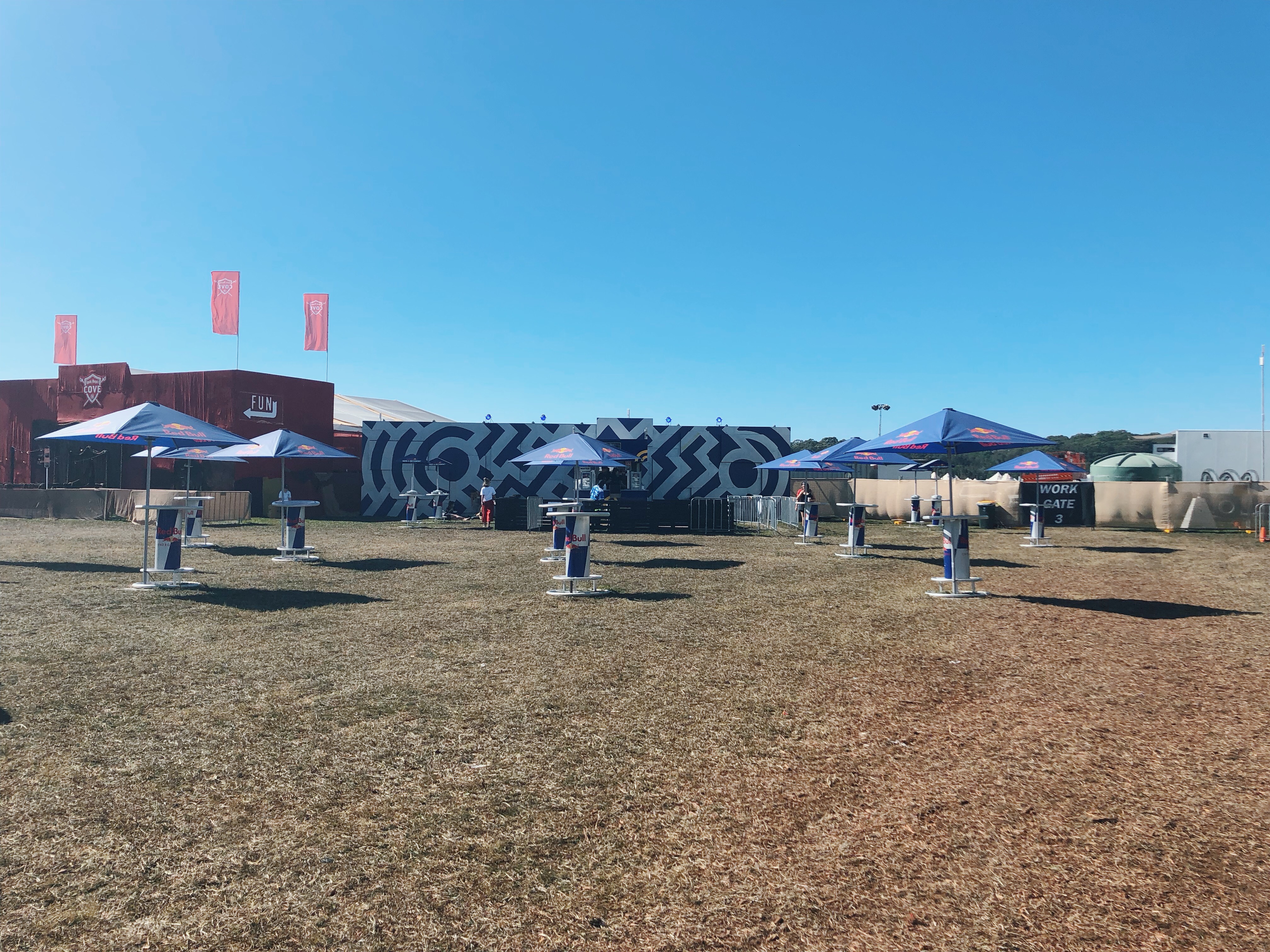 Splendour in the Grass is an opportunity for artists to showcase their talent, and for brands to spruik their wares and align themselves with the music community. 
"So, what makes a good brand activation?" we hear you ask?
We've narrowed it down to three critical points; a good time, a good freebie and a cleaner-than-average portaloo.
This year, we stood in line so you didn't have to.
With brands delivering activations well beyond their budgets to turn the heads of punters, we weigh in on how they performed at Splendour 2018.
Here's what you need to know…
Wear it
Revolve (cough, we mean Nana Judy) threw an exclusive A to D-lister party at Angus Stones' lakeside property for the second year in a row.
We knew some people who knew some people, but failed to attend like the busy and important humans we are, so here's a picture of the invitation so we can all feel a sense of importance about being invited *claps*.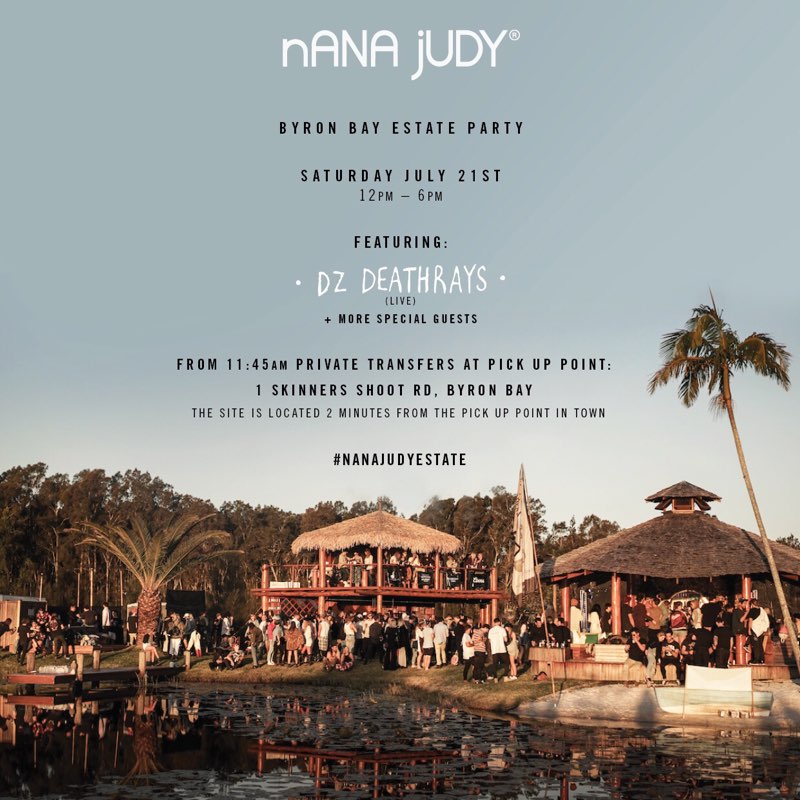 Fast fashion e-tail store Beginning Boutique satisfied the tween market with their clothing stall, lavish boosted Instagram posts and macro influencer strategy to boot, while Superdry took a more modest approach with their invitees – including only the most humble and classy of representatives; recent contestants on Channel 9's Love Island.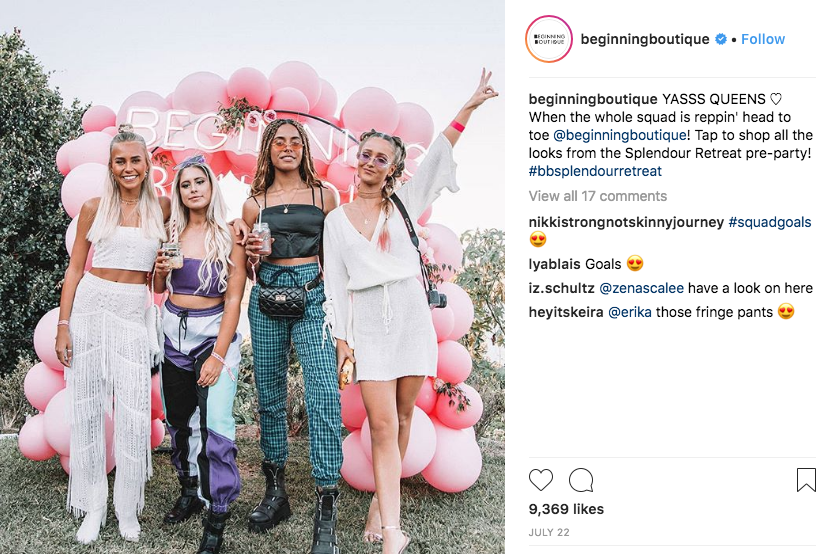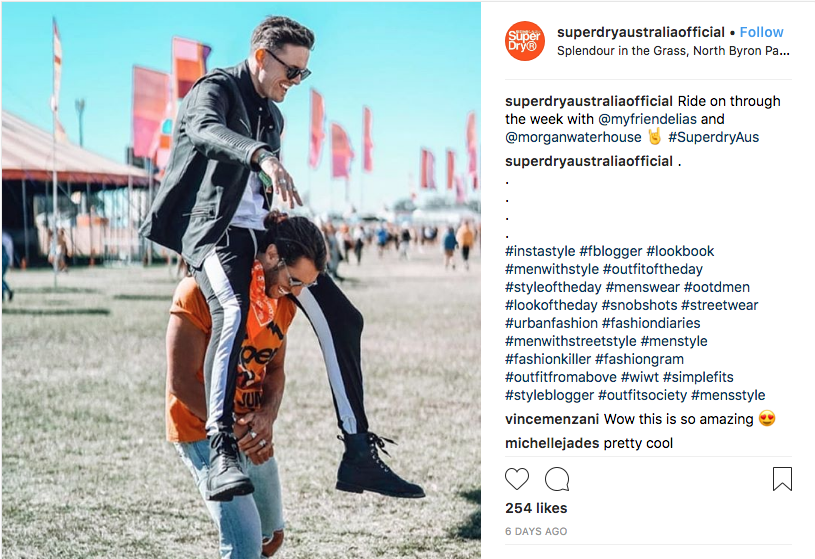 Treat yo self
If you were happy to wait over an hour for five minutes of TLC, you could have your face painted by a slightly overworked but still chipper Rimmel makeup artist.
Positioning themselves as the makeup brand of choice for music peeps, Rimmel's three-year partnership with the festival tells us they have coined a winning formula; free lipstick and mascara, a spot to charge your phone while you paint your nails and, of course, some Red Bull-supplied DJs who play three-chord girly pop courtesy of Polite Promotions (who are also responsible for the VISA and Tom Organic activations, and probably some others).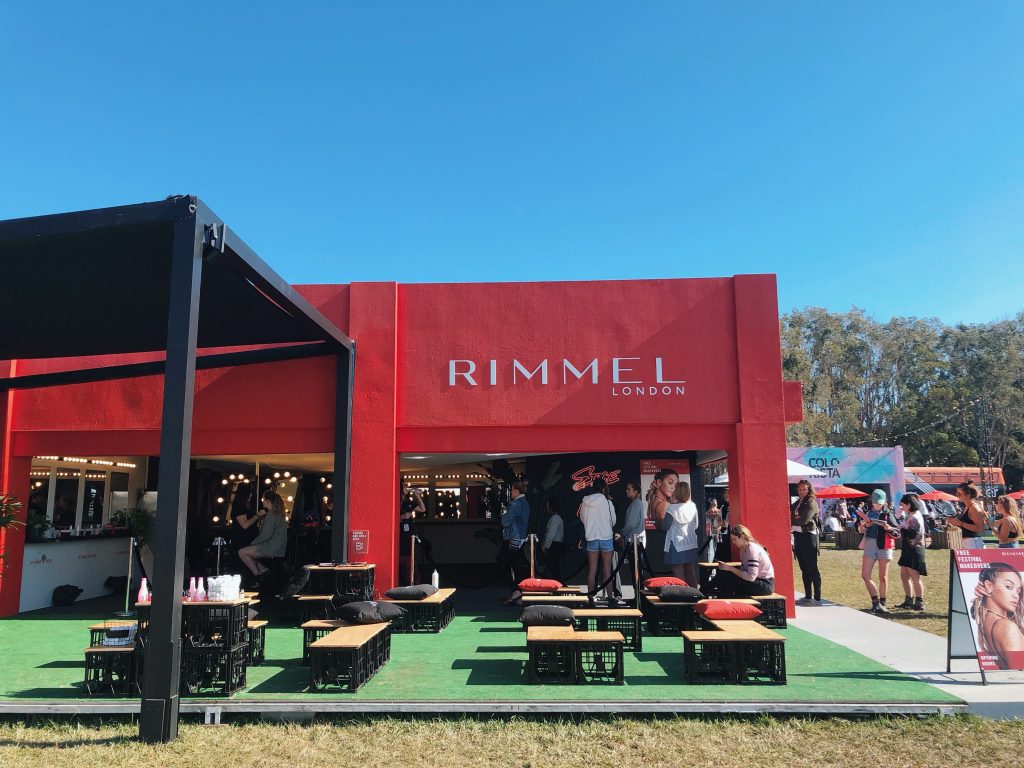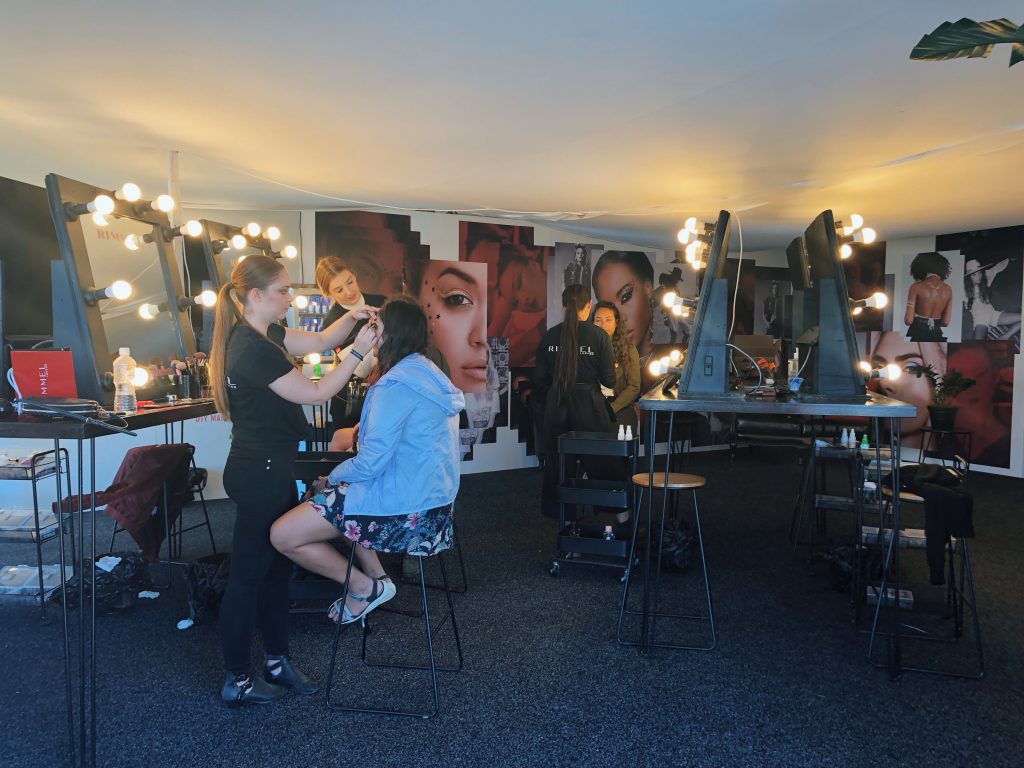 A quick chat with head artist Haylee Dutton and group brand manager Erin James revealed that with 17 influencers in attendance to serve as walking, talking glitter-covered billboards for the brand, the campaign comes *sort of* full circle in Rimmel's Instagram stories.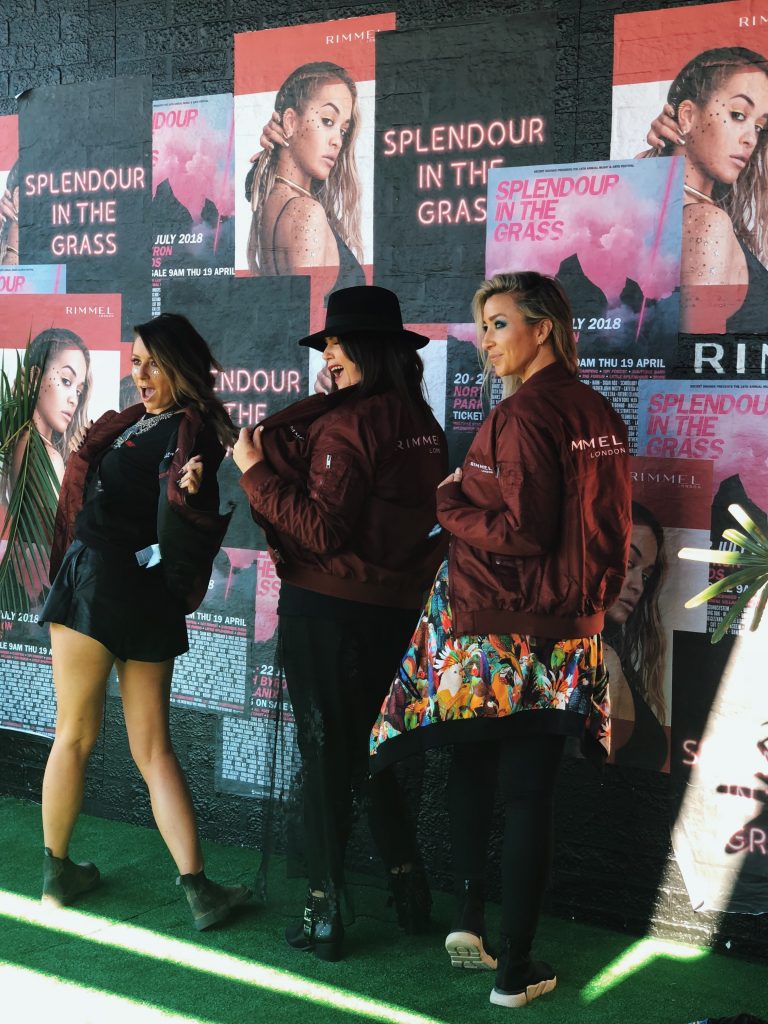 Others in the beauty realm included a crack in the wall stall dispensing free flash tattoos and if you are hopeless with your hair, you could check out the L'Oréal Colourista activation (with an influencer/social strategy largely mirroring that of Rimmel).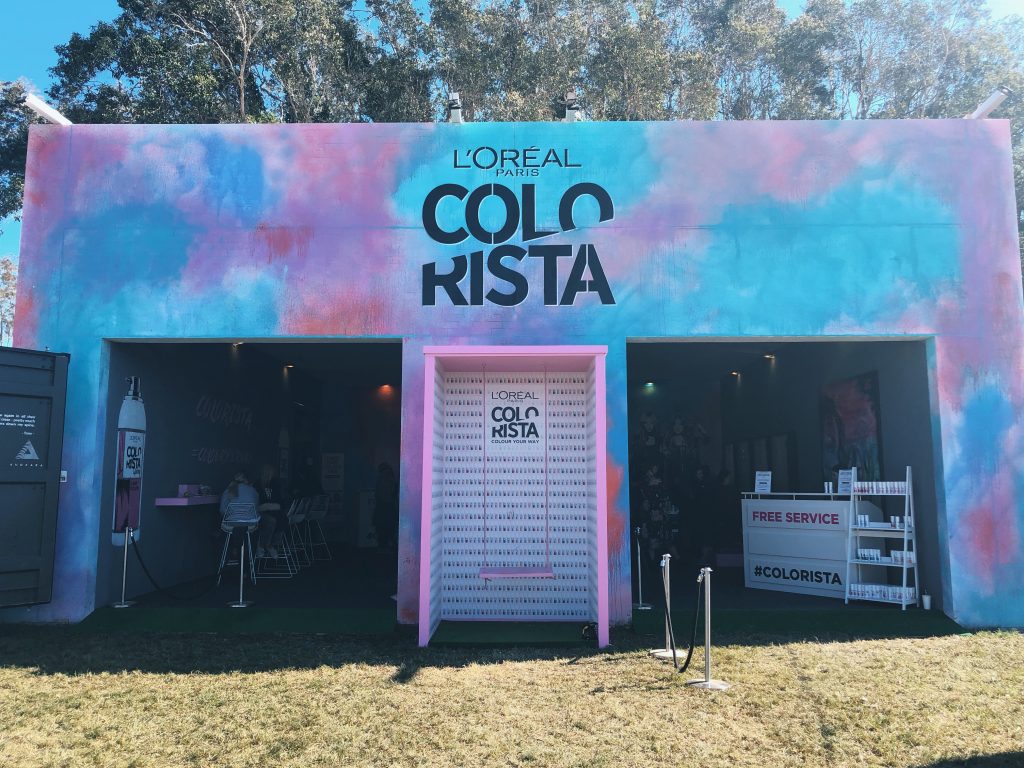 ---
Sort your shit out
Though the stall itself looks relatively bank-esque and a little intimidating to HECS debt-riddled millennials, we were, for lack of a better word, shook at what VISA had to offer at this year's festival.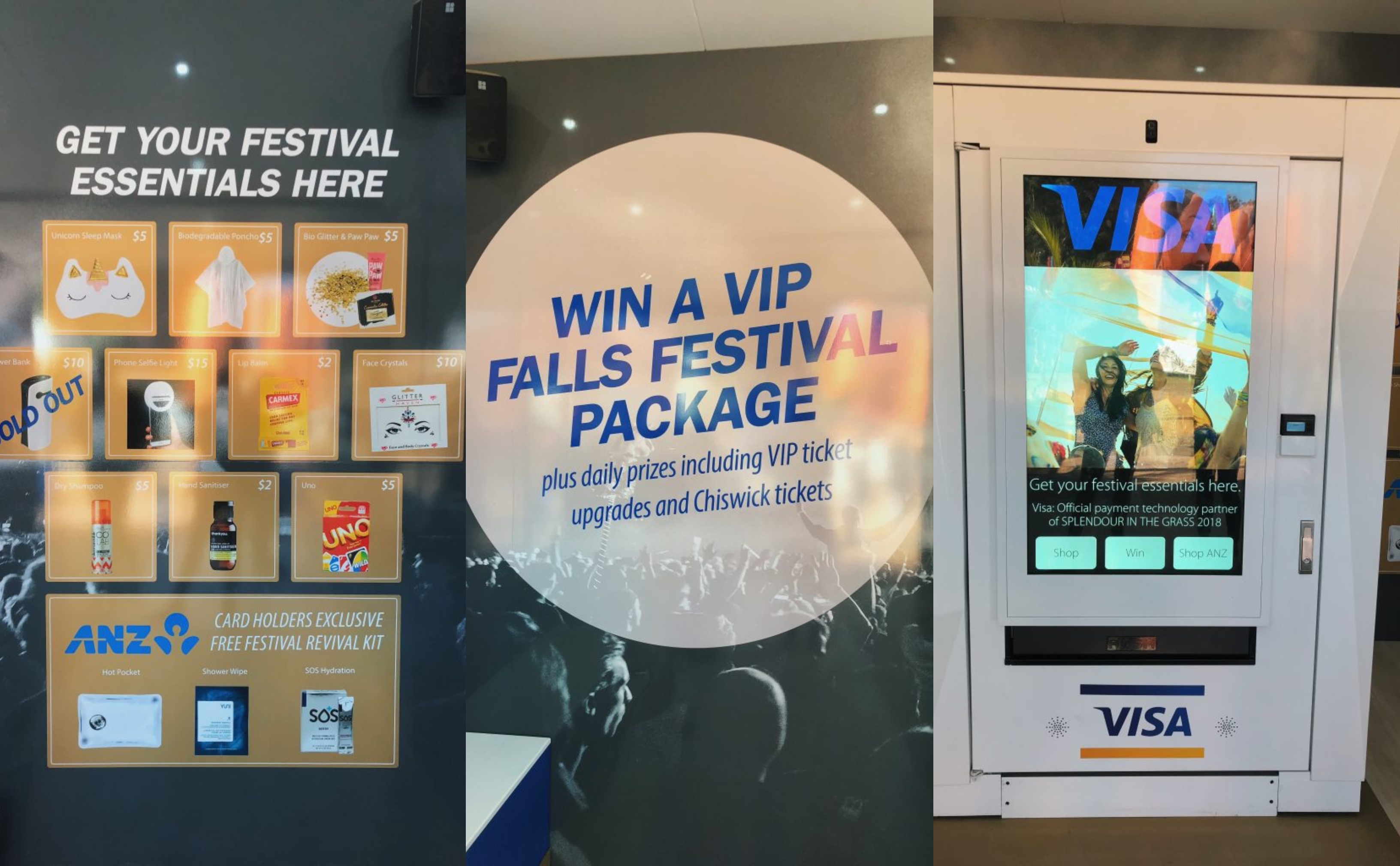 Free cold sparkling water, a free pack of goodies if you've got an ANZ card, and, you guessed it, free phone charging points.
It felt a little like one of those empty Telstra dealer islands at a shopping centre; empty and useless to the naked eye, but very much a useful hub.
With an interactive vending machine where punters could purchase festival essentials (see: unicorn eye mask) and with the opportunity to win a Falls Festival ticket, the stall could keep the average festival-goer entertained for probably 13 minutes at best.
It felt as if this was all the brand really wanted, a "Thank you come again" Quick-E-Mart type of experience. With only two posts on the @visa_au Instagram account over the weekend, VISA were just there to say hey.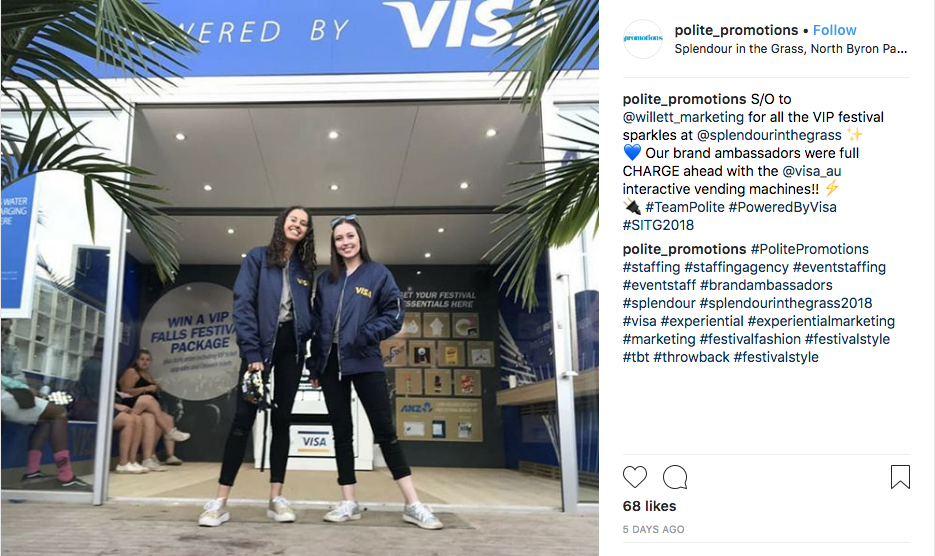 ---
Drink Responsibly (well, at least try)
We give thanks for most extravagant and popular activations at this year's SITG to alcohol brands; Little Green Cider, Dry Goods Store, Red Bull, Captain Morgan, and Smirnoff among them. 
In First Place we have a three-way tie to represent three key attendee demographics:
#1 Dry Goods Store for your run-of-the-mill, middle-aged punters who are chuffed by a no-frills beer and a boogie.
#1 Smirnoff for the Double Black-drinking youngsters, who care about their number of Instagram followers.
#1 And of course, Captain Morgan for our tie-dyed Tipi-Forest fiends looking to get lit (Note: Captain Morgan hat = max lit-ness status achieved).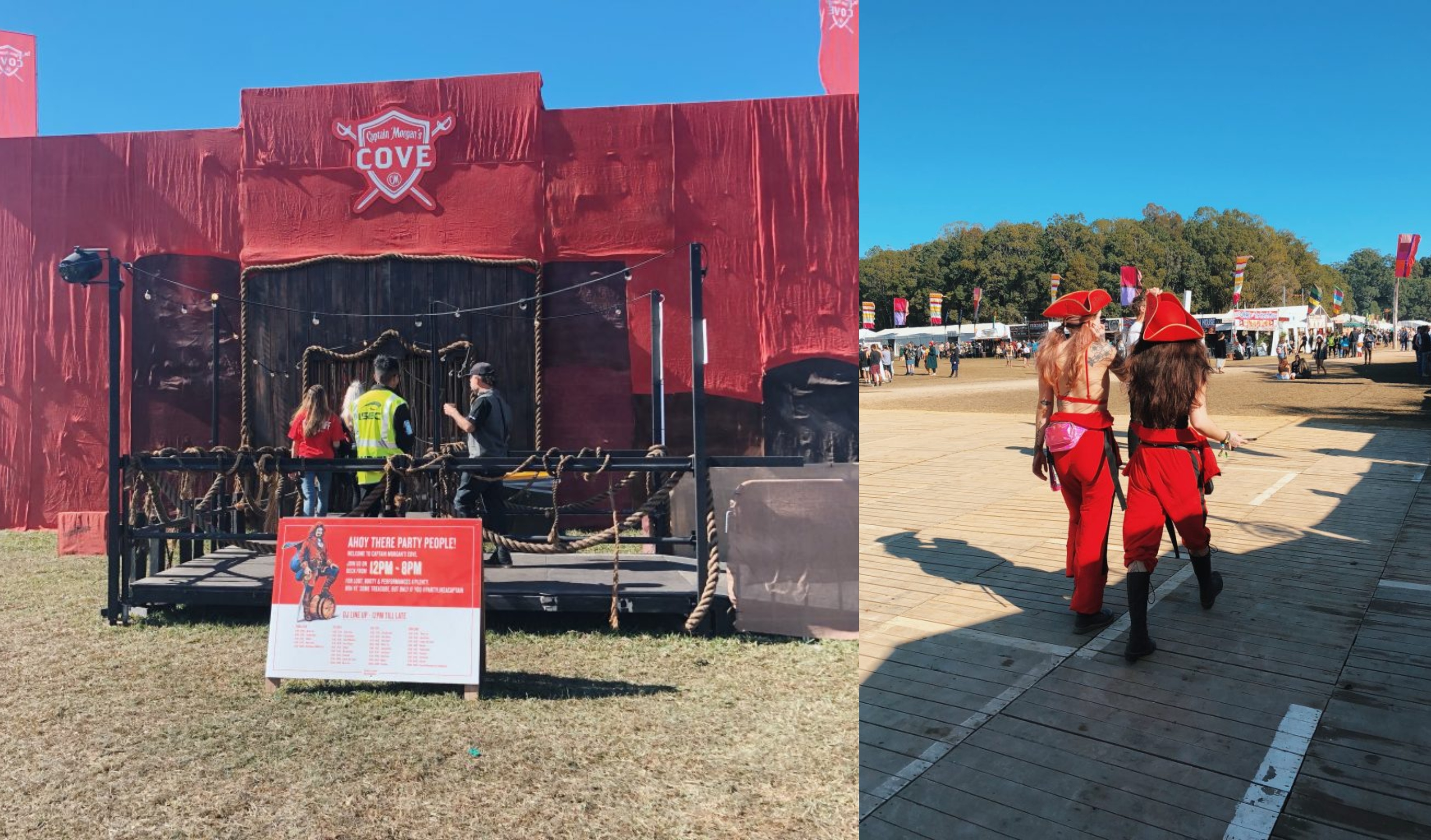 Returning for the 13th year of Splendour in the Grass, Smirnoff did what they do best and threw an epic pre-party.
With Red Bull offering only a few sad-looking sun umbrellas at an outdoor bar in lieu of their regular Red Bull tent, the competition for 'the place to be' was significantly lessened this year.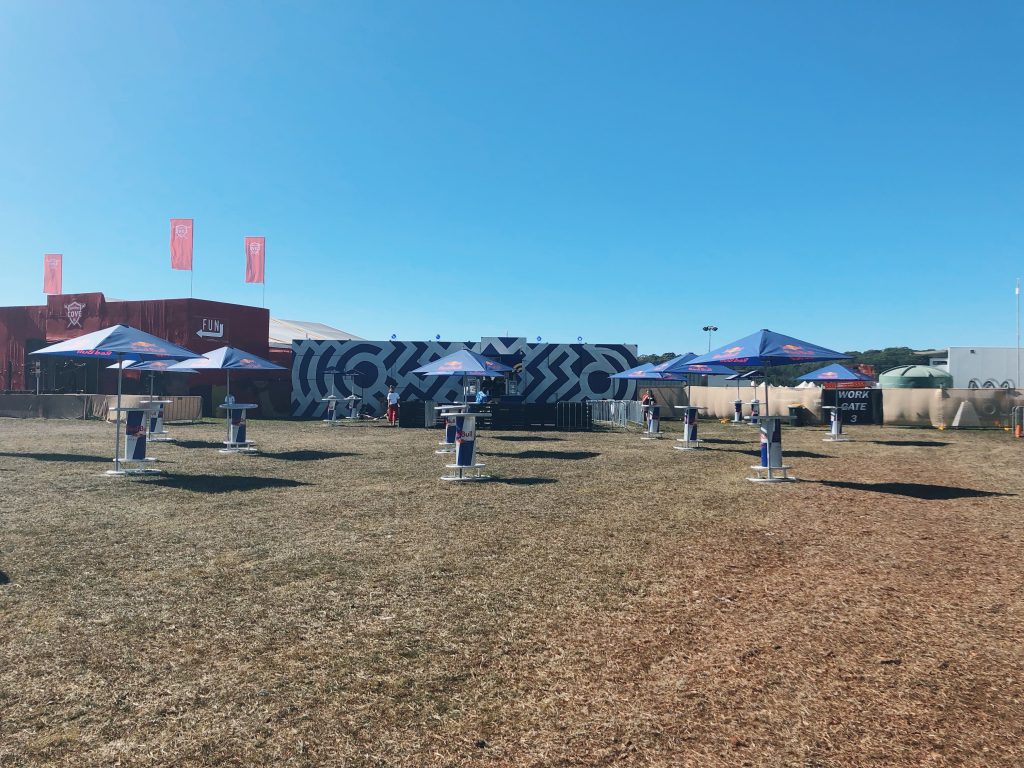 The question of everyone lips, of course, is: "What the heck happened to Red Bull?"
Red Bull have clearly skimped on the budget this year – their usual activation extravaganza was nowhere to be seen.
But, just like that little splatter of mud on the back of every festival-goers legs, Red Bull was a subtle but ever-present leech in the form of a branded flag, sign or fridge at almost every other brand's activation.
Sneaky, Redbull. Very sneaky.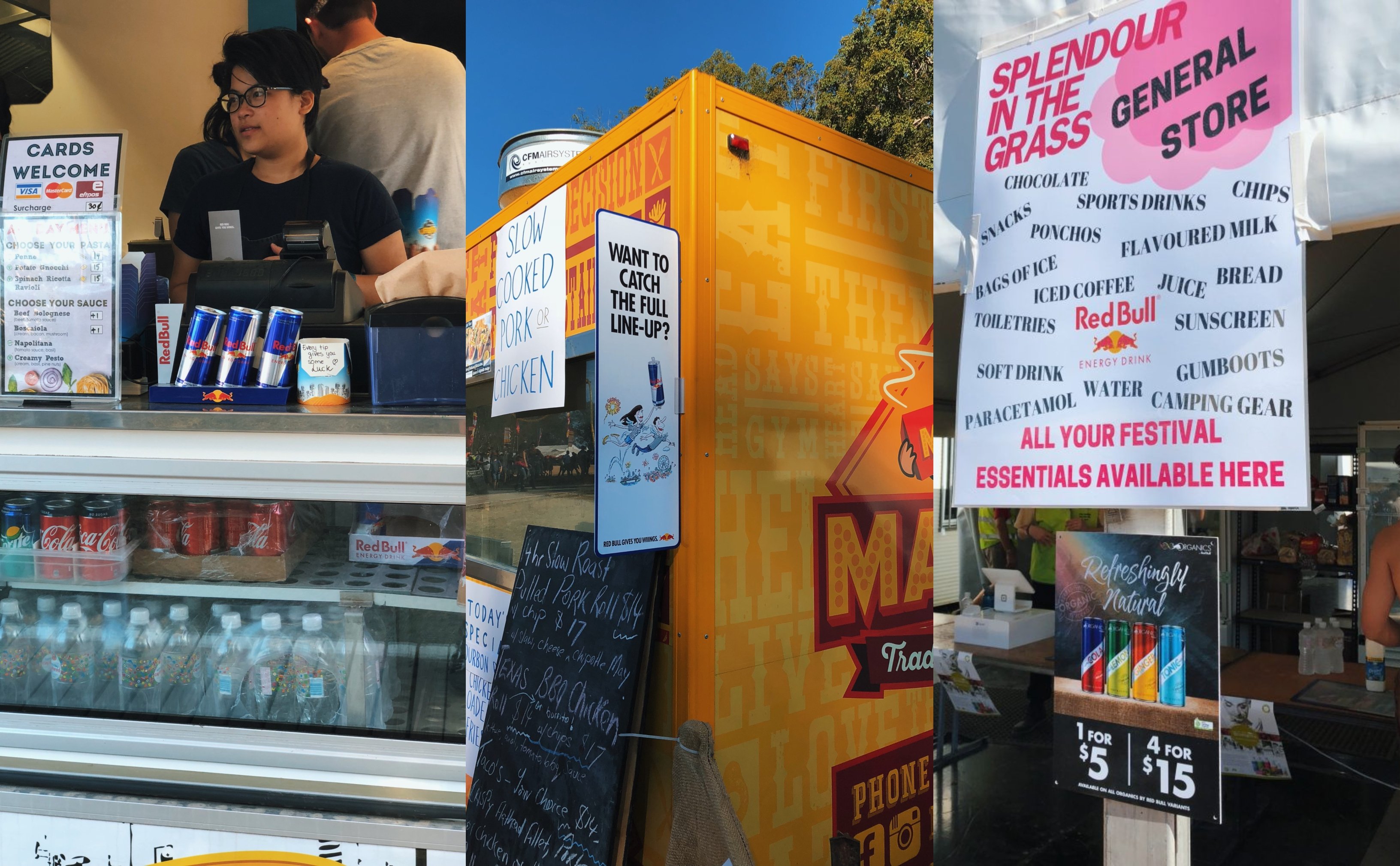 So there you have it, folks.
We maybe have left Splendour in the Grass for another year without our dignity, but we did leave with a bit of a buzz (thanks to Red Bull), some coloured hair (thanks to L'Oréal), a semi-charged phone (thanks to literally every brand ever) and a with a chance to win and do it all again at Falls Festival (thanks to ANZ).
The Music Network
Get our top stories straight to your inbox daily.