Benee's 'Glitter' is a dance challenge on TikTok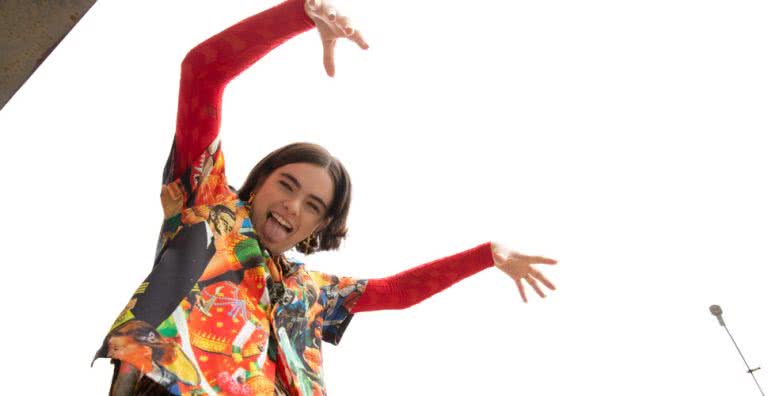 New Zealand's 19-year-old burgeoning pop export BENEE, real name Stella Bennett, is rounding out a banner 2019.
Following multiple wins at the New Zealand Music Awards (single of the year, solo artist of the year, best pop artist, and breakthrough artist of the year), a sold out Australian tour, and the release of debut LP FIRE ON MARZZ – all before she tours with Laneway Festival next February – BENEE is now taking the global stage.
Granted, the music is incredible, take one listen to new single 'Find An Island' and you'll get it, but her most recent win is thanks to TikTok, the short-form video hotbed for viral single campaigns.
BENEE's single 'Glitter' has captured the platform's #challenge-motivated audience, with Australian influencer receiving over 544K likes on her TikTok upload.
The 'challenge' using BENEE as a backing track is called #IKnowItsGettingLate', taking directly from 'Glitter's lyric sheet.
Almost 280,000 TikTok videos have been made using BENEE's 'Glitter' at time of publishing.
Like this one by her fellow Kiwis…
And this one by an account that's received 1.7M likes so far…
TikTok is fast becoming another strategic way to gain global attention. Norwegian artist AURORA and her UK label, Decca Records, tapped Gen Z influencer company Fanbytes and Blackstar London to help her latest track 'The River' go viral on TikTok.
Through the Fanbytes-developed #youcancrychallenge, TikTok users' video uploads amassed millions of views, with over 3,000 videos created in the first few days.
Granted, 'Glitter' is gaining momentum via all the now traditional routes; in New Zealand 'Glitter' is being streamed more than any Mariah Carey song, and on Spotify, the track has amassed over 143.3M streams. But she may not be making any serious cash from the mass pick up on TikTok.
In fact, the Australian industry is backing calls for TikTok to change tactic and pay reasonable royalties for music played on its platform as many videos uploaded to TikTok incorporate musical works that have not been licensed.
Speaking to TIO,  Richard Mallett, Head of Licensing at APRA AMCOS, said: "Quite simply, TikTok should do the right thing by copyright owners and take out licences to ensure music creators get paid for the use of their work."
Watch: BENEE – 'Glitter'
This article originally appeared on The Industry Observer, which is now part of The Music Network.
The Music Network
Get our top stories straight to your inbox daily.