Australia's live and streaming biz line up for NSW Music Inquiry: Watch it now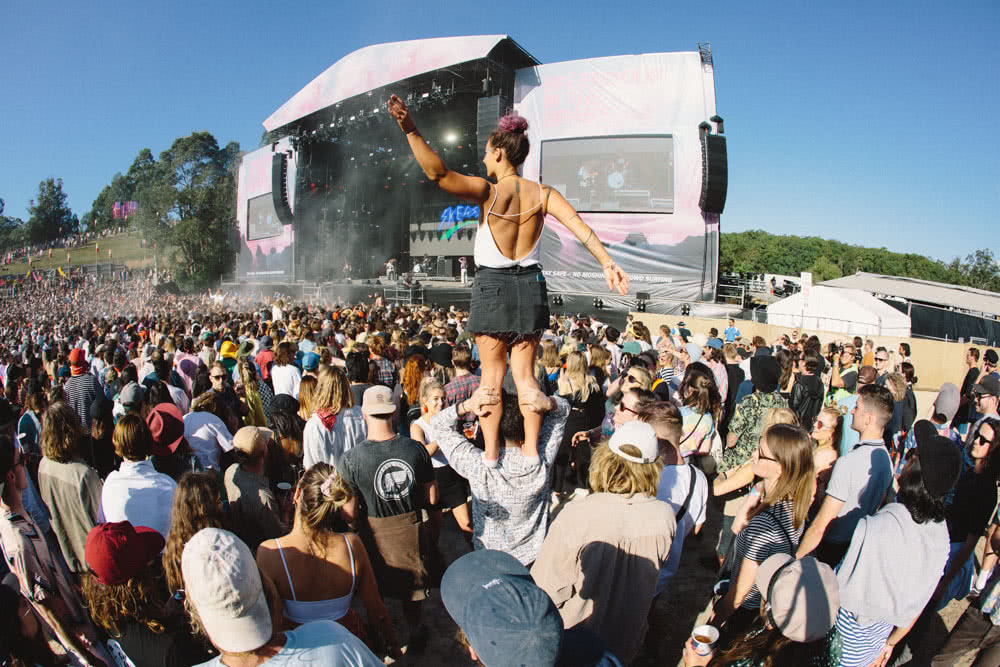 Skegss at Splendour In The Grass 2018
Image: Mikki Gomez
Australia's main streaming platforms were thrust under the microscope Friday morning as the NSW Music Inquiry kicked off at Parliament House.
Jane Huxley, managing director of Spotify Australia & New Zealand, was first in the hot seat at the Macquarie Room, as she was pressed on transparency, subscriber numbers and the platform's commitment to building Australian artists' careers here and abroad.
During her Q&A with MPs, Huxley was queried on how a new artist can get to the "top of the pile" on Spotify. It's a complicated mix of human curation, algorithms, search and luck, and she confirmed there's no pay-to-play (or payola) going on behind the scenes.
Over the past six years, Spotify has "invested heavily" in its Australia business, which now counts 50 staff, she said, and the last year had seen its "largest ever investment in local artist off-platform marketing initiatives."
Reading from a prepared statement, Huxley noted earlier that 70% of Spotify's global revenues are paid to rights holders, and that, Spotify has paid out more than 8 billion euros to the music industry globally to-date. On the industry's streaming led upturn, "we are looking at a good news story," she enthused.
Huxley and Matt Levey, the manager, international public policy for Amazon's local affiliate, who spoke next, were pressed on the contradiction between that cheery story and the downward pressure stemming from the "venue crisis," given the evidence presented during the inquiry hat "there is a problem with the grass roots in Sydney and New South Wales, MPs said.
Both were probed on their relationship with music festivals. And neither could answer specific questions on their companies' market share or subscriber numbers, with one MP admitting he was perplexed, citing the example of newspapers, which routinely share their distribution figures.
On the hot topic of Australian content in playlists, Huxley responded with a firm "no" to voluntary quotas which, she noted, runs against the very nature of on-demand. When questioned on other suggestions, from product integrations like user-choice preferences on receiving local music, she said the company was happy to take it to HQ in Stockholm as a product suggestion. Huxley was also asked about third-party local playlists to which she responded that they already exist on the platform and that the company was open to it. Later, Levey said the online retail giant's recently launched Amazon Music streaming platform hosts 50 million songs, and 150 playlists. All told, 75% of its playlists contain Australian music and 35 are exclusively homegrown tunes.
In his prepared statement, Levey said, "we know we have a long way to go, and for Amazon it is about working long term and focusing on our customers here in Australia. We do know that Australian artists will be central to that effort.
The session had no hidden agenda, one of the MPs insisted. "This Is a growing, fast growing industry, streaming. Transparency is essential. We're trying to get emerging artists a chance to play… and to live their dreams."
The day's lineup includes Sydney artist KLP, Triple J Hottest 100 winners The Rubens, Artist Manager Greg Carye, and reps from Secret Sounds, Keep Sydney Open, Sounds Australia, Support Act and live professionals.
Labor Loves Live Music is live tweeting the event, which was established last November to "inquire into and report on the music and arts economy" in NSW. Today's full-day session wraps up at 5pm. Watch the live stream here.
This article originally appeared on The Industry Observer, which is now part of The Music Network.
The Music Network
Get our top stories straight to your inbox daily.