More Australian Live Music Festivals Are Returning, But Challenges Remain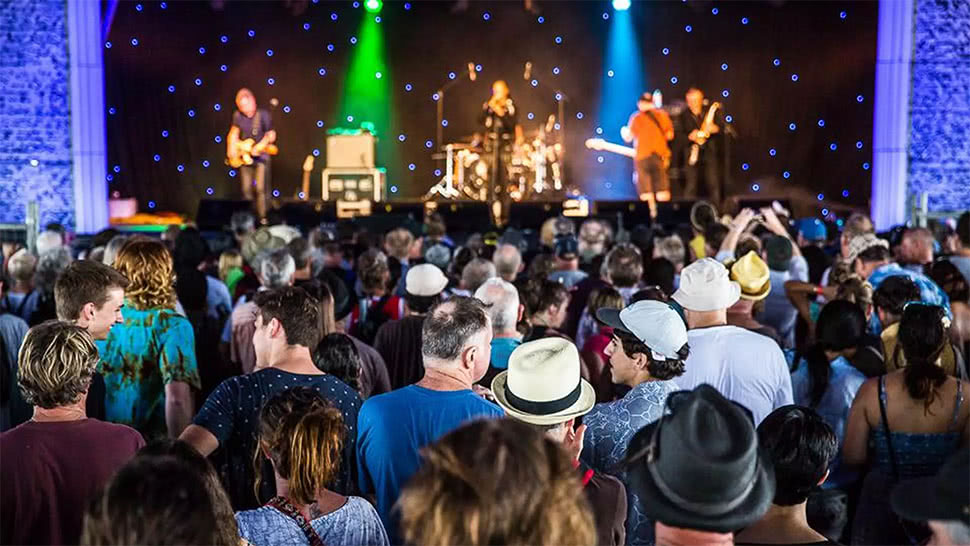 After Australian live music revenues declined by more than 60% during year one of the pandemic, how long until the sector goes back to contributing more than $15 billion a year to the national economy?
Australian live music events are a litmus test of the sector's recovery.
The last fortnight alone saw Bluesfest, Rabbits Eat Lettuce, Parrtjima – A Festival of Light, the Tamworth Country Music Festival and Parkes Elvis Festival, while Dark Mofo and Illuminate Adelaide released winter programs.
Challenges remain that will determine when the sector returns to pre-COVID numbers.
These will be discussed when the Australian Festival Industry Conference (AFIC) returns in winter after it was postponed a number of times over the last two years.
"The pandemic threw up a number of lessons for our industry that will have long-term implications and we can't afford to let these lessons just slip away," founder and event director Carlina Ericson told TIO.
The event has been expanded in length to accommodate new panels.
The AFIC returns between Tuesday, August 30 and Thursday, September 1 at Sea World Resort, with major sponsors Destination Gold Coast and H2 Insurance Solutions.
A keynote by Thea Jeanes-Cochrane of Cochrane Entertainment will discuss her post-pandemic vision for the events industry.
Another by Ulrich Schrauth, founder of VRHAM! (the world's first virtual reality arts festival, held in Germany) will cover the future of virtual reality and how Australian promoters can incorporate it into their festival's creative mix.
Other topics cover COVID-19 site planning and safety, the future of streaming, event insurance, accessibility and inclusivity, local regulations in NSW, sourcing grants, and leadership in crisis.
Being prepared to respond to future problems is a constant theme.
Another panel covers natural disasters, triggered by the recent flooding experienced across the East Coast. It is addressed by Dr Andrew Mathieson, senior lecturer at the Australian National University and an expert on disaster management and climate change, with the UK's Glastonbury among clients.
"The level of complacency in the Australian community (about COVID) raises the question of whether we as a country are running the risk of not preparing ourselves enough for the flu season that lies ahead," Ericson said.
Discussing this is Dr Jamie Ranse, founder of Mass Gatherings Collaboration at Griffith University who consulted with the World Health Organization on mass gatherings and crowded spaces, and was the lead developer of the Industry Framework for COVID Safe Events in Queensland.
Also on the panel are Bluesfest director Peter Noble and Luke Pearl, general manager (operations) for the Royal National Agricultural and Industrial Association of Queensland.
Noble emphasises the need for a national insurance scheme, telling TIO, "Whoever wins the election, there'll be less grants for the music community."
He discussed this backstage with Anthony Albanese when the Labor leader appeared on stage at Bluesfest to deliver his arts policy.
Bluesfest 2022 was a success, with 101,024 attending instead of the expected 85,000. But Noble notes the loss of skilled workers as a lond-term impediment.
There were 30% fewer production crews, he estimates, with a lack of numbers in everything from security to bars. Despite the return, he said, "It's not easy to put on events at the moment."
This article originally appeared on The Industry Observer, which is now part of The Music Network.
The Music Network
Get our top stories straight to your inbox daily.