Australia's music community powers 'next level' solar campaign FEAT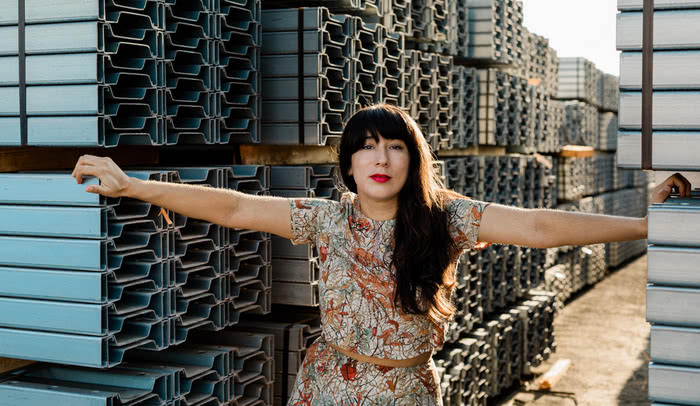 Vance Joy, Peking Duk, Regurgitator, Jack River and Midnight Oil are among a cadre of musicians and industry professionals powering a new, renewable energies campaign.
The project, entitled FEAT, or Future Energy Artists, is a solar investment fund for artists and the music biz, launched in association with Future Super, the renewables-focussed superannuation fund.
Spearheaded by Heidi Lenffer from Cloud Control, the Australian Music Prize-winning alternative rock outfit, FEAT will finance new and existing solar farms around Australia, an ambitious idea that came to her as she calculated the toll of touring for the environment.
FEAT became a reality after Lenffer and a team of climate scientists ran the numbers after Cloud Control completed a 15-date national tour. What they found was, Cloud Control's two-week run generated 28 tonnes of carbon emissions, roughly the equivalent to the output of an entire household over the course of an entire year.
"The fact is that this was just one small tour in an album cycle which also took us to the U.S. three times… then you think about multiplying this out with a 64-billion dollar industry worldwide and you've got a serious problem," she explains in a statement announcing the initiative. "Touring is easily the biggest source of income for artists, so when I understood how something as important as live music could be creating so much damage at this critical time in human history, I knew we could do so much better. I also knew that a progressive community like the music industry would have the guts and imagination to embrace change."
Lenffer's plan isn't up in the clouds. Initial investors in the fund will support the Brigalow Solar Farm in south-west Queensland which produces 35 megawatts, enough to power 11,300 homes for the next 30 years, or nearly 2,150 Cloud Control tours in clean energy every year, if the numbers are accurate.
"We're literally building the energy system that will give humans a future on earth, and I want artists to take ownership of this future," Lenffer adds. "The stakes have never been higher, there's never been a better time to invest in renewables, and this is a way for our whole industry to step up. Artists create songs out of nothing on a daily basis — now we're upping the game by creating solar farms."
Speaking on FEAT, Jaddan Comerford, Founder/CEO of Unified Music Group, said Lenffer's initiative was an "inspiration" which "sets a new standard for an industry that should always be at the forefront of change." He continues, "It's a next level idea, and one that we can get behind as an industry, not just for artists but the entire business community."
Meanwhile, Danny Rogers, co-founder of St Jerome's Laneway Festival and Managing Director of Lunatic Entertainment, welcomes the "wonderful initiative" as "the impetus of artists taking yet another stand to educate and then help try and solve the most significant challenge that our world is encountering."
To flick the switch on this campaign, artists will be able to invest a lump sum or a percentage of their touring income.
The fund will have a target return of over 5% per annum, and artists can choose to reinvest their dividend payments back into the fund, or have them paid to their artist accounts.
Michael Gudinski's Mushroom Music Group, Collective Artists, Green Music Australia, and Village Sounds are among the companies supporting FEAT.
Read more at www.feat.ltd.
This article originally appeared on The Industry Observer, which is now part of The Music Network.
The Music Network
Get our top stories straight to your inbox daily.