Aussie Music Festivals Bolster State & Regional Economies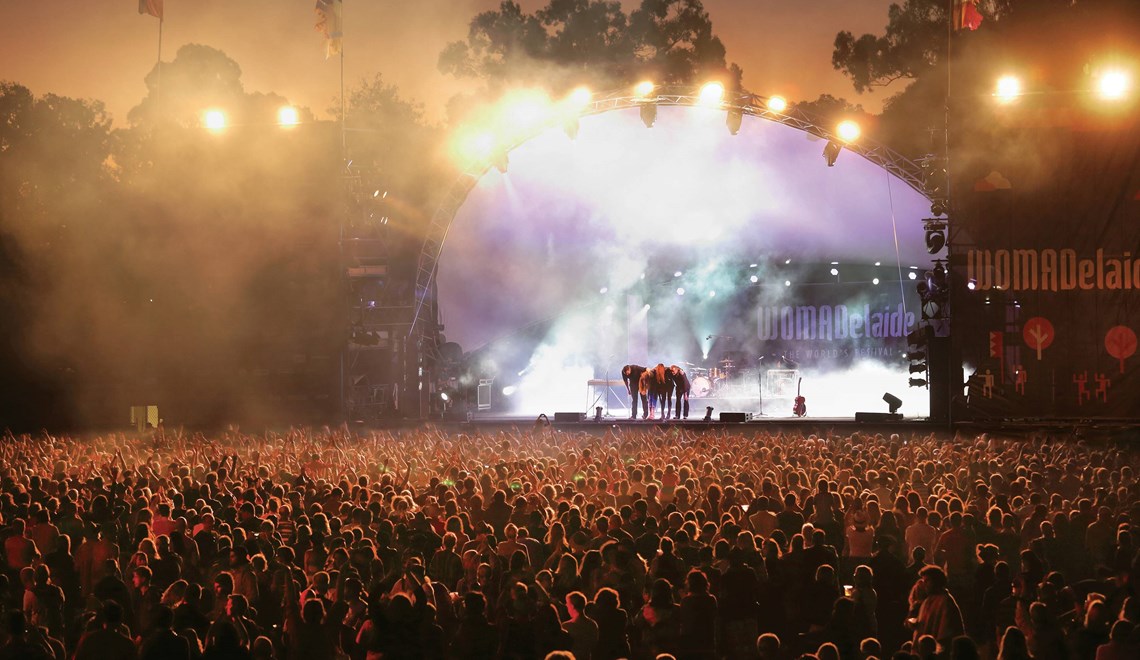 Womadelaide
Aussie music festivals continue to pump new money into state and regional economies.
Three Adelaide festivals in March were down on pre-pandemic numbers, but still multi-million-dollar bonanzas for South Australia, according to economic impact statements released last week.
For Adelaide Festival, which made $5 million at the box office, interstate visitors almost tripled, from 4,690 people and 35,301 bed nights in 2021, to 11,728 people staying 103,335 nights.
These increased contributions to the state to $51.8 million and created 250 full-time jobs.
In comparison, in 2011 gross expenditure was $42.5 million with 218 jobs.
The report indicated new expenditure in SA as a result of the festival was $23.6 million, from $18.6 million the year before, and newly created incomes at $26.4 million from $23.5 million.
CEO Kath M. Mainland called the boost in visitor numbers "incredibly heartening" and underlined the event's economic and cultural importance.
While the figures are going north, they're still well down on pre-pandemic levels.
The 2019 box office was $6 million, with an economic boost of $76.8 million from 19,046 interstate and overseas visitors spending 141,258 nights.
According to an independent analysis by ERC Pty Ltd, WOMADelaide contributed $17.4 million to SA (52,300 visitor nights), creating 1,421 jobs and spending over $2.5 million on artists, with a total expenditure of $33.6 million.
The maximum daily capacity in Botanic Park was reduced from 25,000 a day to 18,000. For one in five, it was the first visit to WOMADeaide.
In 2021, the festival was slashed to a series of sunset concerts which were attended by 18,690.
19.5% were from outside South Australia and brought $6.9 million to the state.
Adelaide Fringe generated $74.9 million for the state and attracted $50.1 million of new money.
Ticket sales were up 15% on 2021 to 727,567, worth $19.7 million in box office revenue, of which $18.7 million was paid directly to artists and venues and $16 million remained in SA.
The study found the Fringe attracted 32,000 tourists, staying a 178,055 visitor bed nights.
Tourist spending at the Fringe had almost quadrupled in the past six years, from $607 per person in 2017 to $2258 each in 2022.
5820 artists did 1195 shows, including 252 premieres, at 363 venues.
An additional $2.7 million of grants went to artists, producers and venue operators, to help reduce the financial risk for shows.
The SA government has promised $8 million over four years, which will go towards interstate and overseas marketing, securing headline anchor events, and more grants for artists.
The Fringe has also become the largest annual arts festival in the world, after the Edinburgh Fringe was cancelled in 2020 and held a scaled-down event in 2021 due to the Covid pandemic.
Music festivals remain important for regional economies.
Broome in in the Kimberley region of WA will benefit by $5 million with the return after 22 years of First Nations festival Stompem Ground, its founder and director Mark Bin Bakar told TIO.
A showcase of music, traditional dance and culture, it was held in in 1992, 1998 and 2000 featuring major acts.
Bakar blames its absence on a "lack of funding support, vision and recognition of the importance the festival had for the region, particularly as a major tourist attraction."
Kimberley Stolen Generation, Mary G Foundation and Mellen Events bring it back on September 17 to Father McMahon Oval.
The Pigram Brothers and Blekbala Mujik are on a bill headlined by Midnight Oil who played the event in the past.
The 2022 event is themed 'the time has come to say fair's fair' and marks the 21st-anniversary of the Kimberley Stolen Generations Aboriginal Corporation and the 25th anniversary of the "Bringing Them Home" report.
The Big Red Bash is estimated to bring $15 million to regional and outback Queensland.
Its promoter Greg Donovan also urges the 10,000 patrons "to think about spending money in the towns that they pass through – fuel, groceries, meals out, haircuts, accommodation, food and drinks, tours and gifts are all fantastic ways to generously contribute to the outback economy and to experience some wonderful and genuine outback hospitality."
Big Red also raised $350,000 for rural lifeline the Royal Flying Doctor Service since 2016.
The Deni Ute Muster, returns after two years, to Deniliquin, NSW, to an expected 20,000.
Its last official figure was $13 million raised for the region, and direct donations of $100,000 back to community groups.
Aside from the music from the likes of Brad Paisley, Jessica Mauboy, Darlinghurst and Busby Marou, the Muster also has ute world records, bogan bingo, rock climbing, helicopter and camel rides, wood chopping and bull rides.
Making their Muster debut this year are "Jetpack Entertainment, Rescue Dog Extravaganza, La Petite Grande, Crocodile Obstacle Course, Superslide and Twisted Science."
This article originally appeared on The Industry Observer, which is now part of The Music Network.
The Music Network
Get our top stories straight to your inbox daily.