Art Music Awards Reveals Details for 2022 Event
Editorial Operations Manager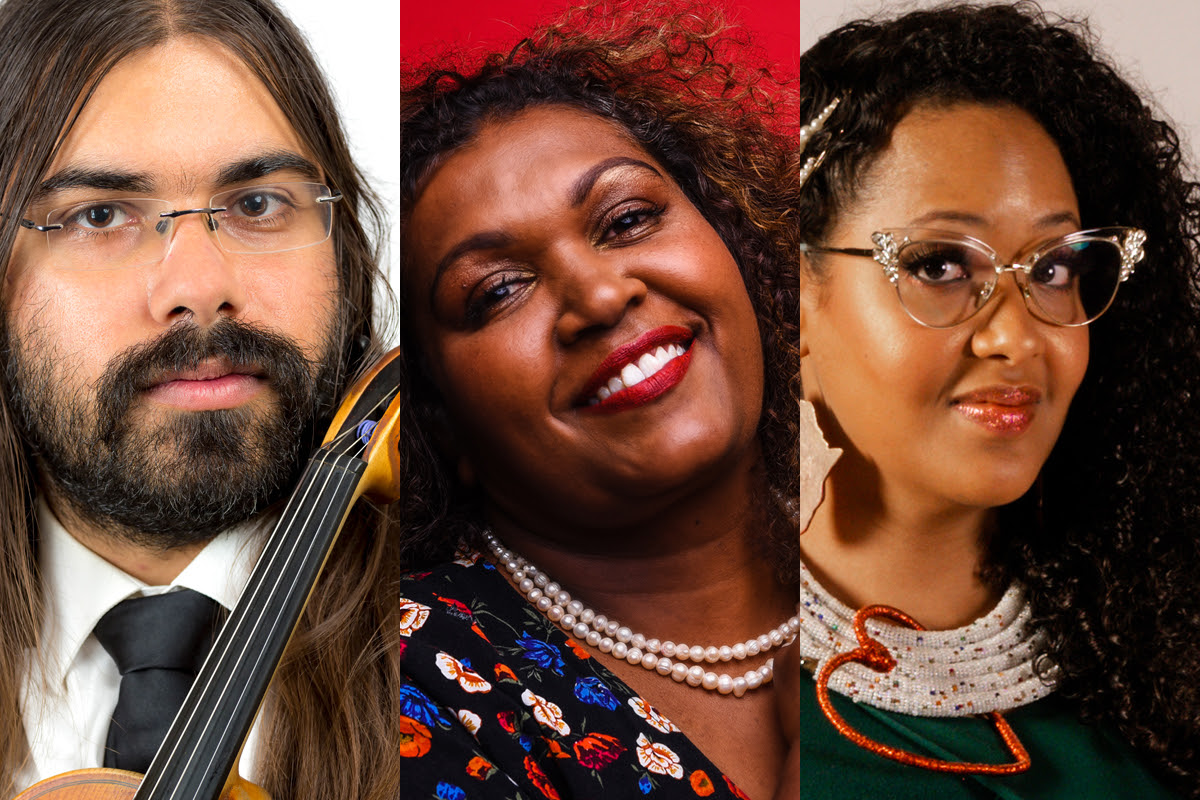 The Art Music Awards will be back in person in 2022, with organisers revealing more details about the event.
The event will take place on Aug. 31 at Meat Market in North Melbourne.
It will be hosted by Rwandan-British composer Stéphanie Kabanyana Kanyandekwe (pictured above right). Kanyandekwe writes and presents "Passenger", a weekly show on ABC Classic.
She will be joined at the hosting podium by acclaimed First Nations singer and songwriter, Emma Donovan (above centre), who is known for her work with The Putbacks and The Black Arm Band.
In addition, Aaron Wyatt (above left), who recently became the first Australian First Nations conductor of a major Australian orchestra – West Australian Symphony Orchestra – will execute hosting duties.
Live performances will be curated by Melbourne-based pianist and composer, Barney McAll, who has won multiple Australian Jazz Bell Awards, an ARIA Award and boasts a Grammy nomination.
Finalists for the 2022 Art Music Awards – which celebrate the achievements of Australia's talent in the fields of composition, performance, education and presentation of Australian art music – will be announced on July 26.
The awards will span 13 national categories, along with Luminary Awards for each Australian state and territory to honour the individuals and organisations who have impacted their communities over a sustained period.
The APRA board of directors will also award the Richard Gill Award for Distinguished Services to Australian Music, which recognises an individual or group considered to have made an outstanding contribution to the art music sector over a number of years.
Last year, Penny Lomax and Maureen Cooney were awarded the Distinguished Services honour. The full list of winners from 2021 can be found here.
The awards are a joint initiative of APRA AMCOS and the Australian Music Centre (AMC).
The 2022 event will be the first to take place in-person since 2019.
Catherine Haridy, AMC's CEO, said: "It's with great anticipation and excitement this much missed event will happen this year, in real life, at Melbourne's Meat Market. After a challenging two years, we have the opportunity to celebrate the power and resilience of our creators, their energy, and continuing ability to inspire, and tell our unique stories."
The Music Network
Get our top stories straight to your inbox daily.