Adelaide's Hindley Street Music Hall Set For Grand Opening: 'We Are Only Just Getting Started'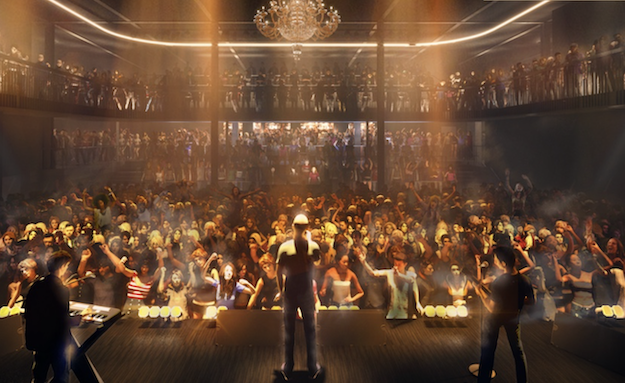 When Tommy O'Dell, Matt Mason, and Johnny Took step onto the stage Thursday (Sept. 15) at the Hindley Street Music Hall for what's expected to be a full house, a new era begins in the city of churches.
DMA's have the honours to christen Australia's newest mid-size music venue.
After a years-long tilt at the major league, during which they've graced some of the world's great rooms and crashed the U.K. charts, the lads are primed for the big occasion.
Hindley Street Music Hall, which finally opens its doors after a $6 million renovation, is shaping as a real moment for the city of Adelaide and its music community.
A 5-minute stroll from Rundle Mall in the city centre, HSMH is a venture of Secret Sounds, LN, local live entertainment specialists Five Four Entertainment, and the team behind Brisbane's Fortitude Music Hall and The Triffid, which includes Paul Piticco, co-founder and co-CEO of Secret Sounds, and former Powderfinger bass player John "JC" Collins.
Collins, who takes the title as venue director for HSMH, is confident the new complex will give a shot in the arm to a music city that has, due to its relative isolation, missed out on its share of touring action.  
"Whenever we look at a new project, we look at what the local market currently offers and look for any gaps in that market," Collins tells TMN. "We believed Adelaide was missing a mid-sized venue."
The South Australian capital "was always an important stop on the domestic tour schedule for us when Powderfinger toured," he explains.
"For some reason it's has been overlooked by some domestic and international artist in the past, the aim is 100% to make Adelaide a permanent fixture for all sorts of touring acts. It's a 'build it and they will come' situation."
That attitude has worked for The Triffid and The Fortitude Music Hall, which just last week hosted hundreds of party-goers for Bigsound's busy festival program.  
Outside of the pandemic's bleakest months, both venues have been stuffed with top tier talent.
The Triffid "has always had a huge focus on the artist experience," JC adds. 
"This philosophy continued with the design and fit-out of the Fortitude Music Hall. It's important when an artist rocks up to the venue they notice that considerable time and effort has gone into the bands' experience, and it's been put together by lovers of music and not only businesspeople."
Another lesson learned with FMH and borrowed at HSMH "is to ensure everyone in the venue has a great view of the artist," notes JC. "Hindley Street has fantastic sight lines, and this will make the venue feel very special for the artist as well as the fan."
Adelaide's position as a music city is not in any doubt.
With a population of 1.3 million, it's the country's fifth-most populous city, and the only designated UNESCO City of Music in Australia.
Its music history is a rich one, and each year the South Australia capital hosts the Indie-Con and the AIR Awards, where, at the most recent edition, DMA's reps I Oh You snagged the independent label of the year.
The status of live music in the state is considered so important, British festival promoter and "live music thinker" Martin Elbourne was engaged by the Dunstan Foundation to write a report on it, the results of which published in 2013.
HSMH was publicly announced in March of this year, with its team keen for the site at 149 Hindley Street to promptly become Adelaide's "premier live music hub" for domestic and international touring artists.
In development for over a year, the multi-million-dollar refit of the previous HQ nightclub creates a 1,800-capacity site, which includes a 1,300-capacity split level main room, a street-level front bar.
It'll provide standing, seated and cabaret arrangements, offering capacities of 800 upwards, and should create a minimum 60 direct employment opportunities and pathways for industry professionals, its operators say.
Over 135 tons of concrete and furnishings were removed from the original site, and a small fortune was spent on freight lifts for seamless artist load-ins.
"We have worked incredibly hard to craft" the venue, notes Paul Piticco, co-founder and co-CEO Secret Sounds.
 
"Secret Sounds and Live Nation are dedicated to the city and state," he continues, "and have launched three festivals, and now this amazing venue in the last few years. We look forward to bringing the best artists in the world to the Adelaide whilst creating a new platform for SA artists to launch themselves from."
It's the latest addition to LN's growing portfolio of live music assets, which includes the Palais Theatre in Melbourne and Spark Arena in Auckland.
HSMH is "a great boon for the South Australian music and hospitality sectors," comments Peter Malinauskas, Premier of South Australia, in a statement.
 
"Not only does it deliver a state-of-the-art venue in the heart of the city, but it will provide South Australians with career pathways in both the music and hospitality industries."
Further, he continues, "we hope to see more and more international artists and performers return to perform in South Australia." 
DMA's kick things off, leading a grand opening lineup that also features Wafia, Mashd N Kutcher, West Thebarton and Jess Day, with hosts Ben & Liam. The South Australian Government's Music Development Office is a supporter for the opening party.
Collins is "extremely happy" with bookings for the months ahead. Highlights should include Spiderbait; Brisbane's Pub Choir, which recently caught the attention of Kate Bush; Vance Joy; The Butterfly Effect; and an intimate performance by British band the Wombats.
The venue will also host the South Australian Music Awards, its first seated theatre show, Karen from Finance, plus shows from U.S. rapper Freddie Gibbs, veteran punk rockers Pennywise, and '90s pop icons Hanson, plus Australian acts Ziggy Alberts and The Chats.
"We already have a diverse range of artist booked," Collins enthuses.
"I feel like we are only just getting started."
The Music Network
Get our top stories straight to your inbox daily.