Meet the team behind Tones And I's 'Dance Monkey' video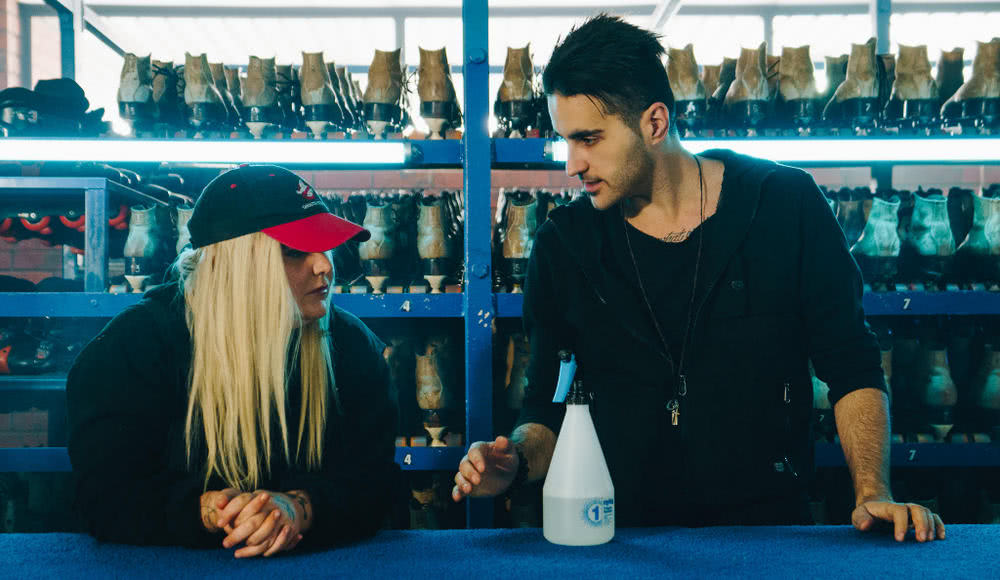 True story, it's 'Dance Monkey' mania right now.
Tones And I has captured the zeitgeist with a tune that's catchier than the flu, and its cracking music video is now up for a major award.
The Melbourne-born, Byron Bay-based newcomer has broken out in a big way with her second release, which has smashed chart records at home (en route to triple-platinum certification) and is flying high around the globe, with No. 1s in 11 territories.
Indeed, it's the king of the jungle on the ARIA Singles Chart, which it ruled for weeks, the longest-ever streak at the top by a female solo Australian artist. Tones (real name Toni Watson) hit another big milestone, overtaking the all-time Aussie record by Justice Crew, whose 'Que Sera' led the national singles tally for nine weeks back in 2014.
At the midweek point, 'Dance Monkey' held a lead over its nearest chart rival of almost 40%, sources say. Only a moron would bet against it at least equalling the record. And on the midweek U.K. chart, it entered the top 10 for the first time.
Its music video has raced past 33 million hits since it was uploaded to YouTube, and it was even up for an ARIA Award in the best video category.
'Dance Monkey' is a monster. And its music video unleashed the beast.
Watch Tones And I's 'Dance Monkey':
Created by Melbourne-based production company Visible Studios, the promo is another star turn for Tones, which sees the former busker turned into bad grandpa on a golf course, with some inspiration from Foo Fighters' 'Run,' a touch of Jackass, and a helping of Caddyshack and Happy Gilmore, all mashed up for hilarious effect.
'Dance Monkey' is one of two music videos that Nick Kozakis, Tim Whiting and Liam Kelly have developed with Tones and I. The second, 'Never Seen the Rain,' was released at the start of August.
The video was Tones' concept, explains Visible director and editor Kozakis:
"She wanted to be an old man hanging out with a couple of elderly people and have them doing antics on the golf course. That was always the original premise," he explains.
Kozakis and his crew were parachuted in after a conflict of scheduling forced the previous production team to pull out.
Problem solved. The Visible team got the call from Jackson Walkden-Brown, managing director of Artists Only, which co-manages Tones with Lemon Tree Music, "and from there we got involved. We had a tight turnaround. It was two-three weeks until we had to have it released. It was on the edge," recounts Kozakis.
"We had to organise a golf course. They wanted us to fly up there but we already had a relationship with Eynesbury Golf Course in Victoria. We pulled as many strings as we could last minute to get the video up and running."
Watch Tones And I's 'Never Seen The Rain':
Principle shooting was completed in a single day, a miracle for an outdoor shoot at the start of winter in Victoria. It was an extra-bonus for Tones, who got away with wearing the old geezer prosthetics just the once.
"We pumped through it, we kept shooting and shooting. We staggered people's breaks, that way we weren't all taking a break at the same time," says Kozakis.
Shooting started early, at about 7am, and wrapped when the sun went down at around 6pm.
The golf club "gave us creative license to shoot wherever we needed in the whole suburb, let alone the course," he noted. "From there we were able to use anything so long as we didn't interfere with anyone playing."
But there weren't many golfers out that day, thanks to the forecast for rain.
The dodgy weather did have its disadvantages
"There was a lot of post-production. We had to do sky replacement on every single shot," adds Kozakis, who cut the clip alongside Liam Kelly.
"Every shot we've had to key out the sky and replace it with a fresh background and track it. Any tracking shot or movement shot was a pain, but it came out. In the end, with that dusk shot, that's all painted too. It's a transposed sky throughout the entire video clip."
From concept to completion, the video was completed in a month. All on a "really tight budget," explains Kozakis.
"Tones gave us a hole in one with the actual edit," he says with a smile. "There were no edit amendments. She was so satisfied."
Kozakis admits he had no idea 'Dance Monkey' would be such a hit, though others in his team spotted it.
"Our director of photography Carl Allison, he was like, 'we need to do this clip, it's not about money.' He was onto how awesome the song was, and how big it was. I liked the song but I didn't expect it to be globally massive.
"Tones is a really nice human. She has a great attitude and wants to take the right steps and do right by people. Everything was screaming 'yes' to do it."
Kozakis started his career in music videos, working with the likes of Warner, Universal Music, UNFD and Golden Era, including the ARIA Award-nominated Illy and Pez's 'Where Ya Been,' Hilltop Hoods' 'I Love It' and Pierce Brothers' 'It's My Fault' as well as film, TV and commercial work for a variety of clients such as Sony, Telstra and Yarra Trams.
His feature film Plague screened at Cannes Film Festival and more are in the works. Working on 'Dance Monkey' was a breath of fresh air.
"It's been played on rotation on MTV, Channel V. The YouTube (success) is really humbling and it keeps counting up. It started up at 10,000 a day, then went up to 100,000. It's going gangbusters.
"As much as film is something that we use as our bread and butter as a production company, you've also have fun with it. If you take that out, it's just a job. This one was really a passion project and we all wanted to do it and have a laugh on."
Tones can do it all, but can she play golf?
"She can," reckons Kozakis. "She can smash the ball. She was doing alright, but obviously we wanted her to play badly for the sake of the video, so that she kept missing. That was all scripted."
We're giving away a Tones and I merch pack right now, including her debut album on vinyl, a hoodie, at-shirt and a backpack. Head here to enter – it's free!
This article originally appeared on The Industry Observer, which is now part of The Music Network.
The Music Network
Get our top stories straight to your inbox daily.