Sarah Aarons, Joel Little celebrated in new Apple Music 'Behind the Songs' feature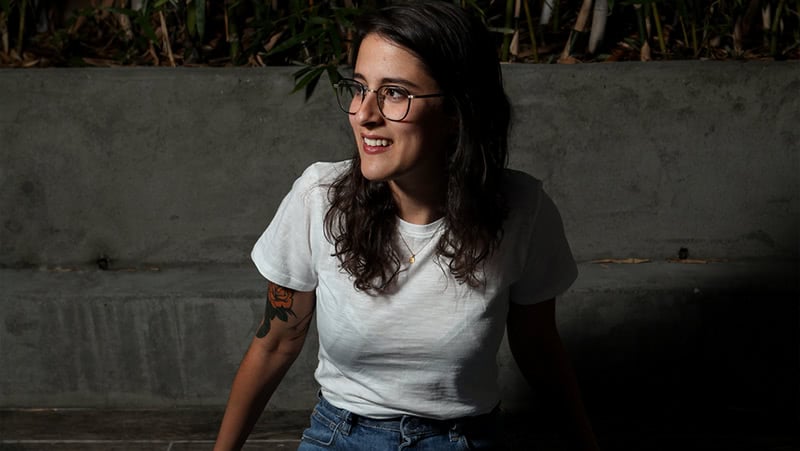 The unsung heroes are getting a slice of the spotlight on Apple Music.

The tech giant's digital music platform has quietly launched "Behind the Songs," a new virtual shout out to songwriters, producers and session musicians and their often unrecognised work.
"Behind the Songs" is a hub which highlights creators through Apple Music's key playlist brands, "Songbook" and "Behind the Boards."

Multiple APRA Award-winning songwriter Sarah Aarons and New Zealand hitmaker Joel Little are, at launch, among the homegrown champions celebrated with "Local Songbook" playlists.

Drill in and you'll find Apple Music original content, from "Lyrics To Live By" to "Song Stories" and more. It'll appear for any subscriber searching for "Songwriter(s)."

Apple's new feature, say those working on it, was intended to direct the conversation toward songwriters and other behind-the-scenes music makers. 
It's an inclusive dive, explains Dan Adams, Global Head of Creative Services and Music Publishing, Apple Music, who points out songwriters and publishers can participate in regularly updated editorial features and promotions with the digital platform and its subscribers.
TIO caught up with Adams for a look behind the curtain of "Behind the Songs."


TIO: The writers and producers are the unsung heroes of music. We're seeing a movement to give them their dues, with the launch of music credits platform Jaxsta and a slew of awards for producers and songwriters. Why did Apple get involved?
My team was established in order to spotlight the people who create the songs we love, so building "Behind the Songs" was an important step in telling those stories.

Apple Music is ultimately a service staffed by music fans. That means we're interested not only in the music, but like any real music fan, obsessed with the entire process of the song; who wrote it, why, where, when, and especially all of the people who brought the song to life.
Remember, Apple's wider business plays an integral part in the lives of the songwriter and producer community, from recording their first ideas on voice memos, recording on GarageBand, or producing their next hit on Mac and Logic Pro, and beyond. This is a great way to celebrate the end product.

Also, we want to help make Apple Music a destination where music fans can take a deeper dive by learning about the people behind the songs. That helps engage our subscribers, and give them another reason to come back and enjoy even more about their favourite music.


What's the selection criteria for spotlighting a producer, songwriter or session muso?
While this is about highlighting songwriters and producers, we also work closely with our music publisher partners.
We've been busy building great creative relationships with them, much like we've done on the commercial and operational sides of their business.
They've helped us understand when the best moment is to spotlight a particular songwriter of theirs, so we're putting the most relevant songwriters in front of our subscribers, at exactly the right moment.
Sarah Aarons and Joel Little are among the Aussies and Kiwis spotlighted. Are there others coming and did they — or others — have any input?
The first Aussie songwriter we featured was actually Toni Watson (Tones & I). She appeared last year, on episode 3 of Nile Rodgers' Deep Hidden Meaning Apple Music radio show.

It was an amazing interview – she broke down some of the magic behind 'Dance Monkey,' but what I loved most was hearing her and Nile talk about the craft. They come from different generations, but speak the same language, and have the same enthusiasm for translating their stories, thoughts and feelings into huge hit songs.

How does "Lyrics To Live By" and "Song Stories" look and feel?
It's another way of letting the listener dive deeper into the song.
We all attach our own meaning to certain lyrics, but when you hear directly from the person who wrote them, it can often completely change the way you thought about the song.
I've always felt that discovery can turn you from a casual listener to a real fan, and this is a neat way of doing it.


How long did all this take from conception to rollout?
I've been at Apple for many years, but my role building this team is relatively new. In fact, it didn't start with me.
The editorial team have often invested in interesting editorial ways to focus on songwriters, but I felt that we needed one destination where we could present them all.
That's what "Behind the Songs" is about; a single destination for music fans to take a deeper dive into the world of songwriters and producers.
Phase 1 was creating the home. Next, we work to make it an even more rich, engaging destination that I hope our subscribers, and the songwriter community will love.


What feedback have you had from those hidden heroes?
Well, I tend to live by the rule that if Nile Rodgers likes it, then it must be good… He said: "Apple Music has, above all, continued to invest deeply in the songwriting community and its various components, and 'Behind the Songs' is a new place we can call home. I've loved bringing the stories of today's most inspiring songwriters to life on my Deep Hidden Meaning radio show, and Apple Music been able to spotlight the best of what's next with their resolute support of The Ivors Academy and the Rising Star Award." 
This article originally appeared on The Industry Observer, which is now part of The Music Network.
The Music Network
Get our top stories straight to your inbox daily.