New Signings & Team-Ups: Create/Control tap Moses Gunn Collective; MGM rides Rodeo Records; iHeartRadio tunes into Chinese community; Qantas, Live Nation, create web series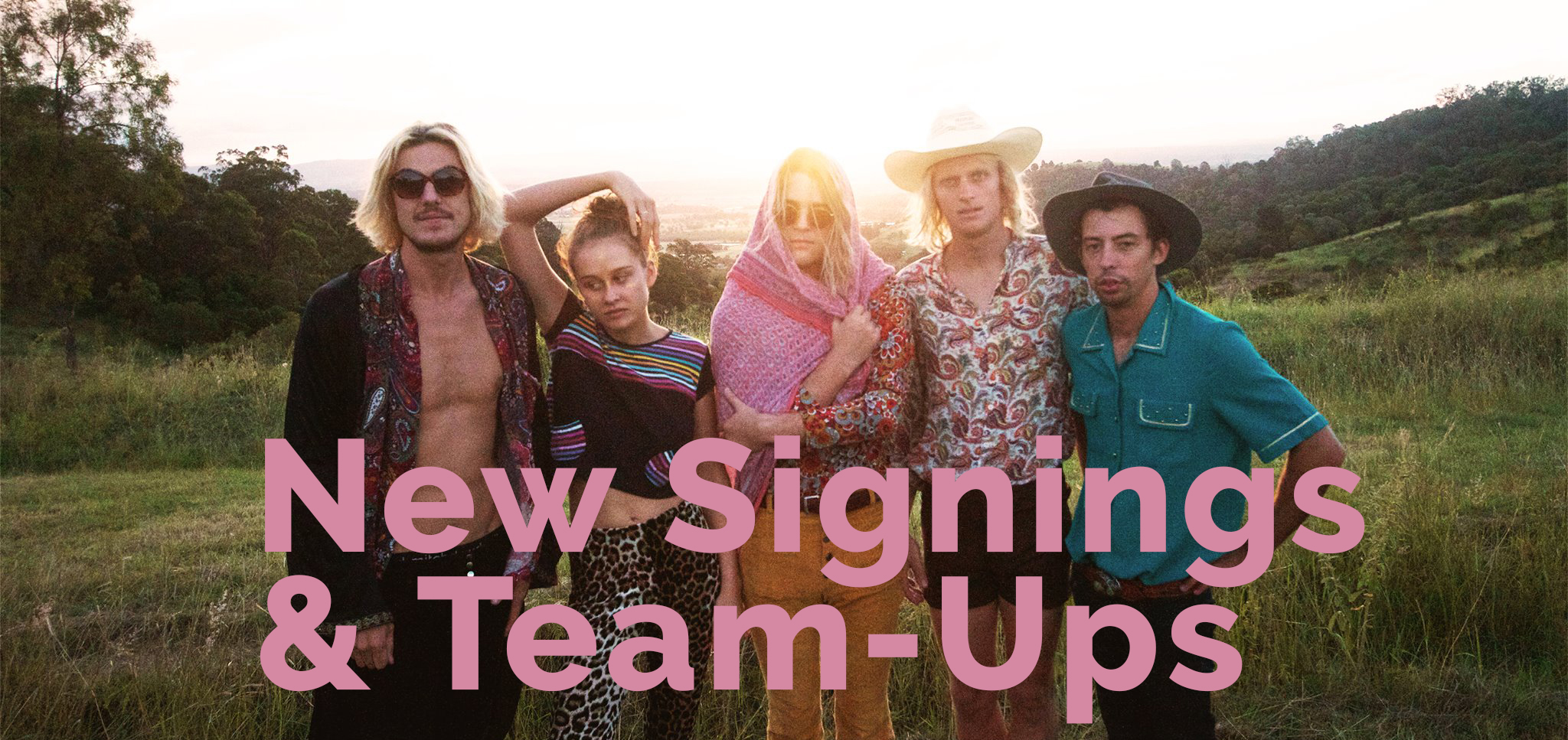 Create/Control click on Moses Gunn Collective
Create/Control added Brisbane band Moses Gunn Collective(pictured) to its roster. Made up of members from Orphans Orphans, The Belligerents, The Furrs, Morning Harvey and The Family Jordan, their Morning Shakes EP and singles Shalala and Mary received triple j and community radio support. MGC have issued Back Into The Womb as lead off single from debut album Mercy Mountain due this year. The act is currently on tour with The Jungle Giants.
Sticks and Stones
Broken Stone Records/Remote Control signed Sydney electronic trio The Sticks. They formed last November when lon Ilsar invited Daniel Pliner (synths) and Josh Ahearn (electric bass) to perform improvised electronic music once a week in a small Redfern bar. Debut single World Maps is out this week. In June they do launches in Melbourne and Sydney.
MGM Distribution rides Rodeo Records NZ
Sydney-based MGM Distribution struck a distro deal with Rodeo Records NZ. It will release Rodeo products in Australia, in New Zealand (through MGM's NZ deal with Southbound) and worldwide through its network of digital stores.
Rodeo was set up by producer and Uptown Recording Studios owner Alan Jansson and country singer Aly Cook. Cook's single No Phone, No Mail, No Internet (from the June 12-due album Horseshoe Rodeo Hotel) is enjoying a 10-week run in the Top 40 Country Tracks Chart in Australia.
Tidal partners with wireless speaker company Raumfield
German multi-room wireless speaker firm Raumfeld is the latest audio firm to link with Jay-Z's high fidelity music streaming service Tidal. The Raumfeld app, available for iOS & Android devices, has fully integrated Tidal and offering its new customers three months of free Tidal HiFi.
Raumfeld's Senior Product Marketing Manager Clemens Rumpf said, "Tidal is a great match for our Wi-Fi speakers as we support the lossless sound quality they provide. Unlike many other brands we don't compress music, meaning that consumers can hear the music the way the artists intended it to be heard.
AristoMedia presents Australian showcase in Nashville
Nashville-based, independent entertainment marketing/media/promotion AristoMedia, founded by Aussie expatriate Jeff Walker, will again feature Australian performers at its annual global showcase. The CMA World GlobaLive! is held during the CMA Festival in Nashville. The Australasian contingent includes Adam Eckersley Band, Morgan Evans, Cam Luxton and this year's 2015 Toyota Star Maker Mickey Pye. They play alongside acts from Brazil, Canada, Ireland, The Netherlands and the UK. Walker has been such an enthusiast promoter of Australian talent in the American music city that last year, the Country Music Association of Australia presented him with its first lifetime achievement award and honorary life membership.
National Touring Selector going live
Regional Arts Australia (RAA) and the Performing Arts Touring Alliance (PATA) will on May 25 launch the National Touring Selector (NTS). It is an online resource which enables producers, presenters and tour coordinators to access national performing arts touring markets. The NTS launches with an Online Selection Round where producers can list their new shows to participate in national tour building.
The NTS replaces Cyberpaddock (its current subscribers are automatically transferred) with a new business model, greater reach and more functions. RAA President Kate Fielding said the association "has committed significant resources to building the NTS as a tool that has the capacity to serve artists, venues and touring organisations."
The idea of the NTS was welcome by Australian Performing Arts Centres Association (APACA) Executive Director Bronwyn Edinger who said the need for such an initiative had been highlighted in APACA's recent Performing Arts Touring Needs Analysis survey.
iHeartRadio has a yuan for Chinese Hits in NZ
With Auckland's Chinese community growing 40% from 2013 to 2014, NZME's digital radio service iHeartRadio has, in partnership with TV3, launched a new station Chinese Hits. Targeting under-30s, it will air the latest Chinese hits from China, Hong Kong, Taiwan and Singapore. In NZ, iHeartRadio has 300,000 registered users.
US Christian performer inks with Australia's Downunder
Washington State-based folk singer/songwriter Tom Taylor now has an Australian home at Christian music group the Downunder Label Group. Taylor's music has had airplay here in the last two years from the 600-station Vision Radio Network. He has yet to tour here, his biggest market in the world.
Joss Stone gets stone'd at Kobalt
British soul sensation Joss Stone's seventh album Water For Your Soul is out in July on Kolbalt Label Services in a team-up with her Stone'd Records. The album continues her explorations following her expanding into world, reggae and hip hop on 2012's The Soul Sessions Vol. 2. The new album sees her collaborating with Nitin Sawney, Damian Marley and Dennis Bovell.
Levi's behind Melbourne Music Week series
Levi's returns as presenting partner to the Self-Made series, one of the initiatives of Melbourne Music Week. It has doubled the investment previously offered to successful applicants to $1000, as well as providing mentoring and guidance to Self-Made event organisers through industry workshops held by the Levi's marketing team. Marketing Manager for Levi's ANZ, Nicky Rowsell said: "The partnership with Melbourne Music Week is yet another effort in fostering emerging talent across the music industry and creative arts scene."
Melbourne Music Week is run for its sixth year by City of Melbourne between November 13 and 20. It is currently calling on promoters, venues, record labels, businesses and individuals to get involved. Expressions of Interest (EOIs) are now open for MMW 2015 for Live Music Safari, The Hub, Umbrella programming and the Self-Made series melbourne.vic.gov.au/mmw
Franki with A&R Department/Pavement Records
Melbourne indie electro-pop singer, songwriter, instrumentalist and producer, Franki signed with Matt O'Connor's A&R Department/Pavement Records. First single Lost he says, "is about finding your way out of a dark place and I tried to use all the elements to capture that."
Qantas, Live Nation, create web series
Qantas and Live Nation have an in-house produced web series called Qantas Carry On for airing on the airline's YouTube channel. In the latest, comedian Nazeem Hussain asks comedians what they have in their carry-on baggage.
Brands flock to Vevo New Zealand
Music and entertainment platform Vevo's New Zealand operations has signed 11 new clients this year. These include Coca-Cola, Disney, Village Roadshow, SKY TV, Samsung, Kellogg's, Kimberley-Clark and Massey University. This is due to Vevo NZ reaching 32 million streams in March, up 12% on February. New Zealanders watch significantly more music videos per capita than Australians – 6.2 vs. 4.3. Brendan Muller, Country Manager, Vevo NZ said, "The phenomenal growth in the Vevo audience, driven by mobile views along with the safe, premium nature of our platform, has certainly captured their attention." Vevo is represented across New Zealand and Australia by music and marketing business, Authentic Entertainment.
The Pinheads prick a deal
NSW band The Pinheads joined Farmer & The Owl, label home to Hockey Dad, and promoters of Wollongong's Farmer & The Owl Festival. New single I Wanna Be A Girl is title track of a July-due EP made in a barn in bushland. The six-piece (sometimes seven) grew up on garage rock and horror movies.
Hit 104.1 2DAY FM partners with Sydney Color Run
Southern Cross Austereo's 104.1 2Day FM is the official presenting partner of the 5k Color Run, held in Sydney on Saturday June 6. Thousands will head to the Domain and huff and puff through glowing colour zones, bubble stations, magical glow powder explosions and then dance off whatever energy they have left at the after party. A statement from the broadcaster said, "This is a further extension of the existing relationship between The Color Run and Today's Hit Network with 2DayFM and other Hit Network stations celebrating all that The Color Run stands for – happiness, health and individuality!"
Two more join Outdoor Media Association
The total membership of the Outdoor Media Association (OMA) now totals 32 after being joined by ADLED, which provides LED screens to the out-of-home industry, and digital media display company Tonic Health Media which places screens where people wait for health services.
US record deal for Aussie songwriters after win
Sydney country singer-songwriters Hunter and Suzy Owens landed a record deal with Pinecastle Records after they won the country component of the Chris Austin Songwriting Contest at MerleFest in North Carolina. The one-song contract also provides US$500 for them to record their winning entry It Would Be Easier which they performed onstage following Marshall Tucker Band.
Suzy said, "We took to the stage on a perfect night weather-wise, just as it became dark, lights twinkling, the crowd stretching as far as the eye could see."
The track will be included in a 4-track EP with winners from other categories, and sent to radio through North America.
Mindshare back at Vivid
Media and marketing service Mindshare returns to Vivid Sydney (May 22 to June 8) to mentor creative entrepreneurs. Its Adam Ross, Sam Turley and Jason Maggs create a dedicated interactive area Ideas Brewery at the REMIX Summit in Sydney's Town Hall, where they will turn inspiration to action. As part of this, Mindshare will work with the ABC where creative entrepreneurs submit ideas that will revolutionise the way people experience arts and culture in Australia. Ideas can be submitted to the ABC Radio National microsite until May 17. Mindshare CEO Katie Rigg-Smith says, "Innovation and creativity is a key driver of our business success." The winning creative gets a three-month mentorship from Mindshare.
SYN volunteers in line for scholarship
Melbourne youth station SYN and the Radio Training Institute (RTI) have come up with the Student Ambassador scholarship. A current SYN volunteer will be selected for leadership, professionalism and passion for radio and gets a spot in the full Advanced Radio course.
The Music Network
Get our top stories straight to your inbox daily.