IFPI's 2017 Global Music Report: The key takeaways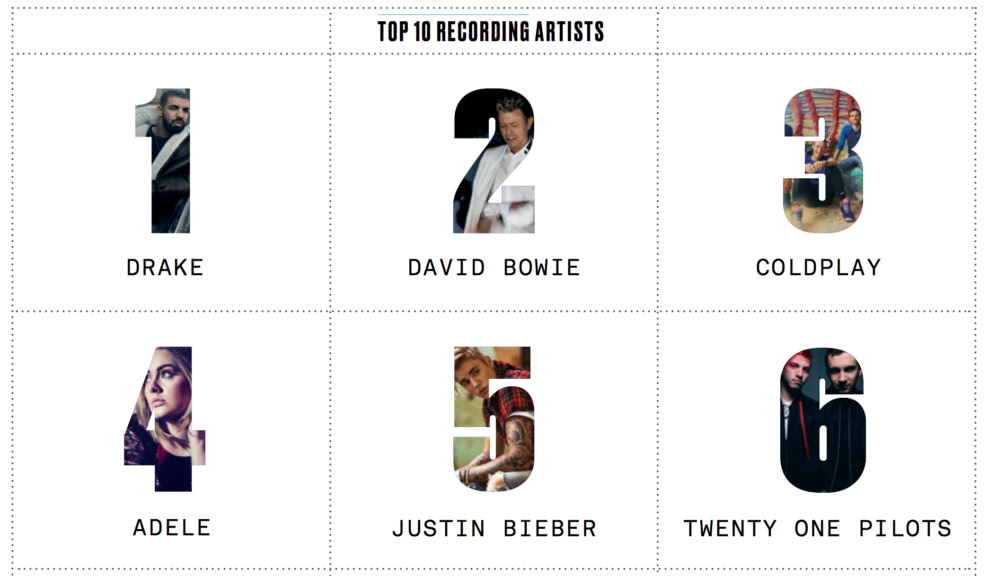 During a global media conference call on April 25, global recording industry body the IFPI was joined by Stu Bergen (Warner Music), Michael Nash (Universal Music) and Dennis Kooker (Sony Music) to present the annual Global Music Report.
While much of its findings are positive thanks to the explosive growth of streaming, it's not all good news for Australia, which has been demoted from its spot on the list of the world's largest music markets. See below for our key findings:
Global music revenues were up 5.9% in 2016
A shift of the model over the last two decades from ownership to access has resulted in sustainable growth, albeit modest. The growth of 5.9% to US$15.7 billion is the highest rate since IFPI began tracking the market in 1997.
The shift continues an upward trajectory following 15 years of significant decline – where the industry lost nearly 40% of its revenues between 1999 and 2014.
There's no doubt that streaming is the key driver of growth
Paid subscriptions to streaming services like Apple Music and Spotify have broken the 100 million mark worldwide; with 112 million people now using paid subscription accounts globally.
In 2016, streaming revenues increased by 60.4%, making up the majority of digital revenue. Streaming contributed the lion's share of the US$7.8 billion in digital revenue last year which, in turn, now accounts for 50% of total recorded music revenues.
Streaming competition is now centered around "market growing, not market stealing" 
While competition indeed helped growth in 2016, the good news is they're not trying to cannibalise each other. In fact, they're all looking to offer a point of difference, which in turn grows the market and the user experience.
Warner Music's Chief Digital Officer & EVP Business Development, Ole Obermann, said: "If we want to attract hundreds of millions of people to paying services, we must recognise that music fans will have different preferences for how they engage with music. The ideal scenario for market development is that these global services all take a different approach and appeal to different music fans."
Granted, with the abundance of services on offer, competition is still high. But according to Spotify's Director of Economics, Will Page, competition is "based around market growing, not market stealing."
"At the moment, we are growing, Apple's growing, Amazon's growing, and other services are coming on board, and we're not stealing each other's lunch," he said.
Asia and Australasia's recording music revenue increased by 5.1% last year
Following Asia and Australasia's return to growth in 2015, the territories saw a further 5.1% growth in revenues last year. Wholesale figures showed a 45.6% rise in streaming income, offsetting a 9.4% decline in digital downloads and contributing to an 18.7% rise in digital revenue. Physical formats declined by 1.8%.
As reported by TIO in March, wholesales figures released by ARIA showed that streaming f­­­­­uelled the local industry's 5.5% growth in revenue in 2016, generating $352.2 million.
Australia is no longer the 6th largest music market
While revenues in Australia were strong in 2016 and grew by 5.8% on trade value to AU$473.99 million, the Canadian music industry grew at a slightly faster rate, moving up from 7th place to replace Australia in 6th place.
The Top 10 world's largest music markets for 2016
1. USA
2. Japan
3. UK
4. Germany
5. France
6. Canada
7. Australia
8. South Korea
9. Italy
10. Netherlands
Latin America was the region with the highest level of growth in revenue in 2016
Latin America saw a 12% rise in revenue last year, making it the region with the highest level of growth for the seventh consecutive year.
Digital revenue was up 31.2%, driven by a 57% surge in streaming revenue. Brazil, the region's largest market declined by 2.8% last year, while the second largest market Mexico grew by 23.6%.
Posthumous sales boosts affected the list of Top 10 Recording Artists for 2016
Two of the Top 10 most popular, best-selling artists of 2016 were sadly taken from us last year. Expectedly, the popularity of David Bowie and Prince saw a posthumous spike in sales, downloads and streams with Bowie ranking #2 and Prince ranking #9 in the list of Top 10 artists.
Adele, who ranked #1 in 2015 came in at #4, Ed Sheeran, who ranked #2 in 2015 fell off the list completely during his hiatus and Drake climbed from #9 to #1 following the release of his global #1 record Views.
The 5.9% spike in global music revenues should not leave us complacent
Sony Music's President, Global Digital Business & US Sales, Dennis Kooker, said we shouldn't "over-read" the positive industry growth.
"When we look back, 2016 may have been a tipping point for streaming and, most importantly, for paid subscription streaming," he said. "A year ago we listed driving paid subscription as the number one priority, so that has been a positive development and a lot of hard work went into that.
"So, there has been good news, but I think some people might over-read that, they might think, problem solved, everything is going to be great. The truth is, we cannot be complacent."
Universal Music's EVP, Digital Strategy, Michael Nash, warns us not to misread the landscape:
"My perspective on 100 million [paying streaming subscribers] is, that's great, it sounds really great, it feels really great and it's definitely an expression of a very significant development," he said. "But if we breathe a sigh of relief and feel that we have arrived somewhere, we would be completely misreading the landscape.
"This is not simply another format transition, it is a fundamental transformation that is changing everything about the business," he added. "To raise the Mission Accomplished banner would be the worst mistake we could make."
Record companies invest 27% of their revenue into A&R and marketing each year
Record companies and their distribution partners have licensed more than 40 million tracks to hundreds of digital services worldwide. Undoubtedly the primary investors in music, they spent US$4.5 billion on A&R and marketing in 2015 – more than most other sectors invest in their own research and development.
According to the IFPI, the typical cost of breaking a worldwide signed artist in a major market is US$500K–$2M.
YouTube's use of Safe Harbours is hurting artists
Unfortunately, as the music market continues to grow, so too does the level of unfair remuneration to artists from digital services like YouTube. Many global policy makers, including those in Europe, are looking into legislation which allows digital services to claim they are not legally responsible for the music they distribute on their sites. However, until shields like Safe Harbours are lifted, revenues are being drained from the industry.
What's more, the situation creates competition amongst fairly-licensed streaming services like Spotify, Deezer and Apple Music who are forced to compete with services that claim they are not liable for the music they distribute.
IFPI CEO Frances Moore said: "Gradually, policymakers are beginning to listen and legislation is being examined or proposed in some territories around the world, including in Europe where the European Commission has recognised the existence of a value gap and begun working towards legislation. However, this is a global problem that requires legislative solutions across the globe. The industry continues to fight worldwide for a level playing field for fairly licensed digital services."
Speaking to journalists on the global media conference call, Michael Nash, EVP Digital Strategy, Universal Music Group, said Europe is providing real leadership on the value gap issue.
"I think that it is certainly the case that markets around the world are looking at the evolution and the dialogue in Brussels with the hope that we may get a model for how the value gap can be significantly ameliorated through legislative action."
'Stream ripping' is now very much part of the challenge facing our industry
The process of creating a downloadable file from music that is available to stream online has become the most common way of illegally downloading music.
Research conducted by audience measurement organisation IPSOS in 2016 found that 30% of all internet users (and 49% of 16-24-year-olds) had engaged in 'stream ripping' in the previous six months.
Shockingly, the most popular stream ripping site, YouTube-MP3.org, receives more than 60 million unique users per month.
However, the introduction of Global Release Day (or New Music Fridays) in 2015 has reduced leaks of recordings. Before its introduction, the 'leak window' – or the gap before a local release day – could stretch out to a few weeks; now it's just a few days.
The IFPI, which co-ordinated Global Release Day, runs a takedown service for members and national groups. It monitors most copyright-infringing sites and social networks. The IFPI reported that in 2016 19.2 million URLs were identified as hosting infringing content and actioned for removal, and 339 million requests were sent to Google requiring it to 'delist' infringing sites.
The majors are embracing transformational opportunities
Stu Bergen, CEO, International and Global Commercial Services, Warner Music Group said the company is exploring new avenues and business models including high resolution audio, new types of video content, augmented reality and virtual reality (VR).
"Whatever growth we see in the future, we know we will need to stat vigilant about every new opportunity," said Bergen. "We're not sitting back and waiting for streaming to do the heavy lifting. We're constantly asking ourselves 'what could be next? How can we create meaningful change for our artists and their fans'."
Speaking to TIO on the conference call, Michael Nash, EVP Digital Strategy, Universal Music Group said the major is investing in technology to change the music experience.
"We licensed, along with my colleagues from other music companies, a new service by Amazon that provided streaming music subscription to an individual speaker – a so-called mid-tier model – that enables Amazon to make a music offer in conjunction with providing the consumer with smart speaker technology.
"We've also worked to enable creation of VR content and recently announced a deal with MelodyVR to support development of VR content," he said.
Drake and Twenty One Pilots made both the Top 10 Global Albums & Top 10 Singles lists
This article originally appeared on The Industry Observer, which is now part of The Music Network.
The Music Network
Get our top stories straight to your inbox daily.