Nashville's Global APRA Music Awards kicks off new era for local songwriters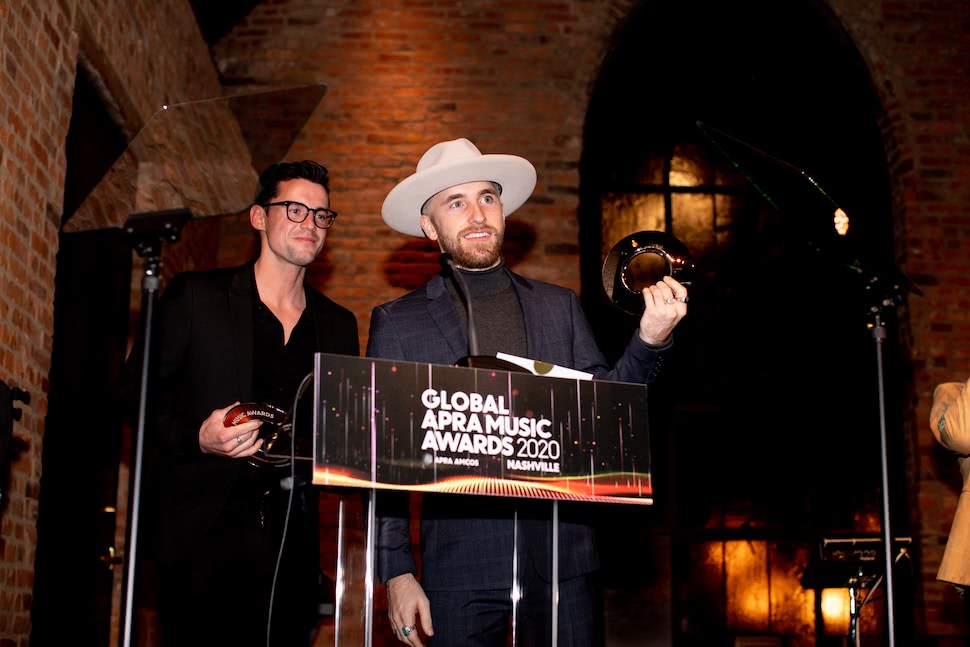 Seaforth
Image: Rachel Deeb
In the 1950's, Harlan Howard coined a now oft-quoted phrase about country music: "Three chords and the truth". Tonight's attendees at the Global APRA Music Awards in Nashville know exactly what it's like to rely on both for a living.
Following the Awards' run in LA on 26 February and ahead of London's event on 6 March, Australian and New Zealand songwriters and industry gathered in the city's historic Clementine Hall, a refurbished church, for what can only be described as communion.
Impeccably (and hilariously) hosted by O'Shea, attendees exchanged intimate words and song for a night that's been a long time coming: a ceremony where home travelled to them to honour their efforts and successes.
"It's about telling the world, and at home, how fabulous you all are, and how much success you're achieving," said APRA AMCOS CEO Dean Ormston in his opening address.
Watch the Nashville Global APRA Music Awards in full:
One act who we'll be hearing a whole lot more from after tonight is Seaforth. The childhood friends from Sydney's Northern Beaches took out the Breakthrough Songwriter of the Year Award after releasing their debut EP Love That on Sony Nashville last year.
The pair have been touring the EP across the States, playing career signpost venues like New York's Webster Hall and the Grand Ole Opry. Taking the stage in Nashville to accept their first ever award, Seaforth said:
"I think it's incredible that we have a home away from home here in Nashville, and now we have a piece of home with us that's supporting us."
Ahead of their return to Australia this month for CMC Rocks, Tom Jordan and Mitch Thompson took the opportunity to thank APRA AMCOS:
"APRA is amazing. I know there's a lot of people who have moved away from home and away from Australia. We do love it. It's nights like tonight that really rub in how amazing Australia is and how grateful we are to be from Australia and around such amazing people."
Watch Seaforth perform performs 'Love Me Like You' co-written by Phil Barton
The second of three global stops for APRA AMCOS, the Awards in Nashville was a community gathering, and proof that our songwriters can be miles from home and still be acknowledged by their mother country.
"We are proud Australians," said Mark O'Shea. "But we're also proud of the fact that we live in Nashville and write songs. It may seem like a bit of a disconnect to some who don't get it, but everybody in this room understands what I'm saying. You can have a foot in both camps."
Rick Price, songwriter, performer, and 1992 APRA Song of the Year winner ('Heaven Knows'), took out the Overseas Recognition Award Nashville. The coveted award – and impetus for this overseas celebration itself – was presented by his peers, fellow Nashville-via-Australia songwriters Kylie Sackley and Lindsay Rimes.
Price, who had relocated to Nashville a decade ago to work as a producer, said onstage: "What a privilege it is to be part of this community."
Price said he's been fortunate to have a career but that "it takes a village".
"I want to acknowledge APRA for all their support and help and for all the wonderful work that they do for us throughout the year," he said.
The Global APRA Music Awards has and will be a series of firsts for the performing rights organisation, and for PROs on a global scale. While international PROs host awards in their home territory and honour Australians, none of them do so in Australia and New Zealand.
In keeping with a global tour of firsts, artist manager Gina Mendello presented the Distinguished Services Award Nashville to world-renowned guitarist and songwriter Tommy Emmanuel. Mendello has been working with Emmanuel for the past 14 years and her introduction to the award brought about an Awards highlight when she remembered the first time she'd seen him live.
"When I took a job in the marketing department at Sony Music Australia, Sony expected us to go to all the shows of all the artists," she said. "And so when Tommy was appearing at the Seymour Center in Sydney, I went.
"I'll never forget that night. What I experienced was true musicianship. His compositions are exciting, emotional, and melodic; and I had never, ever, seen anyone play a guitar like that."
Emmanuel, a two-time Grammy nominee, is renowned for his non-stop touring schedule, his finger-picking style, and the fact he never plays the same show twice. At the age of six, he was touring Australia with his family band and by 30, he was a lead guitarist performing stadiums across Europe. He is one of just a few Certified Guitar Players in the world, as named by his hero Chet Atkins. More than that, his songwriting collaborations with acts like Jason Isbell, Mark Knopfler, and Rodney Crowell have resulted in numerous accolades.
Onstage Emmanuel said he owed a great debt to Chet Atkins. "People like [Atkins] showed us what a good song and what a good arrangement is," he said.
"Being a songwriter is not only the greatest adventure in my life, it's the hardest part," he added. "I know how hard it is to write a song […] I wrote 20 years of forgettable music. It takes time and you've just got to keep at it."
Newcastle native Morgan Evans took out the Outstanding International Achievement Award Nashville. Evans' story is weaved with APRA AMCOS history; he first met hitmaker Chris DeStefano at APRA AMCOS' SongHubs/50 Songs in 5 Days songwriting camp, which cemented his path in country music.
Last year, Evans' 'Day Drunk' collaboration with DeStefano and Lindy Robbins was the 2019 APRA Music Awards Country Work of the Year and cracked US Country Radio Top 40.
APRA AMCOS brought the pair together once again to see DeStefano present Evans with his Award. And while the artist behind #1 US Country Aircheck hit 'Kiss Somebody' wasn't able to attend the Awards, he used his beamed-in video speech to honour the industry that grew him:
"I feel like APRA has been such a big part of my music life since I first met Milly [Petriella] at a talent development project when I was 15 or 16-years-old, through to when I started going back and forth from Newcastle to Nashville, and then finally making the move here.
"I appreciate your support so much," he added. "Thank you for supporting songwriters."
The final award of the night was a highlight for many reasons. Known as "the hardest-working songwriter in Nashville", Phil Barton is also integral to the creation of the Global APRA Music Awards. Milly Petriella, Director of Member Relations at APRA AMCOS, and producer of these inaugural Awards, told TIO it was Barton who pushed for APRA to take the awards international.
"He said to me, 'We really need Australia and New Zealand to know what we're doing overseas. Because we are the unsung hero […] APRA have to recognise us at home and we have to be able to tell the story of the songwriter behind these artists'."
Onstage to accept the award for Songwriter of the Year Nashville, Phil Barton did something only locals would expect: he turned the limelight to face outward; he looked around the room and shared loving anecdotes of his peers.
He spoke about how he's written over 200 songs with Lindsay Rhimes. He talked about Liz Rose, his friend, and Grammy-winning songwriter and music publisher, who presented him the award; and he talked about "amazing woman" Gina Mendello, who sponsored him when he first moved to Nashville.
Phil Barton hadn't prepared a list of names – in fact, judging by the bridled tears he was surprised and taken aback by the win – he stood before the room of his "group of believers" and thanked them all.
The prolific songwriter relocated to Nashville in 2005 and has written hits for Lee Brice (the #1 'A Woman Like You'), Sara Evans, David Nail and fellow award winner Morgan Evans. Recently, he's also been writing with the next wave of country stars including American Young, Catherine McGrath and Canadian up-and-comer Kalsey Kulyk.
"There's so many people in here that I just feel lucky to get to write with and just get to be around."
GLOBAL APRA MUSIC AWARDS – NASHVILLE – WINNERS
Breakthrough Songwriter of the Year – Nashville
Mitchell Thompson* and Thomas Jordan (pka Seaforth)
Warner Chappell Music obo W C M Music Corp*
Overseas Recognition Award – Nashville
Rick Price
Kobalt Music Music Publishing obo LilliPilli IP
Outstanding International Achievement Award – Nashville
Morgan Evans
Warner Chappell Music obo SongsByMe
Songwriter of the Year – Nashville
Phil Barton
Mushroom Music obo Anthem Music Publishing
Distinguished Services Award – Nashville
Tommy Emmanuel
Universal Music Publishing
:: Global APRA Music Awards LA: Winners
:: Global APRA Music Awards London: Winners
This article originally appeared on The Industry Observer, which is now part of The Music Network.
The Music Network
Get our top stories straight to your inbox daily.