What's happening to CHR? Unpacking the Music Cycle Theory
Charts & New Music Editor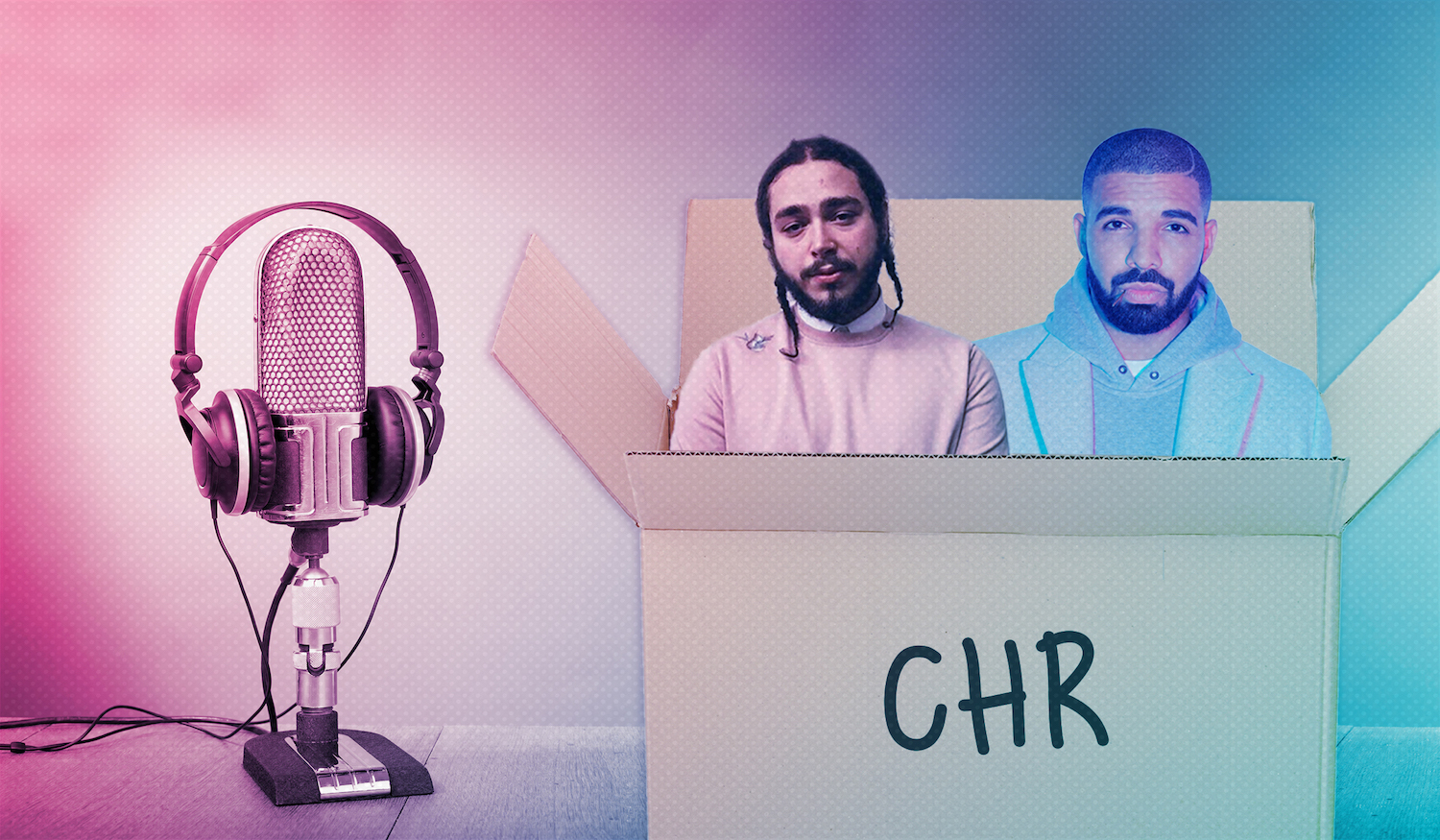 Contemporary Hit Radio is facing a new yet familiar challenge. The sound of Top 40 pop music is changing the same way it did in 2014, 2001, 1988, and every decade for the past 60 years.
A lack of bonafide pop hits and increased polarisation of the CHR format is prompting listeners to retune their dials in search of more variety.
But how do programmers fix CHR and bring the format back to glory?  
Revered US radio programmer and consultant Guy Zapoleon says CHR's decline is the product of an inevitable and crucial phase of the Pop Music Cycle; a theory he developed 27 years ago to help music and radio industries understand the phenomena.
Zapoleon suggests the format is in the thick of the extremes/doldrums phase of a three-part cycle, characterised by an acute change in the balance of the Top 40 soundscape.
"An understanding of the 10-year music cycle phases and how to react to them is knowledge that the radio's top programmers, CEOs of music labels and radio company owners now understand," Zapoleon tells Radio Today.
"However, even with smart programmers, there is nothing anyone can do to change the patterns and phases of the music cycle."
CHR has always been a format dependent on music that is available and trending.
While Top 40's true sound is made up of a balance of pop, rock and rhythmic/R&B components, the pendulum often swings to one side, influenced by changes in generational tastes and new consumption platforms.
This forces the edges to take hold of the dominant sound.   

R&B/hip hop artists Drake, Kendrick Lamar, Cardi B, Migos, Khalid, Post Malone and more are riding the streaming wave and defining the sound of a generation.
As the most popular acts of CHR's prevailing 15-29 demographic, the rhythmic edges of CHR are red hot with hits. With this comes the start of a new extreme/doldrums phase as the centre pop sound gets pushed out to the edges.
Zapoleon agrees that the concept of a "hit" was, and always will be, a numbers game.  
"No doubt that streaming platforms are the game changer this time around," he says. "CHR radio is reacting to these charts which drives label and artist management decisions on what are hits, and what they consider important for terrestrial radio.
"Music labels will always need to produce hits that the 15 to 29-year-old audience loves since they are the drivers of what become hits for Top 40, urban and alternative radio, as well as what drives pop culture."
Airplay charts help explain the extent to which CHR's sound has recently evolved.
TMN's Contemporary Hit Radio chart – incorporating spins from Nova, KIIS, Hit and other CHR stations in Australia – shows roughly one-third of the current Top 50 is made up of artists from the outer edges of CHR's sound. 
This is a contrasting difference to the same chart generated in September 2015, a time when pop music was experiencing a rich rebirth phase.
Only 12% of songs on this chart are considered to be from the edges of the CHR soundscape as Top 40 hinged its sonic identity on easy digestible, long-lasting pop hits from the likes of Justin Bieber, Taylor Swift, Ellie Goulding and Jessica Mauboy.
"There has been a long period of mostly pop hits dominating the charts for the past five years," Zapoleon says, particularly relating to the US radio climate. "Over the last six months, we're seeing R&B songs by artists like Jeremih, Tinashe and Chris Brown going Top 10 in predictive music platforms and showing up on the Top 40 charts.
"The dance hits that were made popular at the beginning of Cycle 6 by pop stars like Justin Timberlake, Lady Gaga, Britney Spears, Black Eyed Peas and Katy Perry are now being replaced by a new crop of artists."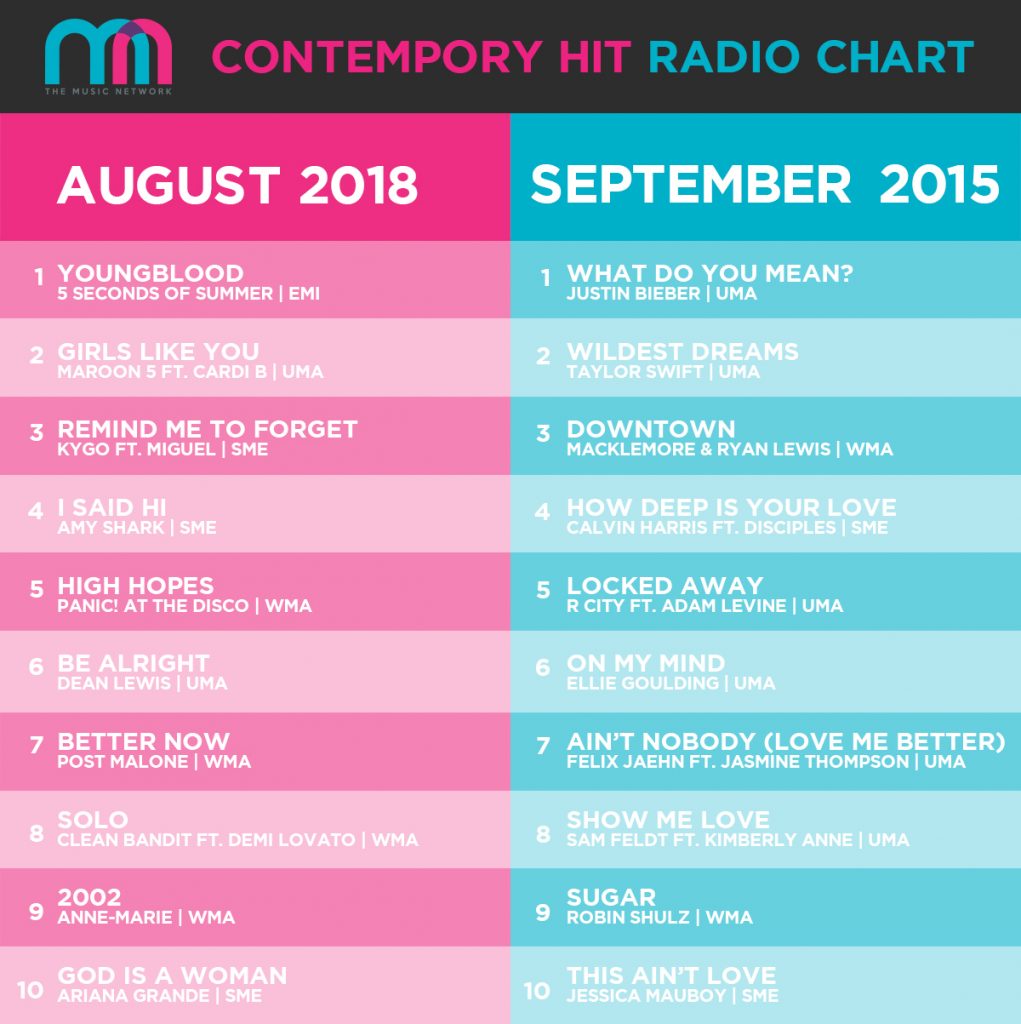 When the CHR format becomes less mass appeal and narrows, ratings tend to do the same thing. Top 40 pop hits are bleeding over to other formats as listeners go on the hunt for more variety. The big winners here – Adult Contemporary (AC) and Hot Adult Contemporary (Hot AC) formats.
Brian Ford, former music director and program director at B105, 2DayFM and Fox FM, and current managing director of radio consultancy esp, believes this is the time for AC and Hot AC radio as CHR continues to polarise. 
"It's definitely a tough time for CHR right now," Ford admits. "While there's a growing acceptance of hip hop by an older audience, it's still polarising and challenges the CHR strength of 'mother-daughter radio' that everyone can agree on.
"That leads to traditional CHR's moving out to seek older listeners to bolster the 25-54 numbers."
One CHR network that has recently adopted this approach is Nova. Last month, the network launched a new national music strategy across the day tagged 'Greatest Hits Workday'.
The man behind the move – NOVA Entertainment group program director Paul Jackson – told Radio Today that the network's revised strategy is "a reflection of where we are musically".
"We're not in as much of a pop cycle as we were two or three years ago. I think that lends itself to the Hot AC becoming more prevalent," he adds.
A study conducted by AirCheck one month after the rollout found that Nova 96.9 retained only 54.5% of its playlist between 6am and 6pm on weekdays.
Unsurprisingly, centre-sounding pop artist Taylor Swift was a big beneficiary of the format change, receiving twice as many spins, while Bruno Mars, Bieber and Adele also ran hot. Post Malone was the big loser, dropping 32% of spins.
The best example of the fruits of a re-oriented Hot AC/Adult Top 40 music strategy is Sydney's 2DayFM. Once a hallmark of hitmakers and new music, the station is now playing everything from hair metal and '90s hip hop, to classic rock, with splashes of modern day hits filling in the gaps.
"SCA's Hit network made the first move adopting 'Hits & Old School' as a focus that has seen an increasing reliance on variety from the '90s and naughties," Fords says.
"The decision by 2DayFM to get out of the CHR battle completely has been the most dramatic move. That station has landed right in the heart of the emerging variety battle that Nova has joined."
As a former programmer at some of the nation's leading CHR stations, Ford utilised a number of strategies to weather the storm of the extremes/doldrums phase until the wheel turned.
"There were a number of things we did during the 'Doldrums' as Guy Zapoleon refers to it. We would batten down the hatches and try to ride it out. Dayparting became even more important at these times. There was a need to protect the adult numbers and at-work listening while not completely losing touch with the hits.
"Playing edits of hit songs also allowed us to get them wider exposure without scaring off the masses. Triple M's 'no rap crap' attacks was a powerful weapon – especially for their target males. Stations like 2Day and Fox would edit the rap out for workday versions of big hits."
Ford recalls the launch of Nova in 2001 took the load off record labels "who had an increasing backlog of new music that was difficult to get away".
"The launch of the Nova network was a godsend for the labels in the early 2000s doldrums cycle when a whole bunch of artists like Basement Jaxx, Daft Punk, Fatboy Slim and Moby got broader exposure."
Without the fully-fledged support of Nova moving forward, record labels may face a similar problem.
So when is the next rebirth phase destined to happen, and what's it going to take?
"I think radio's (and CHR in particular) reaction to streaming platforms is the key to the next rebirth phase," Zapoleon says. "This proper reaction is of course music based but also improving all aspects of radio, including talent and content overall."
Ford says it's not apparent where things will go at this point. "CHR has the army greens on and is in the trenches. The smart operators will take heed of Tom Poleman and that smart Z100 team that reflected the music of the early '00s cycle while maintaining the essence of a true CHR that takes from all styles, plays the hits and doesn't narrow out.
"What's next? I think a further move to extremes and polarisation."
The Music Network
Get our top stories straight to your inbox daily.