University of Newcastle and BMG Music Australia announce partnership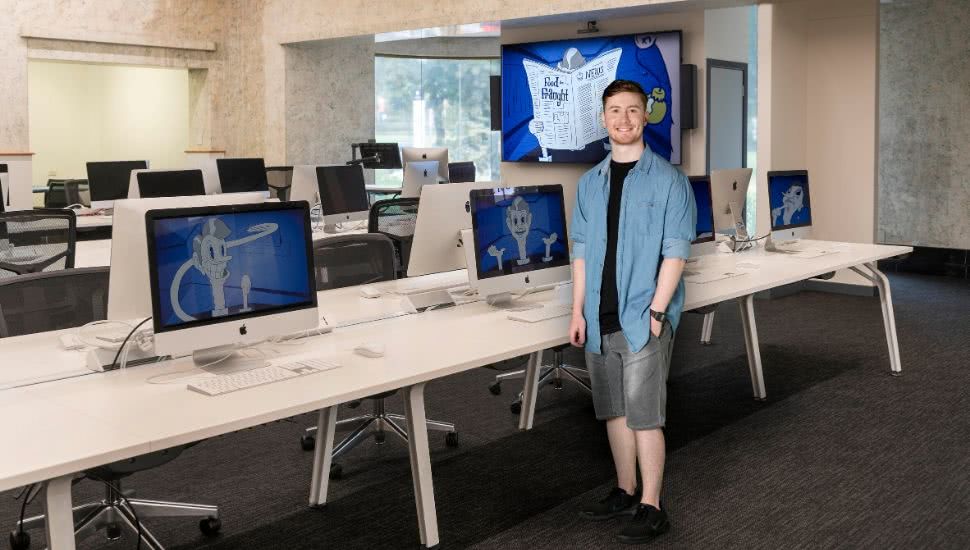 An opportunity to work alongside some of the world's biggest and best-established artists and music industry professionals is now a reality for students at the University of Newcastle.
The University's School of Creative Industries has today announced a unique partnership with BMG Australia, a full-service music company with a roster that includes artists and songwriters such as Peking Duk, Dope Lemon, Tim Minchin, SAFIA, AC/DC, Client Liaison, Alison Wonderland, Crowded House, Didirri, Dune Rats, Illy, JET, What So Not, Wolfmother and Winston Surfshirt.
Professor Paul Egglestone, Head of the School of Creative Industries at the University of Newcastle, said that the new partnership was an exciting opportunity that put the University in a unique position to offer unparalleled opportunities to current and future students.
"I'm delighted that BMG has chosen to partner with the University of Newcastle," said Professor Egglestone.
"It's testament to the talent and creativity of our incredible students and staff team who'll have unparalleled opportunities to work up close and personal with some of the world's biggest and best-established artists and music industry professionals."
The partnership, which is an Australian first, will focus on offering 'real-world' experiences for students who are the next generation of creative artists.
Listen to 'Raw Stuff' by Didirri below.
It will open opportunities for Creative Industries PhD and Higher Degree Research students to work directly with BMG on some of the major research challenges facing the music industry, while BMG will provide music students with free studio time in their recording facilities and access to further artist mentoring and collaboration opportunities.
Heath Johns, BMG Managing Director, Australia and New Zealand said the University of Newcastle had made a remarkable commitment to the field of creative industries.
"The University of Newcastle has positioned itself as an institution with a sense of ambition and imagination, their willingness and flexibility to engage with BMG in such an exciting way opens up a world of creative opportunity for students and artists alike," said Heath Johns.
"BMG sees immense value in connecting our artist roster with the University's students across all creative arts disciplines to create an everchanging stream of compelling multi-media content. BMG is also proud to offer select students mentoring opportunities and real-world training. As a Novocastrian and University of Newcastle graduate, I'm excited to help develop a new wave of industry professionals from this great city."
The official launch of the partnership follows several collaborative projects that have already taken place between students and BMG artists giving students an incredible introduction to the industry.
In 2019 School of Creative Industries student Reid McManus was partnered with ARIA number one, Gold-selling rock band Dune Rats to develop an animated music video for his honours assessment which is due for release later this year.
Fellow student Daniel Cooper was also given the unique opportunity to work with Grammy award-winning Australian hard rock band Wolfmother to create a stunning new music video for one of their new tracks. Future projects with artists including Hockey Dad and Dope Lemon are also being developed between BMG and the University of Newcastle.
Listen to 'Hey You' by Dope Lemon below.
Reid McManus is currently transitioning from his honours project into paid freelance work with BMG and said the opportunity to work with some of Australia's top artists as a student was an invaluable learning experience.
"The opportunity to work on such substantial projects as a student was an incredible introduction to the industry, it gave me the opportunity to showcase my skills and get a foot in the door," said Reid.
Also in 2019, animation students were given access to ARIA number 1 rock band The Living End to create and execute the official music video for the band's single 'Not Like The Other Boys'.
"The projects we have seen so far are just the beginning and offer a window into the kind of opportunities that such a partnership will bring," said Professor Paul Egglestone.
"Initiatives like this just prove there's never been a better time to study for a career in the creative industries and I believe there's never been a better place to do that than here at the University of Newcastle."
This article originally appeared on The Industry Observer, which is now part of The Music Network.
The Music Network
Get our top stories straight to your inbox daily.