Newcastle's "cocky underdogs" These New South Whales sign with Damaged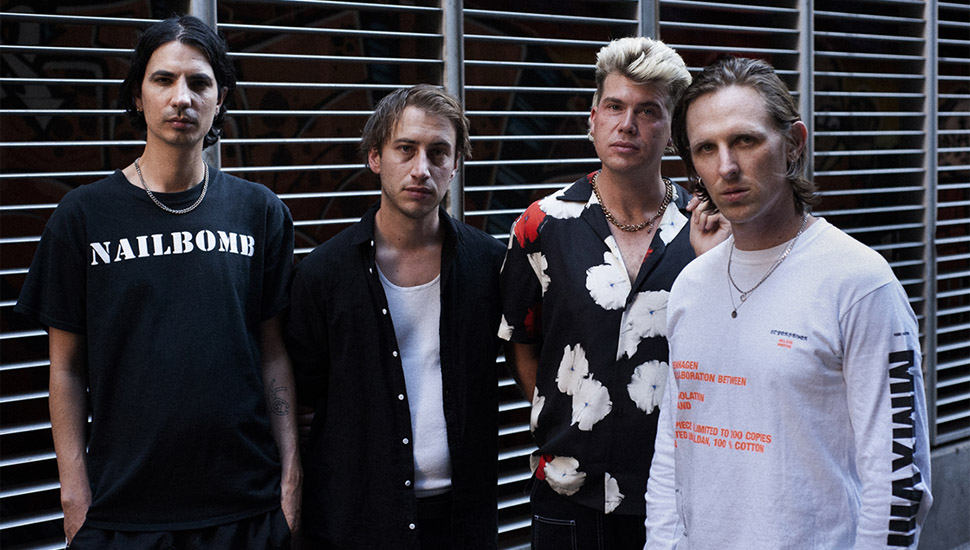 Image: Nick Bunting*
They've already managed to master all facets of the media by way of their exceptional music, their stellar TV show, and their long-running podcast, but as their recent singles have indicated, These New South Whales have been up to something, with the "four cocky underdogs from Newcastle" today announcing their signing to Melbourne label Damaged.
Having previously been described by triple j as "Sydney's most revered punk band", These New South Whales have quickly become a band whose reach and legacy precedes them. In addition to their work as acclaimed musicians, the group's Comedy Central TV series has seen them make a name for themselves in the world of comedy, with NME referring to the show – with its mockumentary style blurring the edges between fact and fiction – as "the punk Flight of The Conchords".
Releasing their debut album You Work for Us back in 2017, the band followed it up with 2019's I Just Do What God Tells Me to Do cementing their place as not only a killer band on record, but one whose live following and global influence is beyond that of many contemporaries.
Add in the success of their What a Great Punk podcast (which serves as "an earnest and often hilarious fly-on-the-wall interview series"), and it's clear that These New South Whales have become something akin to masters of all media – with fingers in many pies, and with undying acclaim following at every turn.
Check out These New South Whales' Comedy Central series:
Now, following the release of singles such as February's 'Remote Control' and September's 'Film the Cops', These New South Whales have taken the next step in their career, announcing their signing to Damaged, the independent label founded by members of Melbourne punk outfit Clowns.
"As a band we've always been DIY to the death, but teaming up with Damaged just makes so much sense, we had to say 'YES!'," explained These New South Whales in a statement to The Industry Observer.
"They believe in our music, understand the TNSW universe better than anyone, and we're twinkle toes delighted to see where we can take the bullet train from here. All aboard!"
"These New South Whales have proven themselves not just as a constant force in the Australian music scene but as a punk multimedia conglomerate themselves with their critically acclaimed back catalogue, international touring, television series aired by Comedy Central, hosting of one of Australia's most popular music podcasts, live twitch streams and much more," added Damaged.
"They are an entertainment punk powerhouse with limitless opportunities in their fields. With so much multimedia experience, we're very excited to see what this partnership can bring – the sky is the limit."
To celebrate their recent signing, These New South Whales have also announced a repressing of their 2017 debut, You Work for Us, on coloured vinyl. Limited to just 300 copies, the new edition of the group's record is available now from the Damaged website, and will undoubtedly look to satiate the appetites of fans as the group gear up to unveil their next body of work.
The new edition of These New South Whales' You Work for Us is available to pre-order via Damaged.
Check out These New South Whales' 'Cholesterol Heart (God Bless Ya)':
This article originally appeared on The Industry Observer, which is now part of The Music Network.
The Music Network
Get our top stories straight to your inbox daily.