TMRW Music signs Sydney duo Sunset Bros to Hussle Recordings
Editorial Operations Manager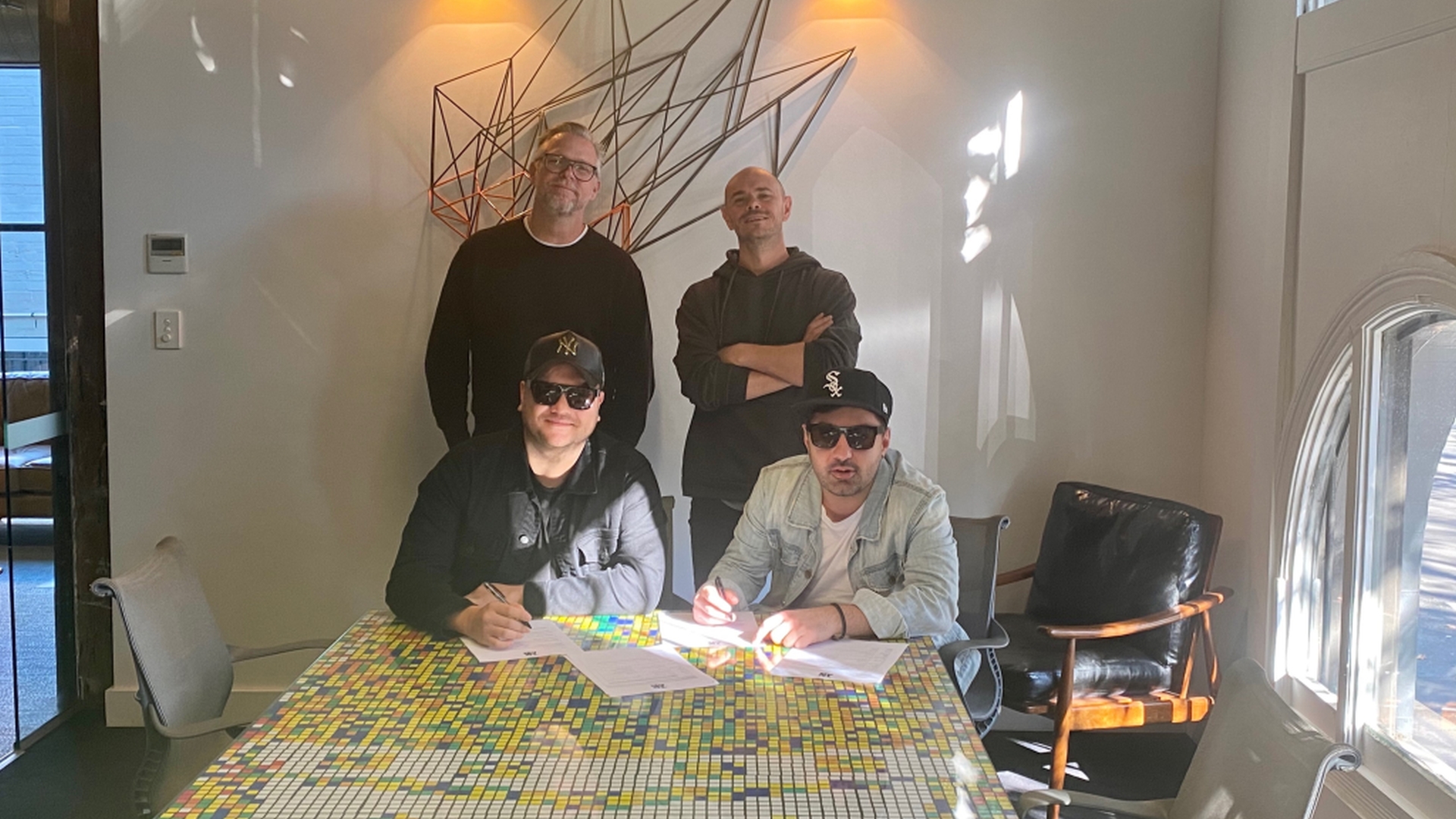 Pictured: (Back row) TMRW Music's Tim McGee & Chris Fraser; (front row) Sunset Bros' Glenn Wilson & Adriano Mercurio 
TMRW Music's sub-label Hussle has signed Sydney duo Sunset Bros.
The duo's debut single with the label 'Firestorm', featuring Bianca, was released on Friday.
Sunset Bros have already amassed a passionate fan base, and played festivals including Ultra and Festival X, as well as selling out shows at the Enmore Theatre.
Chris Fraser, head of A&R at TMRW Music, said there was even more to come.
"Whether it's selling out hard ticket shows, tearing apart a festival mainstage, or collaborating with the likes of Hooligan Hefs, Sunset Bros have showed time and time again they are a force to be reckoned with and we can't wait to show the world what they've been cooking up next," he said.
The artists, meanwhile, said: "Being able to sign to an internationally renowned dance label on home soil is amazing. We're excited to see what the future holds with Hussle Recordings and being a part of the TMRW family."
They added that they hoped fans loved their new single as much as they loved making it.
"We envisioned a unique blend of mysterious and euphoric vocals mixed with a banging hybrid of psy, NRG and hardstyle," they said.
Vocalist and co-writer Bianca – who also boasts songwriting and feature credits with the likes of Pitbull and Jennifer Lopez – said Sunset Bros were amazing to work with, and that she's so excited for the song to finally be out in the world.
"The song is about being stuck in this horrible headspace and feeling like nothing will ever bring you back, but then someone comes along and pulls you out of it, shows you that they care and you're worthy of happiness. It lights a fire inside and you work even harder towards achieving what you want in life," she said.
The Music Network
Get our top stories straight to your inbox daily.