Mark Ronson, Post Malone and the story behind Mallrat's breakthrough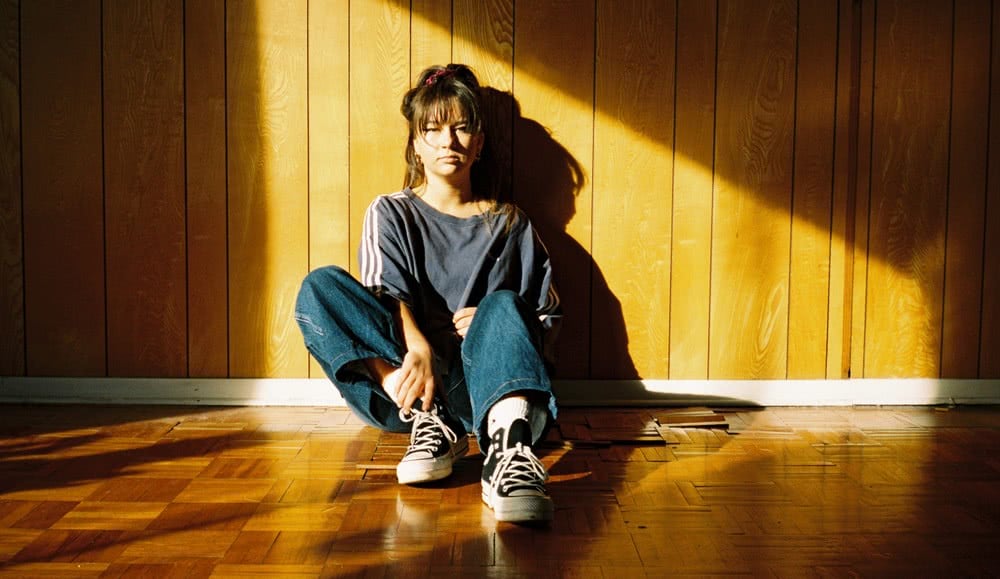 As her name would suggest, Mallrat isn't your typical animal. The 20-year-old singer and songwriter has been quietly, and very effectively, gnawing away at a career which has flourished in quick time, thanks in part to a single-minded determination and her effortless ability to connect with fans and pretty much anyone else.
And there's talent. Loads of talent.
At an age when most of us are freaking about which subjects to take or which festival to save up for, Mallrat knows which direction she's headed. A self-taught producer and award-winning songwriter, Mallrat last Friday dropped Driving Music, her new, six-track EP, which should scurry up the ARIA Albums Chart when it's published this weekend. It's a set of truths and tales, soundtracked by textures of nostalgia and dreamy melodies.
It's about living, loving and home. Mallrat wrote 'When I Get My Braces Off' for her younger sister, something that she "could feel powerful and relate to and listen to on the bus."
Stream Mallrat's Driving Music below:
Its lead single, the candid 'Charlie,' the "scariest song to put out," she says, has shot past 2 million streams on Spotify, where it has been added to more than 50 global playlists.
Mallrat, 'Charlie':
There's been love from community radio and triple j, which has been on board since the start, evidence of which came when 'Better' came in at No. 46 on the Hottest 100 Countdown for 2017, and the next year 'Groceries' hit No. 7 on the poll. Both tracks appeared on her 2018 EP, In The Sky.
Mallrat has emerged as a global story, with international support coming from from The Fader, NME, The Line Of Best Fit, Dork Mag, Paper Magazine and other outlets, starting with 'Groceries.'
In recent weeks, the United States, where her recordings are released by Nettwerk, has eclipsed Australia as Mallrat's biggest market, explains her manager Jim Mckinnon, whose Melbourne-based company Teamtrick also guides the careers of Allday, Tyne-James Organ and NYNE.
Mallrat, 'Groceries':
"Internationally, things are building and growing every month, things are trending upwards on social, streaming, press coverage, radio," says Mckinnon. "We've also got some good things happening in Europe where we've always had good press support and that's translated into being able to sell out some headline dates on the last tour there. The same thing is happening in the U.S. with the live side starting to react."
Grace Shaw was raised in Brisbane, and now splits most of her time between Melbourne and Los Angeles, the center of the pop music universe. It's the right place, with so many of the right people in her orbit. Making connections in the music community is essential and Mallrat is a young master at this art.
She counts Allday among her housemates, an artist who, not long ago, Grace was fan-girling. The impact Allday has had on Mallrat's career has been well documented, and it's ongoing.
In August, she completed a national trek with Allday in support of his album 'Starry Night Over The Phone'. The trek, which visited the Hordern Pavilion, Fortitude Music Hall in Brisbane, Festival Hall in Melbourne and more, gave Grace the chance to test her new material, weeks out from her own headlining tour dates.
Mallrat can trace her first break as a serendipitous hookup with Allday collaborator and producer Tigerilla, to whom she fired off a demo. A touch of good fortune later, Grace was playing her first Mallrat show on a bill with Allday.
"That was an interesting way to start things. That was a bucketlist item and we did that show one," recounts Mckinnon.
"In a sense, that set the precedent for how audacious our goals would be and to keep striving and pushing for what seemed to be a bit extraordinary in terms of things we wanted to shoot for. Fortunately with a bit of luck and a lot of hard work we've been able to tick off a few of those things and hopefully we can keep doing that."
Mallrat, 'Circles':
Another leg-up came when Mallrat opened the Mix Up stage at Splendour in 2017. Then, in 2018, she toured the U.S. with Maggie Rogers and, separately, joined Post Malone in Australia. And an out-of-the-blue friendship was struck when Mallrat pushed an amusing tweet in which she noted Mark Ronson, the multiple Grammy-winning, chart-leading uber-producer, and Marshmello, the helmeted EDM star, had never been seen in the same room.
"I was just being cheeky. I was surprised he didn't block me, I was being so blunt," she recounts. The pair went to a show and hit it off immediately. "He remembers everybody's names, he's so gracious. He's very cool," she says.
It's great to have friends in high places.
Mallrat is signed to Dew Process for Australia and New Zealand. Her future is exciting, notes the Brisbane-based label's head of A&R and executive producer, John Mullen, who pays tribute to the rising artist's hard work and the "authenticity to her craft."
"It's fair to say there was a certain level of engagement and response pretty quickly on. It's certainly grown over the last six to eight months, but it's not like it's been a hard slog," Mullen notes. "People have responded to the universal themes in her lyrics."
Grace's first love is writing. She took out the Vanda and Young "Unpublished" Award in May 2018 for 'Better', and only a grouch would think that's the last of her major honours.
"She works very hard at that, she's pretty relentless about the amount of work she continues to put in in that area," comments Mckinnon.
Mallrat, 'Better':
The story keeps growing, with a month-long north American run due to kick off from Sept. 18 at Chicago's Subterranean capped by a string of Australian festivals in the summer. Then, just maybe, some time will open up to make some new music.
"We're building and hoping to have a debut album out next year," notes Mckinnon.
Mallrat takes it all in her stride, but there's nothing small about her ambitions. "I love the way Sia puts out her own music and writes for other people. That's what I want to do. I would also love some Grammys and to work with Kanye, and just be a better songwriter and producer."
This article originally appeared on The Industry Observer, which is now part of The Music Network.
The Music Network
Get our top stories straight to your inbox daily.