Levi's and music fits to a tee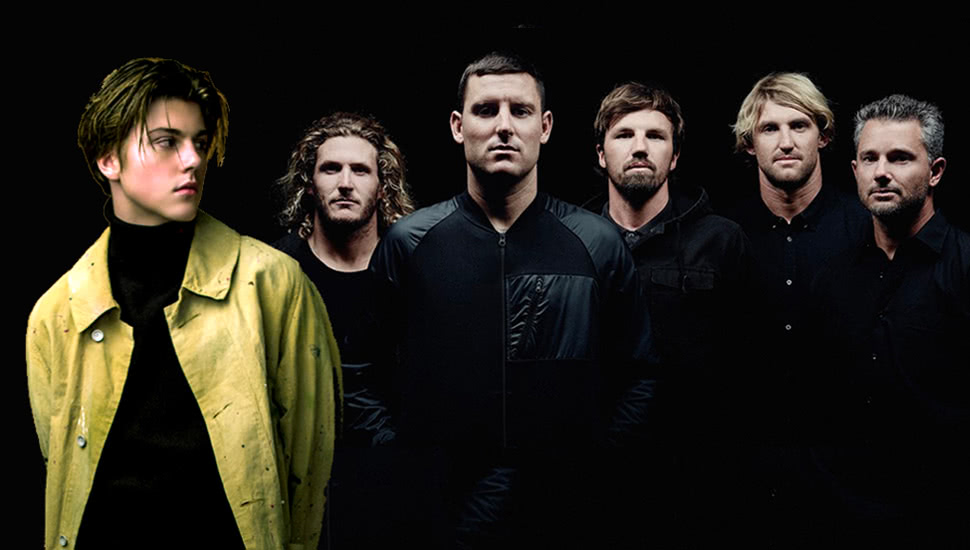 Levi's and rock 'n' roll have always been a good fit. Since amps punched out grunt and music fans turned out to shows, rock stars have got about their work in Levi's.
Think Elvis Presley and The Rolling Stones. Think Bruce Springsteen. Think Nirvana, Debbie Harry and Haim. Heck, even the "Rock Star" president Barack Obama was snapped in 501s.
The relationship between bands and the brand runs deeper than style. There's substance there too. Closer to home, the iconic clothing house joined forces with Support Act to make possible Australia's first mental health and well-being hotline for musicians and music industry professionals who need a hand and reach out.
To strengthen its bond with music in these parts, Levi's then teamed up with nine acts to shape a range of limited edition t-shirts, with The Preatures, Ecca Vandal and Bad//Dreems among those signing up. The tees were made available to sell with all net proceeds benefiting Support Act, a unique charity that helps artists and music workers who've hit hard times.
It's a look good, feel great story.
And the project's back in fashion. Timed to coincide with AusMusic T-Shirt Day, Levi's partnered-up once again with Support Act and a handful of legends and rising stars on a range of must-have shirts. It's a weighty lineup from across the musical spectrum, from folk to the most muscular of guitar bands, Hall of Famers, and future inductees.
AusMusic T-Shirt Day is set to take place on Friday, November 15 and Levi's and Support Act have a goal of raising $200,000 in funds for crisis relief and mental health services this year.
This time, fans of INXS, Angus & Julia Stone, Parkway Drive, Ruel, Tkay Maidza and Ocean Alley can get kitted out, all for a good cause.
Parkway Drive, ARIA Award-winning Byron Bay metalcore outfit who've bagged two No. 1 albums in their homeland and four top 40 LPs in the United States, are as heavy as they are righteous.
"We're very happy to be able to help contribute to the Support Act cause," frontman Winston McCall tells TIO. "Being part of the music industry for over 16 years now has lead to first-hand insight and experience when it comes to the challenges of survival with an industry that is rapidly evolving.
"This ever-changing nature leaves us all in a constant state of flux with very little prospect of security. We are stoked to be able to help through the work Levi's Support Act are providing."
Watch the music video for Parkway Drive's 'Shadow Boxing'
Buzzworthy youngster Ruel is still in school, but he's hanging with M-Phazes, he's the reigning ARIA Award winner for best newcomer and he's now got his own classic Levi's shirt with his name and image plastered on it.
"I usually hate my support act 'Billy Davis' but this is one I can definitely get behind," he tells TIO. "In all truth though, Support Act is such a great organisation that I truly believe in and feel it's so important for us all to get behind."
This is the "little collab I did with Levi's and Support Act to raise money for the cause."
Watch the music video for Ruel's 'Face To Face'
Depression among musos isn't just a bum note. The stresses of life on the road, a sleep cycle turned upside down, and the rush of euphoria twinned with monotonous boredom is a strange world. Throw in alcohol and drugs, and it's a recipe for disaster.
Help is here, thanks to the work of Support Act and others. And the stigma around mental health is slowly lifting. But the problems remain acute, and they're amplified for people who work in music.
One study by Victoria University found alarming levels of depression in the music industry. Researchers surveyed 3,000 survey musicians and music workers, and revealed they've five times more likely to suffer from depression and 10 times more likely to show symptoms of anxiety.
The vast majority of musicians are also chronically underpaid, an issue that's being addressed in the national Live Remuneration Survey, which has been distributed to over 100,000 live musos around the country.
Levi's is putting money back in and its banking on emerging musicians with The Levi's Music Prize, which hands out $120,000 in cash each year, split equally between four artists who've impressed at Bigsound and boast a bright future ahead of them.
Since its inception in 2017, the prize has supported the likes of Ecca Vandal, Alex Lahey, The Teskey Brothers, Hatchie, Stella Donnelly and 2019 recipient Gordon Koang, a talent from South Sudan who's currently seeking asylum Down Under.
Good fits aren't easy to find. Levi's is keen to be seen as more than good wear. It's stepping into a support act role for Australia's music community.
For more information and to check out the tee's head to levis.com.au.
This article originally appeared on The Industry Observer, which is now part of The Music Network.
The Music Network
Get our top stories straight to your inbox daily.