Hobart mayor faces backlash over Dark Mofo funding comments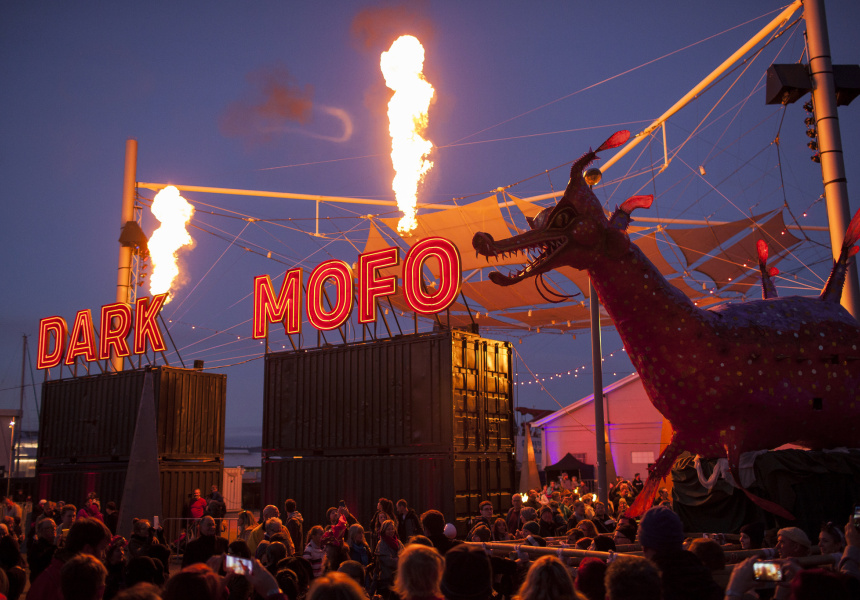 Hobart mayor Ron Christie is under fire for comments he made on ABC Radio yesterday that the Dark Mofo festival has become too "unhealthy" for the city's culture.
He suggested that the city reconsider its funding support for the festival when the three-year $258,000 per year funding deal comes up for review this year.
"It's time to put the brakes on," he said, adding, "They say the mark of a good city is how well you look after your citizens, and I think the citizens have expressed their concerns about different aspects of Dark Mofo and which way it's going culturally."
The head of the Tasmanian Chamber of Commerce and Industry Michael Bailey said the comments "leapt out of the 1950s."
He told ABC Radio, "I think the Lord Mayor is very much out of step and out of touch with the community, and I suspect that there will be a significant backlash."
The Tourism Industry Council's Luke Martin said that Tasmania had for long tried how to generate interest in the island during the slow winter months.
"Dark Mofo has done it in spades," he said. "It just seems bizarre that they'd want to kill the golden goose or threaten the golden goose that's actually laying some of this foundation for us."
He added: "If Hobart doesn't want Dark Mofo then the people of Burnie or Launceston or Sydney or Melbourne would absolutely dream for it."
Mayor Christie received more criticism from his own council. Fellow aldermen Philip Cocker said he should "pull his head in" and that he's "not authorised to make about its funding."
Dark Mofo received criticism this year for some of its shows, particularly where artist Mike Parr buried himself for three days under the main street of the city.
A petition to stop the festival's large 20-metre branding of the inverted cross drew 16,000 signatures.
However, the tourism, business and artistic sectors argue that Dark Mofo will probably generate $100 million to the economy this year.
According to the festival, the last economic report it did showed that in 2015, it brought in $50 million.
The first Dark Mofo, held in June 2013, attracted 128,000 people.
In 2016 it rose to 297,000 generating $2.44 million at the box office, and last year patronage swelled to 444,056.
Tourism executives say that festivals as Dark Mofo and Mona Foma have drawn a younger, more adventurous cashed-up and educated type of tourist from the mainland and that the island's image has changed from being a backwater to a creative and challenging location.
It has also had a flow-on effect on other artistic businesses.
Tasmania's tourism numbers rose from 904,000 in 2010 to 1.26 million last year, generating revenues of $2.3 billion.
Dark Mofo's annual solstice nude swim this morning drew over 2000 participants despite the temperature being at 7º Celsius.
The Music Network
Get our top stories straight to your inbox daily.