From Lorde to Billboard: NZ's Joel Little is the biggest thing on the US Charts this week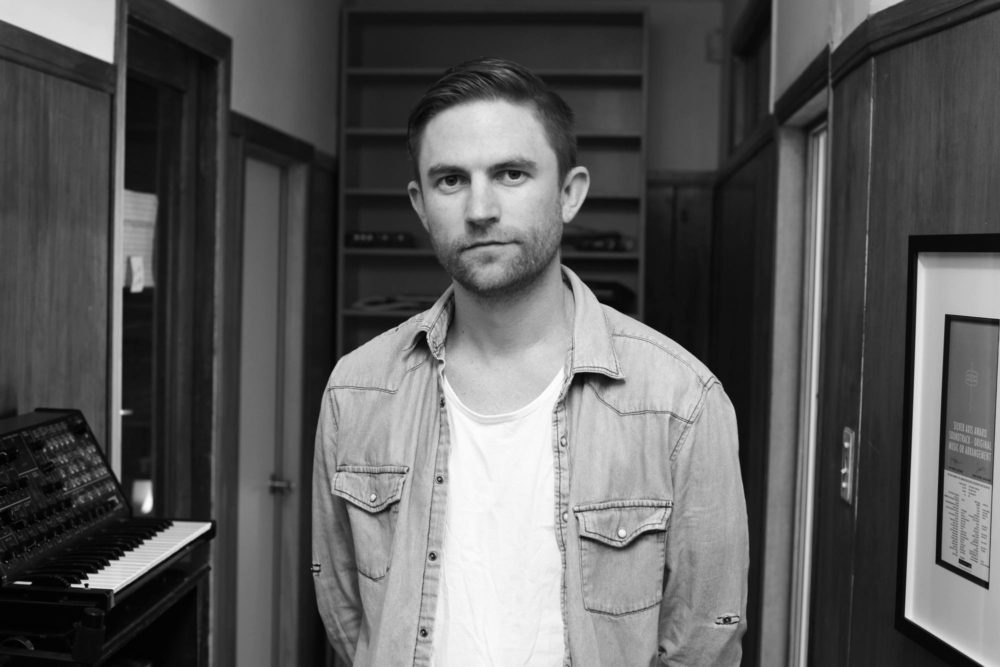 When Joel Little took the stage alongside Lorde at the 2013 APRA Silver Scroll Awards in New Zealand, it would herald a new chapter for the relatively unknown songwriter and producer.
Six months later he would be awarded the inaugural International Achievement Award at the APRA Music Awards in Brisbane, again in conjunction with Lorde. At some point in that short window, the bright lights and limitless opportunities of the LA scene had come knocking, and Lorde accepted the award on their behalf via video.
At 30-years-old, Joel was the co-songwriter and producer of global #1 'Royals' and co-winner of the most prestigious songwriter award in New Zealand. A year later the pair took out the Song of the Year Grammy Award for the track, as Lorde's Pure Heroine continued to redefine pop music.
Now, just over three years since his Grammy win, Joel is behind three records in the Top 15 of the US Billboard 200 this week.
The Auckland-born, LA-based songwriter, producer and musician is behind six tracks tied to three records in the Billboard Top 15.
Joel co-wrote and co-produced 'Whatever It Takes', which features on Imagine Dragons' #2 Billboard chart entrance, Evolve.
Elsewhere on this week's Billboard 200, Joel co-wrote 'Green Light' and produced 'Supercut', both from Lorde's #13-charting LP Melodrama.
Melodrama debuted at #1 last week, marking Lorde's first US #1 album and the first time a Kiwi had topped the Albums chart since Keith Urban took the top spot with Fuse in 2013 (Urban was born in Whangarei).
Rounding out the Top 15 this week is Khalid's American Dream, which moved up from #18 last week. The LP features three tracks co-written, produced and engineered by Joel; they are 'Young Dumb & Broke', '8teen' and 'Therapy'.
Speaking to TIO, Joel's manager Ashley Page said Joel's decision to remain selective with his collaborations is a contributing factor to his success.
"Joel has been very particular about who he will work with," he said. "There have been plenty of times we've turned down big artists because it hasn't been right for Joel. I think being very certain of the areas that he has wanted to work in and the direction he's headed has been very important and pivotal to his continued success."
Ashley – who also manages Broods, Jarryd James through his own Page One Management firm – said Joel has built his career on his tireless work ethic.
"He has managed to keep his feet on the ground through all successes, and he works very hard," Page told TIO. "People really love working with Joel as he listens to their ideas first and foremost, and tries to work out how he can complement the artist's vision."
Joel's US success may have reached a new pinnacle this week. Not only has he dominated the Billboard Top 15, but Bebe Rexha's 'The Way I Are' – which he co-wrote and produced – has just hit the Top 40 on the US pop radio chart.
Regarding his International Achievement Award in 2014, Milly Petriella (Head of Member Relations at APRA AMCOS) told TIO:
"We'd had that category in the works for a few years, but for one reason or another had yet to introduce it. Joel and Ella's (Lorde) phenomenal success with Pure Heroine was the catalyst to finally launch what is now a very prestigious moment at the APRAs.
"While Joel is one of our great international success stories, his influence is still heard on local releases, and that's an amazing thing for someone at Joel's level."
Remarkably, Joel isn't the only songwriter from across the pond making it big on the global stage. Papakura-born rapper, DJ and producer P-Money (Peter Wadams) produced Starley's breakout hit 'Call On Me'. The Ryan Riback remix of the track is certified 3x Platinum in Australia and Platinum in seven countries, including the US, UK and Germany.
When asked whether Joel's move to LA was integral to his work, Ashley Page said: "For Joel in particular, being in Los Angeles has allowed him to be available at short notice for major artist sessions and put himself in a position to capitalise on opportunities."
Georgraphical advantages aside, discounting Joel's unique sound and multi award-winning status would be remiss.
"I think Joel's built a strong brand," said Page. "People know a Joel Little production, and he is one of the best in his field. People reached out originally as they loved Lorde's sound, now it's just as much because they love Khalid's, Imagine Dragons', or Bebe Rexha's songs.
"Importantly Joel has a great team around him, and a strong publisher in Sony/ATV who bring consistent value to the table," he added. "Both Jenn Knoepfle (SVP and Head of West Coast A&R) in LA and Maree Hamblion (Joint Head of A&R) in Australia have been instrumental through the years, and hopefully a good management team helps too I hope," he laughed.
If you write or perform your own songs you can find more information about APRA AMCOS at apraamcos.com.au
This article originally appeared on The Industry Observer, which is now part of The Music Network.
The Music Network
Get our top stories straight to your inbox daily.