Drake rules Spotify's global year-end charts, Sia, 5SOS lead Aussies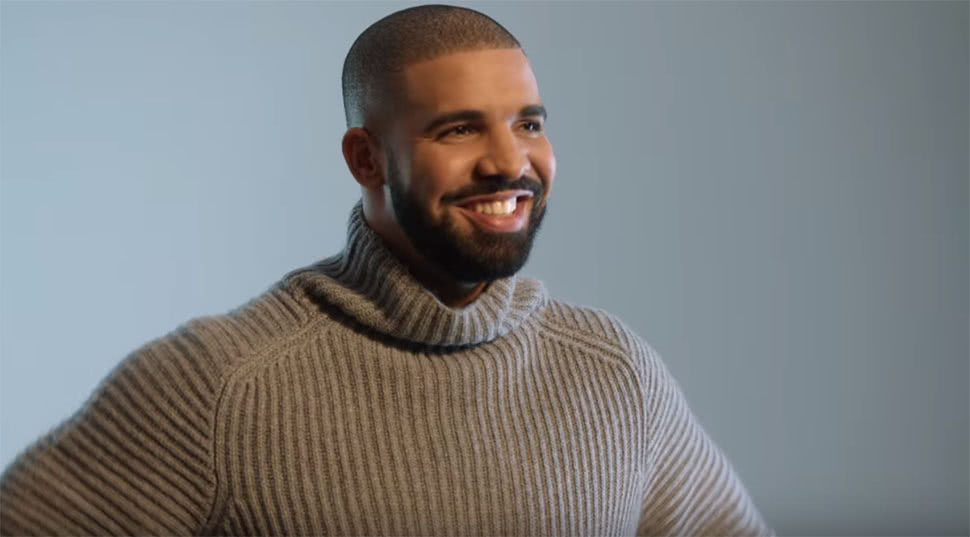 If the year 2018 was an object, Drake owned it.
The Canadian hip-hop star smashed streaming records with his fifth studio LP Scorpion, he's been named top artist of the year on Apple Music's platform and, on its tenth anniversary, Spotify declared Drizzy its most-streamed artist of all time. As 2018 year draws to a close, Spotify has shared its year-end charts, with Drake scooping up all the major categories he's eligible for.
The Toronto native was named Spotify's most-streamed artist of 2018, with Scorpion, which set the record for the largest single-week ever for an album in the United States (745.9 million on-demand audio streams) its most-streamed album, and its hit "God's Plan" the most-streamed track.
In 2018 alone, Drake racked up 8.2 billion streams, Spotify reports.
Having snagged the crown in 2016, Drake leads an all-male, hip-hop heavy top five this time, rounded out by Post Malone, the late XXXTentaction, Latin star J Balvin and Ed Sheeran, who ruled the list in 2014, 2015 and 2017.
With "Thank U, Next" setting charts alight around the globe and its official music video notching new viewing records it its first 24-hours, Ariana Grande can boast another big win, taking Spotify's most-streamed female honor, ahead of relative newcomer Dua Lipa, Cardi B, Taylor Swift and Camila Cabello, respectively. Grande's music has been streamed more than 3 billion times in 2018, according to the Swedish tech giant.
The most-streamed group category can best be described as a mixed bag, with Imagine Dragons ruling over BTS, Maroon 5, Migos and Coldplay. Australia's famous five is something else, with AC/DC and Hugh Jackman flying high.
With 32 million monthly listeners, Sia was the year's most-streamed Australian female artist. The Adelaide-raised, L.A.-based singer and songwriter came in at No. 7 on the global list. And the most-streamed Aussie song of the year? 5 Seconds of Summer's ARIA Award-winning, chart-topper "Youngblood" ruled Spotify's Australian chart and hit No. 24 on the global survey, the best result by an Aussie.
In other local takeaways, "God's Plan" ruled in every Australian state and territory. Though Tasmanian prove once more they do things different, crowning "Youngblood" their most-streamed track on Spotify over the year. And Australians are just loving that country twang; the land Down Under is the outright No. 3 market for country music globally, just behind the U.S. and Canada.
Spotify's Global Top Lists 2018:
Most-Streamed Artists
1. Drake
2. Post Malone
3. XXXTentacion
4. J Balvin
5. Ed Sheeran
Most-Streamed Female Artists
1. Ariana Grande
2. Dua Lipa
3.  Cardi B
4. Taylor Swift
5. Camila Cabello
Most-Streamed Tracks
1. God's Plan – Drake
2. SAD! – XXXTentacion
3. rockstar (feat. 21 Savage) – Post Malone
4. Psycho (feat. Ty Dolla $ign) – Post Malone
5. In My Feelings – Drake
Most-Streamed Albums
1. Scorpion – Drake
2. beerbongs & bentleys – Post Malone
3. ? – XXXTentacion
4. Dua Lipa – Dua Lipa
5. ÷ – Ed Sheeran*
Most-Streamed Australian Artists
1. Sia
2. 5 Seconds of Summer (5SOS)
3. AC/DC
4. Troye Sivan
5. Hugh Jackman
Most-Streamed Australian Tracks
1. 5SOS, Youngblood
2. Dean Lewis, Be Alright
3. Hugh Jackman, The Greatest Show
4. Vance Joy, Riptide
5. Sia, Thunderclouds (with Sia, Diplo & Labrinth)
This article originally appeared on The Industry Observer, which is now part of The Music Network.
The Music Network
Get our top stories straight to your inbox daily.