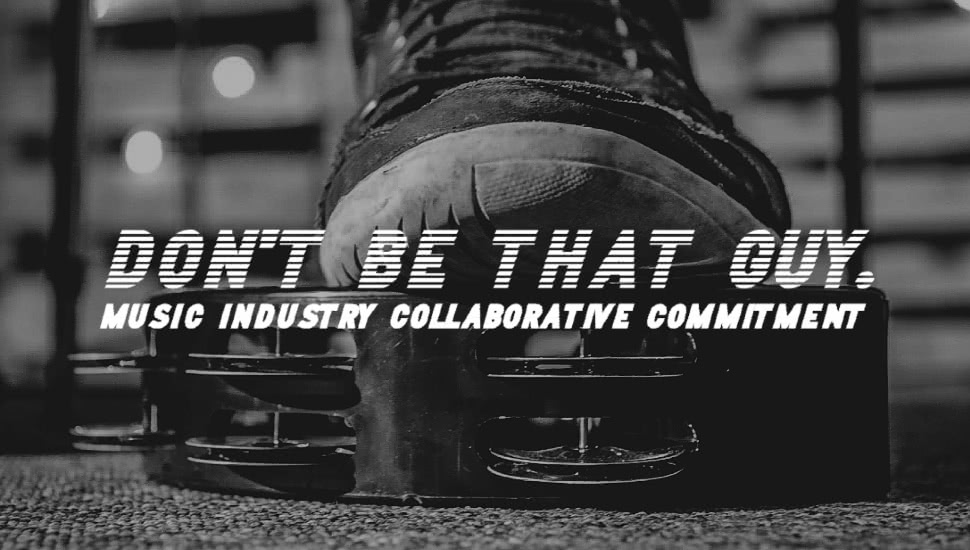 MUSIC INDUSTRY COLLABORATIVE COMMITMENT
Today, 5 August 2020, the Australian music industry at large has launched the MUSIC INDUSTRY COLLABORATIVE COMMITMENT – a tool, and resource for use at the one-on-one meeting level, under the broad directive of "Don't be that guy."
We hope this resource is of particular use to artists and that it will bring them a level of security and confidence in entering collaborative situations. We also hope that organisations and businesses adopt this approach (if not this exact wording, create their own).
Share this with your peers when coordinating any kind of collaboration and put respect and safety on the agenda before you meet.
To begin, I understand the need to acknowledge the Traditional Owners of the land on which we'll meet, and the deep historical influence they've had and continue to have on musical culture and stories. 
This resource is an acknowledgement that there are systemic and harmful power imbalances within the music industry, and a commitment to help create change. I acknowledge specifically that those issues often relate to gender, sexuality, ethnicity, minority status, age and ability. 
With regards to all our future gatherings and communications; 
I commit to being aware of issues relating to gender, sexuality, ethnicity, minority status, age and ability in the music industry and working to actively create a professional, comfortable and safe environment free from discrimination, harassment or abuse.
I will not place unnecessary attention on, or discriminate based on a person's gender, race, ability, age, sexuality, career status or on any other personal or cultural attribute.
I will respect physical boundaries and space at all times
I will not engage in any acts of sexual harassment including unwanted, unwelcome or uninvited behaviour or conversation of a sexual nature, which is likely to make a person feel offended, humiliated or intimidated. 
I will ensure I have parental or guardian consent for any and all commercial dealings with minors, and be aware that behaviour and language should be adjusted accordingly.
I will not deny appropriate opportunities based on a person's age, health, ability or immune status, and will take reasonable measures should special provisions be required.
I will conduct any communication or engagement, both prior and post our meetings, in a professional, respectful and confidential manner.
I will follow and/or establish guidelines where needed with respect to ethnicity or cultural protocols, engage subject matter experts with lived experience

in discussions relating to minority status, and ensure First Nations leadership and inclusion when required.
I will support the agency and autonomy of all to self-determine their own futures, including trans and gender diverse people and will challenge homophobia and transphobia when I see it.
If unsure, I will offer my own pronouns (he/she/they/etc) when introducing myself, before asking how others identify themselves.
I acknowledge I have a duty of care in reporting or raising any incidents should they arise, upholding confidentiality and taking into consideration the safety and mental wellbeing of all parties in discussing such incidents.
DISCLAIMER:
This document is not legally binding and is intended as a guide only. It does not anticipate every situation that might occur with respect to gender, sexuality, ethnicity, age, ability or other minority status, and the needs of each participant should be assessed on a case-by-case basis. In all cases, the goal is to ensure the safety, respect, comfort and accountability of all participants in all meetings and collaborative environments within the music industry.
If you need to report an incident, or require more detailed information, below are a few resources and options for you:
Are you experiencing an emergency?
If so, please dial 000 now.
Do you need support or advice?
If so, please contact 1800RESPECT (1800 737 732).
This hotline is staffed by trauma-informed counsellors who can provide 24-hour support for people impacted by sexual assault and abuse.
Do you need legal information or advice?
If so, you can find up to date links and resources on harassment and discrimination at work, or you can contact Justice Connect.
The Australian Human Right's Commission's National Information Service also provides information on sexual harassment. Please call 1300-656-419 or (02) 9284 988. However, the AHRC is unable to give you legal advice because it handles complaints.
The Support Act Wellbeing Helpline is a free, confidential counselling service that is available to anyone working in Australian music or the arts, who needs to talk to someone about any aspect of their wellbeing. Call 1800 959 500 or by email.
Do you want to make a complaint?
If so, please contact the Australian Human Right's Commission (AHRC).
However, the AHRC advises you to seek legal advice before making a complaint. If you are considering making a complaint, we suggest you to contact Justice Connect to see if you are eligible for free legal assistance.
Would you like more information on sexual harassment?
NOW Australia has created a factsheet that provides more detailed information on sexual harassment. It provides both general advice and connections to a range of organisations that can help. It has been compiled with the assistance of Justice Connect.
Deena Lynch (Jaguar Jonze), Tia Thorne and Molly Apirana have prepared some information to aid you in understanding the Australian legal system and how best to describe and understand incidents that may have occurred to you.
If your work relates to live performances or you are a member of Live Performance Australia you can find more detailed resources here.
If you are an artist manager please refer to the Australian Association of Artist Managers 'Code of Conduct'.
If you are working with a person with a disability or health issue you can find more detailed resources via the Diversity Council Australia.
If you are working with First Nations peoples we encourage you to make contact with your local Elders.
If you are working with someone from the trans and gender diverse community, refer to the TransHub language guide.
For more information about being an ally to trans and gender diverse people, please visit transhub.org.
At the time of launch the MUSIC INDUSTRY COLLABORATIVE COMMITMENT is supported, and in use, by: AIR, BMG, Downtown Music Publishing, UNIFIED Music Group, SUPPORT ACT, MGM, Eleven Music, Mirror Music, I OH YOU, Comes With Fries, Vita Artists, Cooking Vinyl, Space44, Grindin', Beehive PR, Deathproof PR, Bossy Music, The PR Files, Musiio, ArowAgency, The Music Network, The Brag Media.
The MUSIC INDUSTRY COLLABORATIVE COMMITMENT was developed through community and expert consultation including representatives covering gender, sexuality, ethnicity, age and ability. One consultant who we would particularly like to credit is Jaguar Jonze for all her work leading up to this campaign. Together with Michelle Pitiris she has been the voice for many, and given the entire industry the shake-up it truly needs.
If you would like to make your support of this public, please add your name or your company name below.
Achord Agency
AIR
Alastair Taylor
Alex Caffrey - Guitar Technician
Alex Markwell
Andrea Smith
Andrew Crosbie
Andrew Kimber
Andrew Trewin
Anetta Nevin
ANGE
Angus Leighton
ArowAgency
Arrowbird
Atomic Music Network
Audition Listings Australia
AWMA
Beehive PR
Ben Cooper | LOVE AND RENT
Beniah Colbourn | Homegrown Sounds
Bill C
Billy Exton
Bloodlines Music | Part of the Mushroom Group
Blue Grey Pink
BMG
Bossy Music
Brett Nossiter (Nozz)
Brok Neilsen | Together Agency
Bush Gothic
Chelsea Warner
Chris Neale
Chrissie Vincent
Christine Riad
Cicada International Ltd
Comes With Fries
Connor Ross
Cooking Vinyl Australia
Country Music Association of Australia (CMAA)
Creative Entertainment Agency
CrewCare
Curdin Wullschleger | Curdin Photo
Curtis Holdsworth
CXLOE
Dale Hughes
Damian Caniglia
Damian Trotter
Dancehall Reggae Australia
Daniel Wright | Main Offender Records
Dasvibes
Dave Laing Publicity
David Andrew
David Ash
David Morgan
Davo Holleran Rebel FM & The Breeze Radio
Deathproof PR
Deb Hatton (Lighting)
Derek Lee Goodreid
Dinosaur City Records
Dirt Hand
Ditto Music
DJ Wade
Dobe Newton
Downtown Music Publishing
Dulcett
Eleven Music
Elise Naismith
Emma Steven
Entertainment Consulting
etcetc Music
Fiamma Kitching
Geraldine Rey
Glenn Langford
Grindin'
Hands Like Houses
HideOut Music
Hopeless Records
Howlaround Entertainment Group
HSF Artist Services
Hugh Heller
I OH YOU
IMAGE by Karlo
Isaac Gunnoo
Isaac Lewis | Waratah Records
Ivy League Records
Jaguar Jonze
Jai king koi
JailBird Sage
James Mackey
Jaxsta
Jazzy K
Jeff Drake
Jenna Brown
Jesse Chin-Quan
JJ Monester
Joe McEvilly
Joshua De Laurentiis | Harbl Mgmt
Joshua Tate
Joshua Thomson
Julian Lee
Just Really Good | Jo Lukis
Kate Beasy
Katie O'Hagan
Kelly Ottaway
Kiah Gossner
Kick Push PR
Kicks Entertainment
Kimberley Galceran
KISS FM | DANCE MUSIC AUSTRALIA
Kitty Kitty Bang Bang
Kristie McCarthy
Lachlan Bryan
Lachlan Wyllie | Chiefly Sounds
Laneway Music
Lemon Tree Music
LHĒON
Liam Jenkinson
Listen Up Music
LMD Music
Louise Denson
Luke Girgis
Main Street Studios
Marie Lebourdais
Marienne (Marz) Te Haara
Marina Piche / Three Fold Agency
mark lizotte
Mark Neal
Mark Schmalfuss | Mangus
Marty Smith
Max Garcia-Underwood
MDDL MGMT
Merinda Dias-Jayasinha
Meryl Davis | Country Music Association of Aust (CMAA)
MGM
Michael Hardgrave
Mirror Music
Mitch love
Monica Strut
Moreton
Moreton
Morph Consulting
Mushroom Music Publishing
Music SA
MusicACT
Musiio
Nala Music
Natalie O'Driscoll
Nathan Gunn
Neal Sutherland
Nicholas Greco
Nick Mckk
Nicky Wellard
Nigirfas Redbum
Nikita Miltiadou
Noah Shilkin | Lolly Box Music
Noemi Liba Friedman
Ollie Cook
Parachute Films
Pat Jaffe
Patrick Schmidli
Paul Kucharski
Penney and Logan PR & Management
Piper's Son
Pozible
Rachael Higgins
Rachel Kelly
Rebecca Gracie, The Country Journo
Renee Park
Reservoir PR
Rob McPherson
Robert Hambling
Sachin Patel
Sam Bowmer
Sam Burtt
Sam Rubino
Sammi Constantine
Sarah McMillan | Unified Music Group
Sarah Saint James
Skyerush Records
Soothsayer
Soul Has No Tempo
Sound of Melbourne Records
Stefanie Russin
Stephen McEntee
Steven Schram
Support Act Limited
Suzette Collective
Take2Media
Tara Hart
Taylor Made Artist Services
Thando Sikwila
The Bill Collins Group
The Cad Factory
The Hey Mate Project
The Jazzlab
The Live Wire Music Media
The Music Network
The Music Real
The Northern Sound System
The Pushworth Group
The Sunday Estate
The Sydney Improvised Music Assoc
The Underground Stage
Tia Jordan
Tim Carr
Tina Arena
Tiny Triumphs Artist Management
TMC Marketing and Distribution t/a themusicconnection
TMRW Music Group
Tyne Cochran
UNDR Ctrl
UNIFIED Music Group
Vanessa Klevenz
Vicki Gordon Music Productions
Vita Artists
Volkanik Music
West Australian Music
Wonderlick Entertainment
XIRA
Zambrano-Zambrano
zed mero
Zima Anderson
The Music Network
Get our top stories straight to your inbox daily.