DAB+ Ratings: RnB Fridays' Audience Soars, But ARN's 80s Stations Reign Supreme
Editorial Operations Manager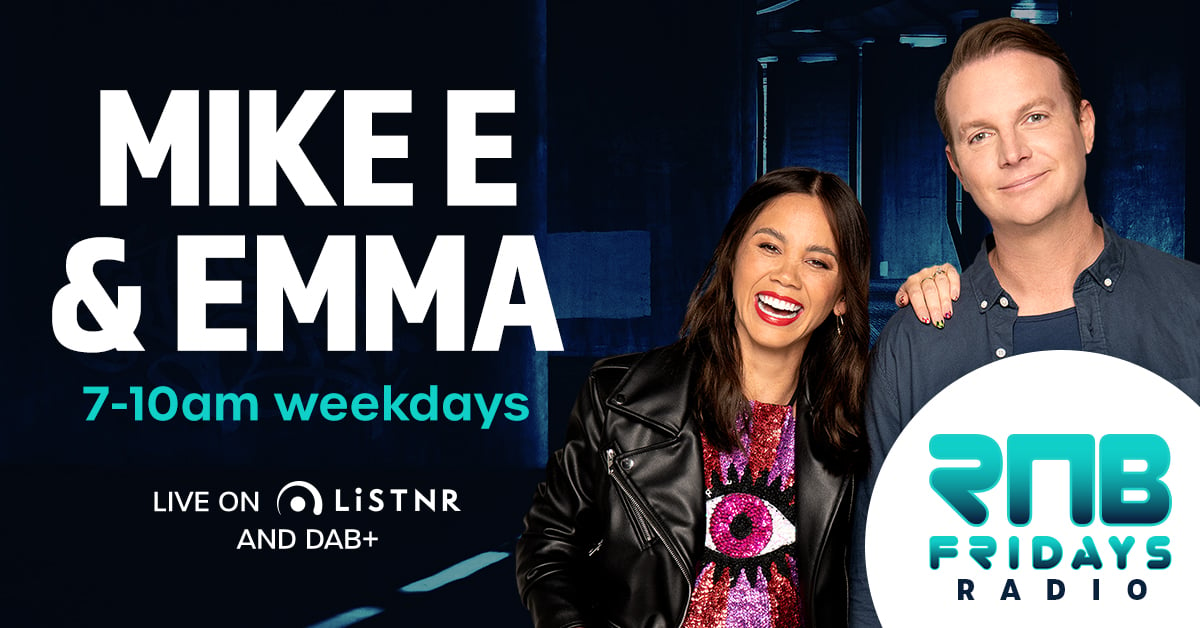 RnB Fridays, SCA's recently launched DAB+ station, is steadily increasing its audience.
The station's audience across the five capital cities has climbed 64,000 to a total of 253,000 this survey. The biggest gains were in Sydney (up 21,000 to 85,000) and Melbourne (up 30,000 to 77,000).
This puts RnB Fridays above previous DAB+ chart topper Coles Radio, which has an audience of 238,000.
It's also ahead of ARN's Cada, which also launched earlier this year.
Cada is the rebranded The Edge 96.1, which now targets the entire country via social media content and DAB+. It is aiming to be "Australia's home of hip hop and RnB".
Cada has a national audience of 140,000, a majority of whom are from Sydney (105,000).
The most popular DAB+ stations, however, were those playing older music, with ARN's 80s-focused stations pulling in the largest cumulative audience.
ARN 80s – including WS 80s (Sydney), Gold 80s (Melbourne), Mix 80s (Adelaide), 96 FM 80s (Perth) and 97.3 Kiss 80s (Brisbane) – had a total audience of 346,000, It was the most popular station in Melbourne (up 15,000 to 111,000) and Perth (up 3,000 to 61,000).
ARN's 90s offering was the most popular Brisbane station, (up 3,000 to 75,000), while across the country the Kiis 90s stations had 279,000.
ARN's TikTok Trending also continued to gain traction, climbing 59,000 to an audience of 236,000, well above its launch figure of 128,000 from Survey 4 last year.
SYDNEY: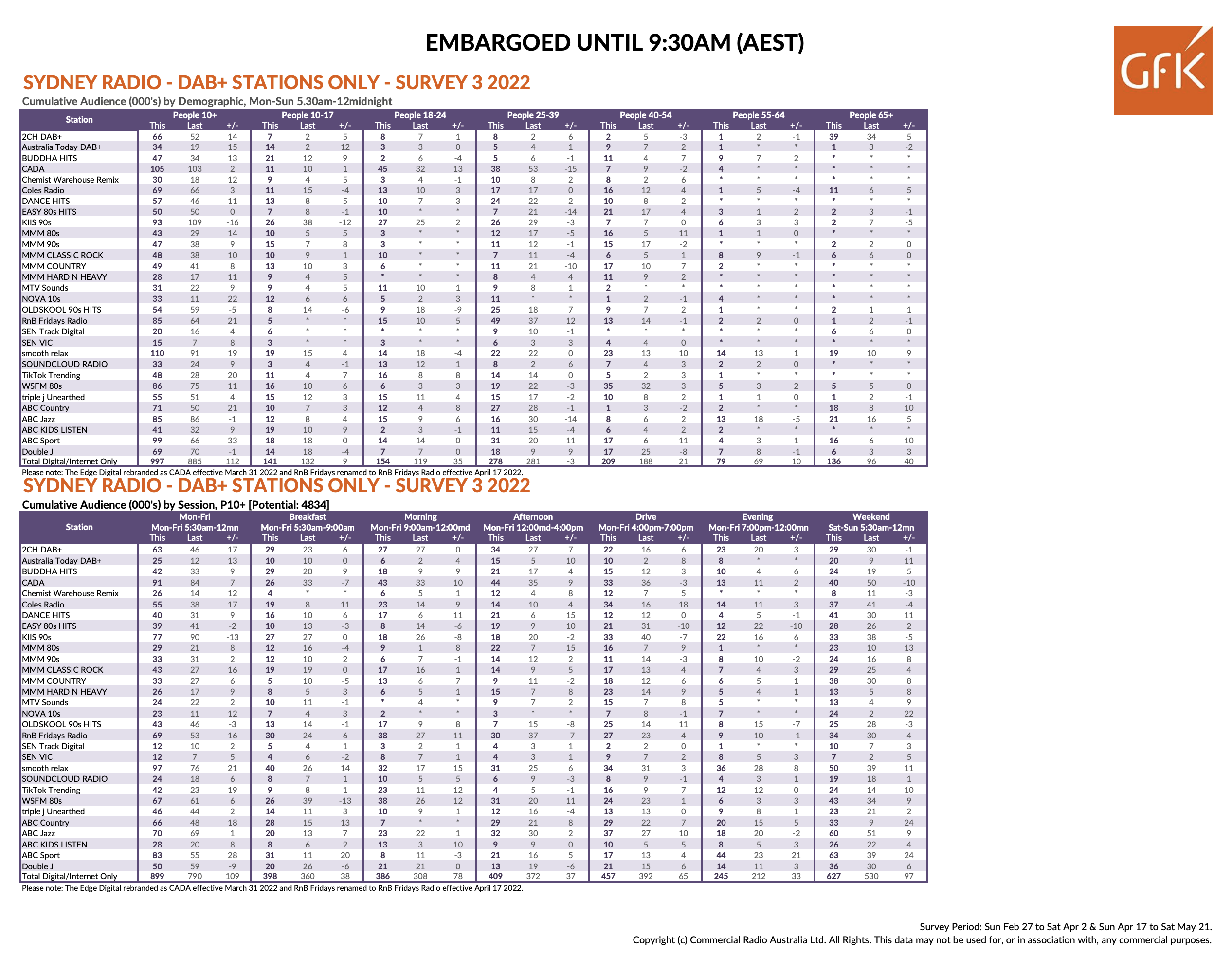 Click to enlarge 
MELBOURNE: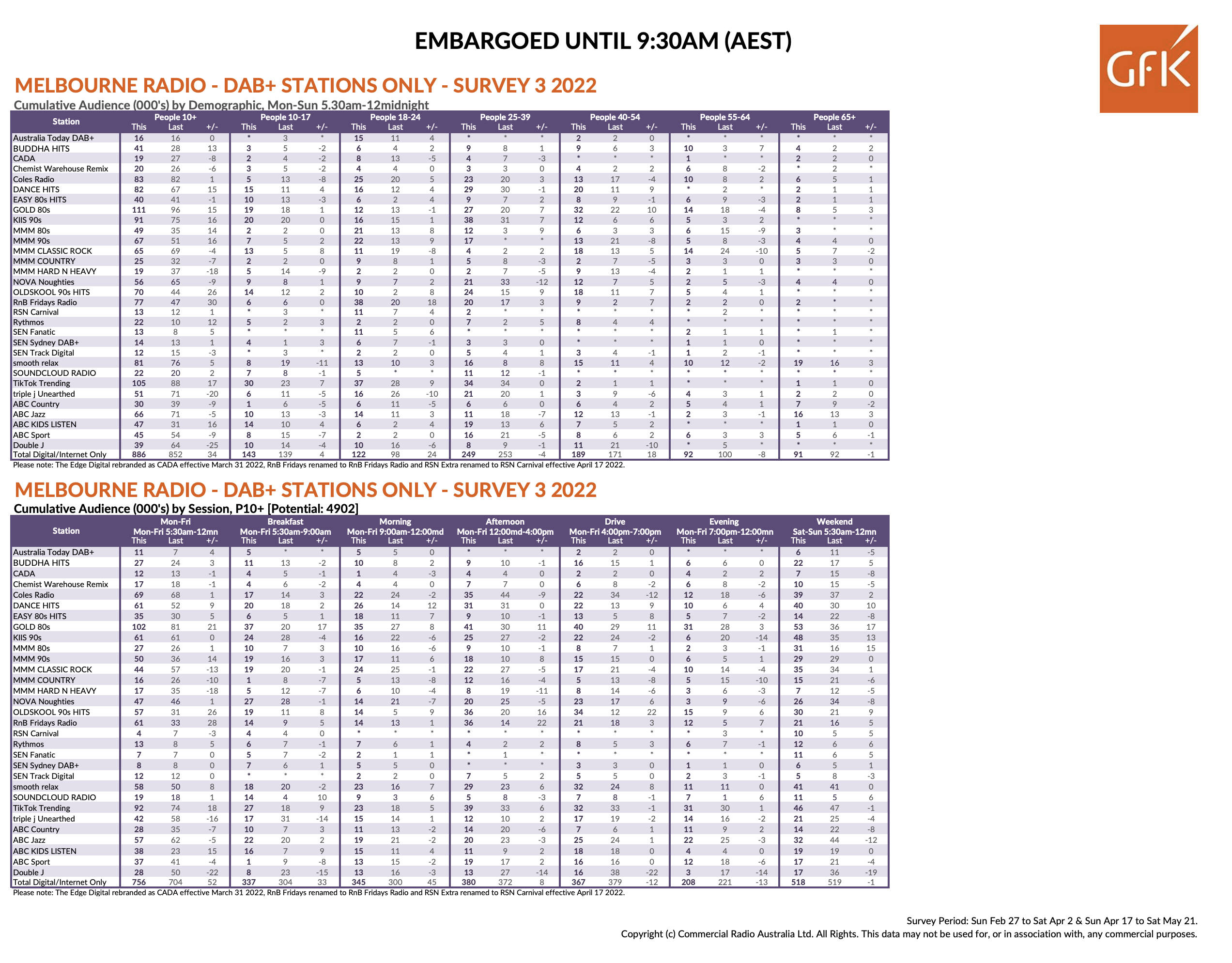 Click to enlarge
BRISBANE: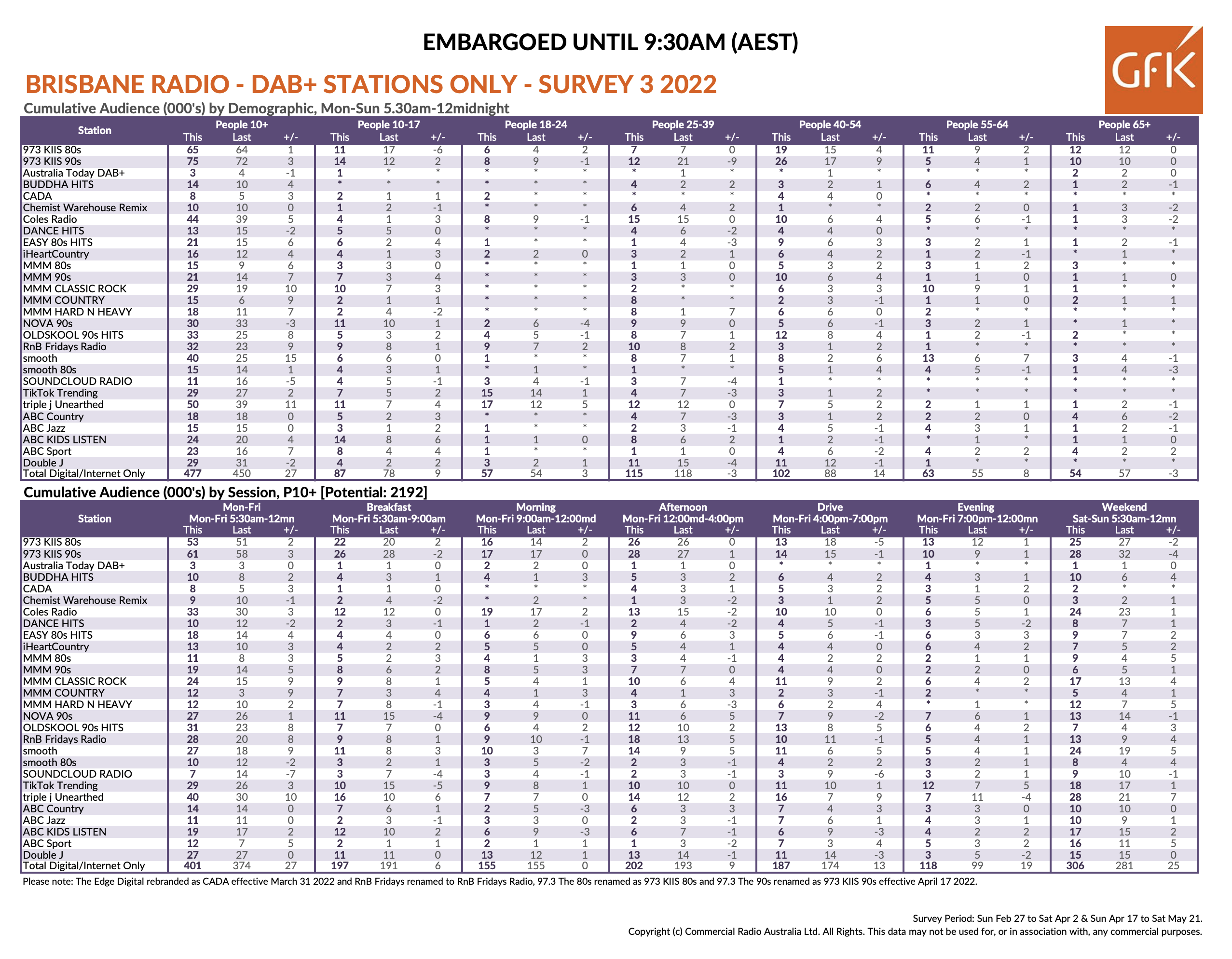 Click to enlarge
ADELAIDE: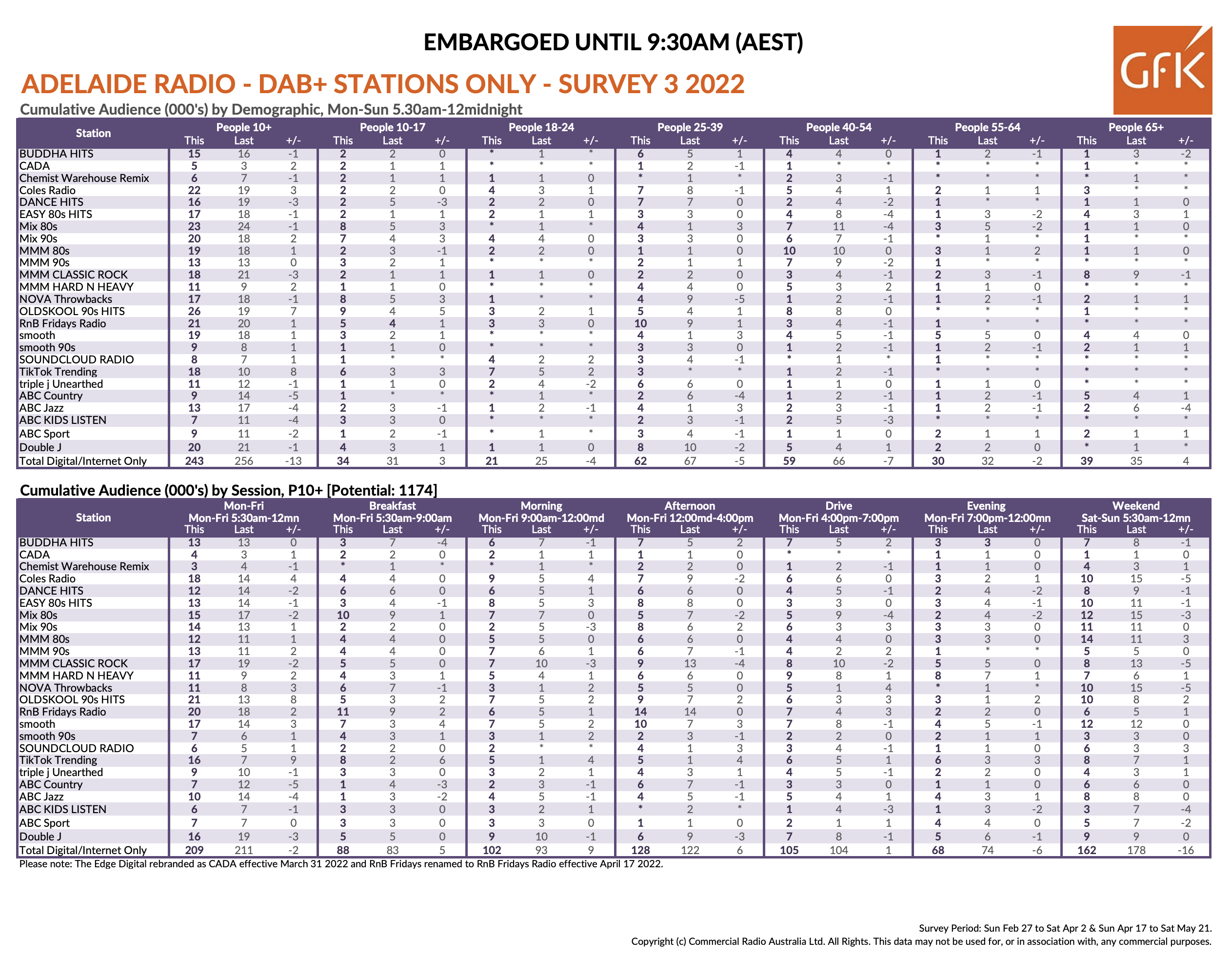 Click to enlarge
PERTH: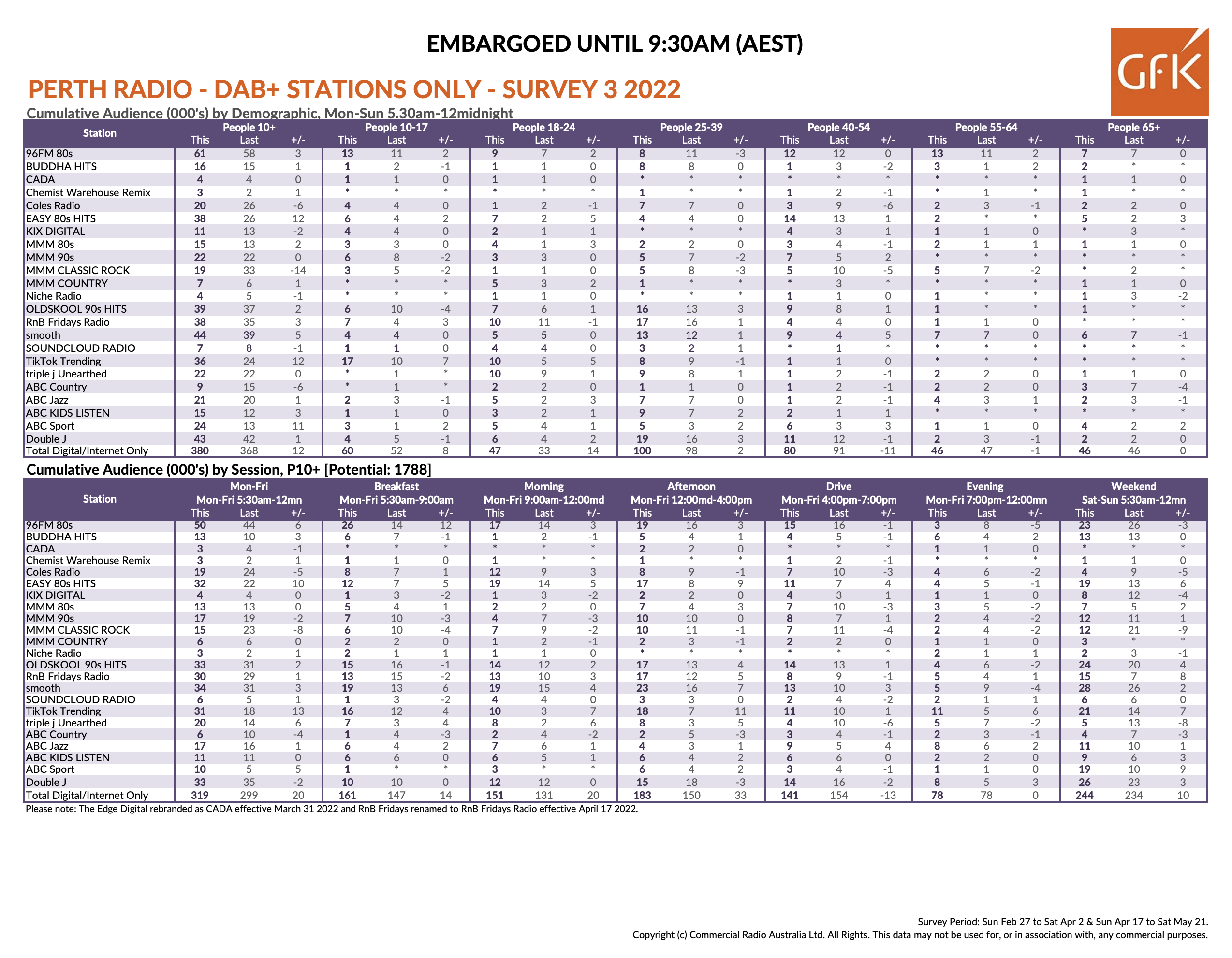 Click to enlarge
The Music Network
Get our top stories straight to your inbox daily.