Caroline Australia's history explained in 15 albums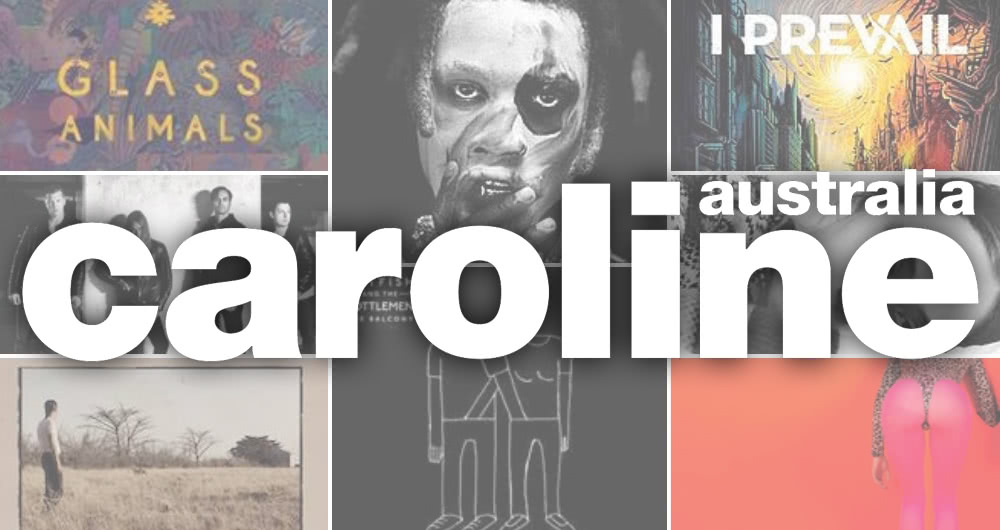 Caroline Australia was established five years ago as the Label Services Arm of Universal, set up primarily to partner with independent artists and labels.
It's grown to become a compelling player in the indie landscape, including current partners like UK labels Ignition, Fiction, Communion, Wolftone; US label partners Loma Vista, Fader, Concord, Fearless, Fools Gold and Mass Appeal; and French indie powerhouse Because Music.
Locally, Spinning Top, Good Manners, King Hokum (CW Stoneking), Spunk, Daily Nightly and more all currently partner with Caroline. Although not confirmed, on the local front there is talk of albums next year by Alex Lahey, POND, CW Stoneking, Marlon Williams, Clowns, Harvey Sutherland and more.
Internationally the reputation is completely formidable. This year Caroline International took out the UK Music Week Label Services Award beating out the likes of PIAS, ADA, Kobalt and The Orchard.
Caroline US doubled its market share in 2018 with some incredible success' including the absolute monster hit album ? by the late XXXTentacion, and they just signed Mac De Marco's own label where he will issue all future albums (aptly entitled Mac's Record Label).
Tim Janes (General Manager) and George Dalziel (now A&R/ Label Director) were the first two staff appointed to kick things off.
"We actually kicked off in 2013 a few months before Caroline International set-up a UK head office was even announced," says Tim Janes.
"I was simply in the building working at Cooperative Music (Bloc Party, Phoenix) when UMA head honcho George Ash pitched the idea to me," Janes remembers. "He said, 'just go for it, start now, other territories can catch up'.
"We were lucky enough to partner with Spunk, Cooking Vinyl and Nuclear Blast all in the first six months which enabled us to be releasing albums by the likes of City and Colour, Bill Callahan, Billy Bragg and St Vincent in our first year.
"Our first ever release was the brilliant Once I Was An Eagle from Laura Marling. It felt like everything fell into place in Year One and we've never looked back".
Janes says in the ever-changing landscape of music consumption and discovery, the needs of the artists are ever evolving.
"The team [that artists] choose to partner with can have a much different look to labels 10 years ago, and the deal options reflect this," he says. "It's a great time to be an artist making compelling music , and it's such an exciting time to be in label services".
Laura Marling – Once I Was An Eagle
1st ever release
(Virgin EMI)
Australia was always a key territory for Laura and after a quick conference call with Adam (Tudhope, manager) and George Ash we were so excited to be releasing her brilliant fourth album. 'Master Hunter' is a favourite. The Heavenly Sounds tour where she played churches was a beauty, as was her next album Short Movie that we were also lucky enough to release. (TJ)
Glass Animals – ZABA
(WolfTone)
The Australia love affair with Glass Animals was pretty immediate. Their first single 'Psylla' got a caning on triple j. By the time we had Gooey added, XIII Touring quickly committed to a set-up tour and they were on their way to Australia for a couple of club shows.
They had so few songs in their set they played 'Gooey' twice in Melbourne by memory! It was this early tour prior to ZABA where they performed 'Love Lockdown' for Like a Version. (TJ)
Catfish and The Bottlemen – The Balcony
(Island)
From the first time we heard the UK indie four piece's debut EP 'Kathleen and the Other Three' back in 2014 we knew we were about to unleash something special and build a future for the band in Australia.
From supporting The Kooks on their first Australian tour to then selling out The Hordern Pavillion and Festival Hall across two albums and selling over 60,000 albums in Australia, and a Gold ARIA Accredited single for '7' it's fair to say Australia has a special place in their hearts for Van McCann and Co. As Do We!  (GD)
I Prevail – Lifelines 
(Fearless)
Michigan's I Prevail made a huge dent in Australia with their debut album 'Lifelines'. One of our highest selling records to date, Lifelines charted in the ARIA top 8 Album Chart and the
metalcore 5 piece have amassed over 25,000 album sales and sold out an entire debut Australian tour. Download '19 will be huge. (GD)
Marlon Williams – Marlon Williams
We were tipped off by our friends at Native Tongue Publishing about Marlon. The first time George and I saw him play was at The Yarra Hotel in Abbotsford while he was living upstairs. We were blown away.
It's been a pleasure to work with Marlon and his team as his career has grown to now selling out a couple of Forums in Melbourne and to debut his second album Make Way For Love in the Top 10 was very gratifying. I truly believe Marlon is that unique career artist who can be releasing compelling albums and selling out theatres in 20 years time- which is such a rarity in the current musical landscape. (TJ)
Mac DeMarco – Salad Days
(Spunk Records)
Aaron has a proven track record for signing some absolute gold to Spunk over the course of the last 20 years. He was lucky enough to license four albums by Mac – Rock n Roll Nightclub, 2, Salad Days and Another One.
From Aaron picking up Mac for Australia when he was completely unknown to sold out tours and effectively headlining Laneway Festival it's amazing releasing albums by this unique artist. Salad Days is a classic. Oh – and his mum Agnes is great fun too! (TJ)
Alex Lahey – I Love You Like a Brother
(Nicky Boy Records)
Alex Lahey has had a huge couple of years and we've had the privilege of being her release partners from her breakout EP 'B Grade University' to her debut album I Love You Like a brother. ARIA Nominations (Breakthrough Artist), an Air Award gong for Best Single ('Every Day's The Weekend') are only some on the incredible highlights Alex has achieved in such a short space of time. Stay tuned for a huge 2019… (GD)
Iggy Pop – Post Pop Depression
(Loma Vista)
Iggy Pop, Josh Homme, Dean Fertita and Matt Helders. Powerhouse band produce a powerhouse record. Pretty special album to work on, an artist that is truly so iconic. The SXSW show with this band was completely unforgettable.  (TJ)
Highasakite – Silent Treatment
(Propeller)
Norway's Highasakite hold a very special part in our history so far being one of the first international acts we signed for Australia. Discovered  from a SoundCloud link in 2013, we've built a career for the act in
Australia – kicking goals from a triple j Hottest 100 ('Since Last Wednesday' hit #77 in 2014) to sold out shows and festival appearances at Laneway and Beyond the Valley. Their debut record Silent Treatment remains a special record for us. (GD)
Denzel Curry – TA1300
(Loma Vista)
The South Florida Hip Hop scene has delivered some huge artists in recent years (XXXTentacion, Kodak Black, Ski Mask the Slump God). Denzel Curry's breakthrough mega hit 'Ultimate' in 2015 paved the way for the Carrol City rapper to announce himself as a major force on the global scene. Earlier this year we released his third album TA1300 which landed feature album on triple j and sees Denzel Curry return to Australia for Laneway Festival and Origin Festival in early 2019. (GD)
St Vincent – Masseduction
(Loma Vista Recordings)
We've released her last two albums. Masseduction is my pick and 'New York' is my fave St Vincent track. Such an individual artist, a real staff favourite here at Caroline HQ. Her 3 club dates at Howler in Melbourne were a true highlight.
Yes our label partner Loma Vista has great taste….. (TJ)
C.W. Stoneking – Gon' Boogaloo
(King Hokum Records)
Australian musical icon. Stoneking goes electric and releases the album of his career. His shows post this album release were never the same with backing singers and more eclectic and electric feels. He just released a Christmas single with Josh Homme.
CW has averaged an album every five-six years so we're all crossing our fingers 2019 could be the year…. (TJ)
Christine and The Queens – Chris
(Because Music)
One of the most fierce, talented and inspiring artists of recent years – Christine and the Queens (Heloise Letissier)  released her second album in Sept this year via our label partners, Because Music.
Time Magazine voted 'Girlfriend' best track of 2018, one of many accolades the album has received so far. Winning hearts all over the world we're beyond excited to have Christine and The Queens tour 'Chris' in Australia in March 2019. (GD)
Slayer – Repentless
(Nuclear Blast)
Legends of the Thrash Metal scene, Slayer released their 12th album Repentless in 2015 . One of the most revered names in heavy music we achieved a top 3 ARIA Album
Chart Debut. The Californians have embarked on their Global farewell tour, hitting Australia's Download Festival next March 2019. Nuclear Blast is a partnership since Day One and we've loved working with their Australian Label Manager John Howarth and the international team. (GD)
 Parcels – Parcels
(Because Music)
Brunswick Heads boys made good have released one of the albums of the year. Killing it overseas selling out huge shows in Europe. Recent triple j Feature, they're coming in January for sold out shows nationally and we can't wait. 'Tieduprightnow' is a huge single. (TJ)
Honourable Mentions…
Bombay Bicycle Club, Phantastic Ferniture, Noel Gallagher's High Flying Birds, Julien Baker, JUSTICE, Joe Strummer, Twin Peaks, Spoon, Kllo, The Maccabees, Fraser A Gorman, Augie March, Nathaniel Rateliff & The Night Sweats, Parkway Drive, Nine Inch Nails, Jason Isbell… too many favourites.
Tonight Caroline Australia celebrates five years with a party in Melbourne, with a line up like that you will want to make sure you're on the list!
This article originally appeared on The Industry Observer, which is now part of The Music Network.
The Music Network
Get our top stories straight to your inbox daily.