The 100 best Australian songs of the decade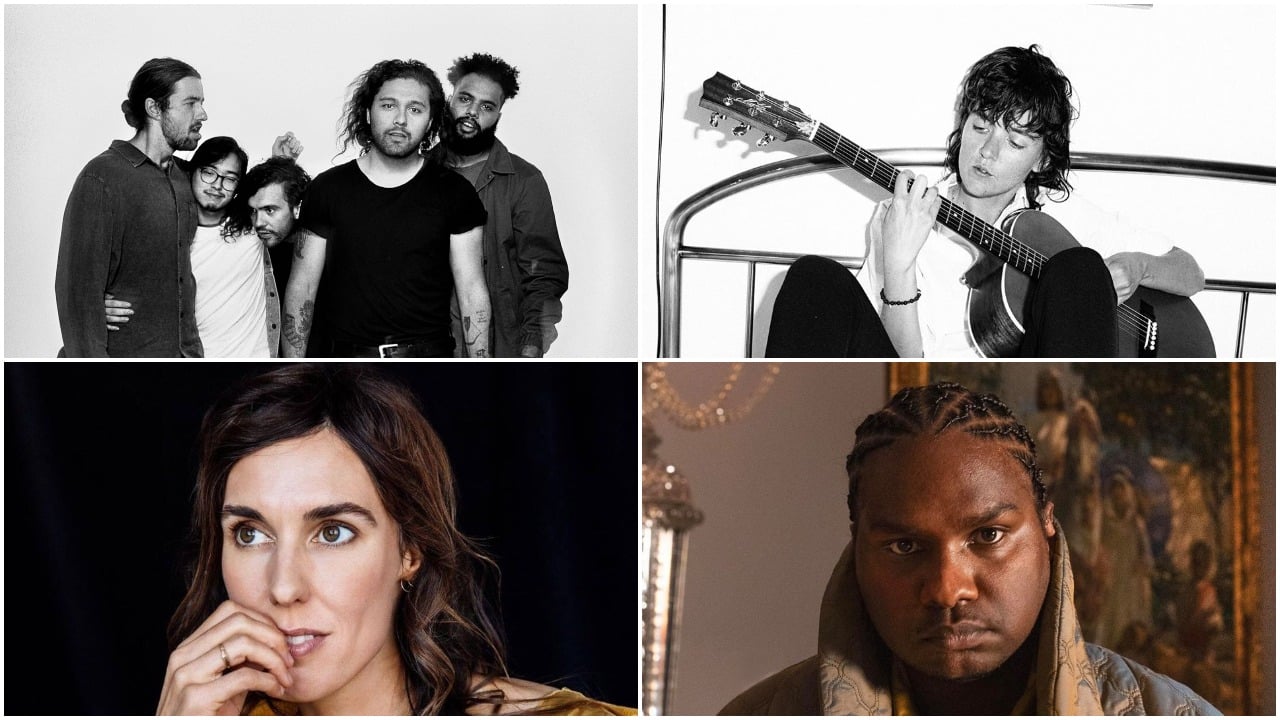 This is it! The very best 100 songs to have been released by Australians between 2010-2019, ranked in order of excellence, assuming of course that nothing amazing comes out in the next few weeks.
This list isn't based on radio play, or additions, or any of the usual TMN stuff. This is 'songs' not 'singles' – meaning album tracks will get a run too.
A few things to remember though, as your spite-fingers angrily hover above the fury-keys on your Twitter-phone.
Each artist can only have one song on the list, to make it more fun and fairer. 
I have tried to be fairly broad in regards to gender, genre, et al. but some obvious favouritism will come through, as music and especially ranking music, is about the most subjective thing in the world. Plus, I don't really like most EDM. 
I have taken into account a song's ubiquity and larger context, but just because something has been number one for the last half of 2019, doesn't mean it will necessarily make the list. (And it didn't!)
I have tried to avoid recency bias too, so you'll hopefully find a fairly evenish spread across the decade.
Finally, the brain is a faulty computer so I'm sure I have missed some fairly major songs. If I did, please feel free to tweet at me, come around to my house and yell at me, or maybe make your own list, because it is a fun exercise, and you will be surprised how many rabbit holes you will fall into while doing so.
As we said in the 2010s, #YOLO. 
---
100. Waves – Dean Lewis
I tried to resist this song, because it seemed too obvious, then I realised the same can be said for 'Wonderwall'.
99. Fancy – Iggy Azalea ft Charli XCX
An Australian as cracking open a cool can of PBR.
98. Superpowerz – Step-Panther
Surf-pop that sounds like it was recorded through the wall of the neighbouring apartment. Great stuff!
97. Northcote (So Hungover) – The Bedroom Philosopher
This has since lost all irony, but I still remember.
96. Mace Spray – The Jezebels
The perfect soundtrack to an Australian outback film where a baby goes missing or something.
95. Rapunzel – Drapht
The music sounds like The Turtles, the rapping is second-to-none, and it's titled Rapunzel for Christ's sake!
94. Villages – Alpine
For a while there, it looked like these guys and girls were going to be massive. This song holds up nicely.
93. Talk Is Cheap – Chet Faker
Unless you are Puff Daddy, you cannot change your name mid-stream and expect everyone else to keep up. Remember when Diesel flirted with releasing music under Mark Lizotte? Sorry mate, you're Diesel!
92. Rock It – Little Red
"Rock it to the break of day. Don't stop rocking now, no way." Words to live by.
91. Who's Loving You – Jess Mauboy
Just listen to that vocal performance. Touchdown!
90. Float Away – Seth Sentry
An ode to being constantly distracted. As Ram Dass said, be here never.
89. You Ruin Me – The Veronicas
I quite enjoy The Veronicas in broken ballad mode.
88. Thinking About You – Big Scary
This is what I hoped Bon Iver would sound like back when I had read about his wood cabin and seen his lumberjack beard but not yet heard the music.
87. Wreck and Ruin – Kasey Chambers and Shane Nicholson
Proper country that knows exactly what it is. There's enough fiddle for everyone!
86. Satan – D.D. Dumbo
Like watching Fantasia while a bit too high.
85. Coming Around – Hungry Kids Of Hungary
This band name would be seen as racist in 2019.
84. Brother – Matt Corby
This song makes my dog Miles go absolutely mental for some reason.
83. Lose Sleep – Remi
The type of conscious hip hop that came out during the golden age.
82. Burning It Down For Nothing – Bodyjar
I secretly suspect this is an outtake from their 2000 'How It Works' album.
81. Paint Me Sliver – Pond
So ELO that Jeff Lynne should have gotten a writing credit on this.
80. Art Of Love – Guy Sebastian ft. Jordin Sparks
Guy should do boy/girl duets more often, especially ones like this that sound like breezy Ashanti jams from the turn of the century.
79. Bloom – Troye Sivan
A lovely song, all about flowers and spring, I assume.
78. Because I Love You – Montaigne
I always imagine David Byrne gyrating in his massive suit and shoulder pads when I hear this song.
77. By Your Side – Daniel Johns
Ladies and gentlemen, we are floating in space. Hey look, there's one of The Presets!
76. Wild & Weak – WAAX
The perfect guitar tones, mixed with an amazingly bratty lead vocal. So good.
75. Scott Green – Dune Rats
A pun wrapped in an enigma, wrapped in another pun.
74. Sunday Best – Washington
Playing air-piano to this in public while wearing headphones will make you look like you are having an 'incident'.
73. Concert Pitch – Empire Of The Sun
Luke Steele refuses to record on anything apart from a SNES cartridge..
72. Bad Decisions – Bitch Prefect
A warbling, off-key vocal that sounds like it's about to slip out of the vinyl grooves sings a laundry list of terrible choices. Perfect.
71. Analysis Paralysis – Jen Cloher
Eight minutes of chugging, strutting Velvetsy goodness, with Cloher lazily talk-singing about everything from kangaroos drinking out of pools to the plebiscite.
70. Chandelier – Sia
I wasn't sold on this song until I heard Arnold sing it on 'Please Like Me' and now I'm hooked.
69. Clothes I Slept In – Luca Brasi
The type of pop punk that goes with half-pipes and purple spikes and cargo shorts and One Dollar Short stickers.
68. Work This Time – King Gizzard and the Lizard Wizard
A delicate psychotropic daydream worlds away from their recent metal work.
67. Buzz The Boss – You Am I
Davey Lane takes over lead vocals and delivers a classic that sounds like '90s Hoodoo Gurus.
66. On Top – Flume ft. T.Shirt
You have to be a pretty decent rapper to name yourself T.Shirt and get away with it.
65. Regular Touch – Vera Blue
Just a great pop song – that's all.
64. Turn Me On – The Grates
I miss The Grates.
63. Jungle – Emma Louise
This started the trend of songs that sound specifically written for Pretty Little Things ads.
62. Ramp Up The Bleeding – We All Want To
This contains the best non-Dylan Dylan line ever: "Stop scribbling out your name, cos it's the only thing you oooown."
61. Missing A Girl – Cold Chisel
Barnesy's whiskey-soaked voice mixed with Don Walker's wine-stained lyrical sheet.
60. Cockroach Light Switch – Frenzal Rhomb
A horror that you hope to never sleepily stumble into, chronicled at breakneck pace.
59. Weekends – Amy Shark
This song is completely un-relatable because she calls a house phone and doesn't take codeine.
58. You Can Count On Me – Trophy Eyes
The best thing to come out of Newcastle since Diorama and Henny Penny.
57. Everyone's Waiting – Missy Higgins
I love a good song about writer's block. Or a gelato shop.
56. The Melbourne Divide – Danny McDonald
One of the best in the game, with a catalogue to rival Paul Kelly and Tim Rogers.
55. I Get Like This – The Heart Aches
Great punk that nails the drinking depression cycle perfectly.
54. Taurus All Apart – Davey Lane
How people in the 1970s predicted the 2000s would sound. So lush!
53. Stars – Sures
A rush of blood to the heart. Underrated shoegazey dream pop.
52. Hoops – The Rubens
The heir apparent to Powderfinger – this song holds the chorus back until the last minute, which is a good trick if you can keep people listening.
51. Sunday – Custom Kings
Sparkling power pop way too bright for Melbourne. Plus, they refer to themselves as 'CK' in the lyrics to this song, which I enjoy, and also sing about how this song went to number one, in this song (it didn't).
50. All I Want – Sarah Blasko
Haunting chamber pop that seems like it would scare little kids for reasons they can't quite verbalise.
49. Bones – Sam Shinazzi
Open-hearted folk rock from one of our best troubadours, and one of the few you can safely use the term 'troubadour' to describe.
48. Bad Apples – Briggs
Urgent and excellent hip hop from our future PM.
47. Somebody That I Used To Know – Gotye ft. Kimbra
Remember?
46. You Let My Tyres Down – Tropical Fuck Storm
A dark, twisted, tortured tale about the importance of signing up to the NRMA.
45. When I Dream – San Cisco
A fantastic song that continues a long lineage of perfect sunny Australian pop.
44. Aspen, New York – Bluejuice
The best song from their final album 'Company' which was packed with potential hits.
43. Light All My Lights – Seeker Lover Keeper
Three songwriters at the top of their game who know they don't have to hide behind 13/4 time signatures and walls of production.
42. Not Worth Hiding – Alex The Astronaut
A tear-jerking coming-of-age tale that seems like it's had a happy ending. Important.
41. One Of The Animals – Papa vs. Pretty
Mature rock from a band that was barely of drinking age, and split up way too soon.
40. Talking Straight – Rolling Blackouts Coastal Fever
Like The Triffids and Go-Betweens went on a road trip together in a beat up Datsun they have to push-start.
39. I Never Cried So Much In My Whole Life – Cub Sport ft. Darren Hayes
Darren Hayes swoops in right at the end of the decade on this gem, and it's like Savage Garden never split.
38. I Need You – Nick Cave and the Bad Seeds
Do not listen to this if you are experiencing any personal turmoil. It's heavy, heavy stuff.
37. Stitch – Baby Animals
A pleasing late-career gem that sprung up some 22 years since their commercial peak.
36. Alice – Dick Diver
Bouncy, jangling pop music that can brighten any corner. Are Dick Diver still a band?
35. Bayini – Gurrumul
A soothing salve from one of the greatest voices our country produced.
34. Body – Julia Jacklin
It sounds like the eerie tape diaries of someone long dead, released after these tapes were discovered in a suitcase bought at an op-shop.
33. Finally Something Good – Paul Kelly
How does Paul Kelly still have songs this great inside him? Up there with his very best '80s and '90s work.
32. Plastic Bag In A Hurricane – Pluto Jonze
The moment when Wizard of Oz turns from black and white to blinding technicolour.
31. Spiritus – Lisa Mitchell
The illegitimate daughter of Sarah Blasko.
30. Smoke Signals – Olympia
Glam-pop so smoky and sharp it belongs in a lowly lit '70s disco being hit on by Robin Gibb.
29. Winter Blues – Emma Russack
Sounds like it belongs on Carole King's Tapestry. So warm-sounding for a winter hymn about lonely, aimless wandering.
28. Two Weeks – Scott & Charlene's Wedding
Slacker pop about buying sausages and day-drinking to chase away depression. What's not to love?
27. Cigarette – Ali Barter
Commercial radio needs to get back to playing songs like this.
26. Because I'm Me – The Avalanches
Best listened to after waiting 16 years.
25. Palo Alto – Jack River
Jack River's songs got progressively more pop but this cool, dark gem was her high point if you ask me. Which, by reading this far, you have.
24. Do It Like That – Ricki Lee
File alongside '1 Thing' by Amerie, 'Single Ladies' by Beyonce, and the Kirby soundtrack.
23. Caroline – Bad//Dreems
The type of song a band puts out just before they realise how great they are. It's no surprise Mark Opitz, who helmed some of the best Aussie rock albums of the '80s, produced their debut.
22. The Opener – Camp Cope
As a man, let me explain to you exactly why you should like this song.
21. She's Like A Comet – Jebediah
A glorious comeback single from one of the best '90s bands, and it ended up being the most successful song of their career! That never happens.
20. Baby Teeth – Caitlin Park
A universe of its own: dusty samples, homespun production, handclaps, harmonies, and heart.
19. Stranger's Kiss – Alex Cameron
If Springsteen had taken acid and listened to Lee Hazelwood more.
18. Marryuna – Baker Boy
There's a reason this dude is the Young Australian Of The Year.
17. Avant Gardener – Courtney Barnett
The only asthma attack to ever make it to radio, unless you thoroughly misread 'Breathe' by The Prodigy.
16. Ducks Fly Together – The Smith Street Band
The most heart-on-sleeve song from a guy that specialises in the format, completely pissed away as an EP track, in the model of all great bands.
15. Slow Mover – Angie McMahon
It's like Nico mixed with Liz Phair mixed with every shitty night out in Oxford St you've ever endured in the search for life and love.
14. Delete – The DMA's
A lovely song that no errant apostrophe could ever delete.
13. Where I'm Going – Cut Copy
A pocket symphony that sounds like Van Dyke Parks had a hand in it (he didn't).
12. Fear and Trembling – Gang Of Youths
You can tell they were aiming for classic opening song status with this gem, and they absolutely nailed it.
11. Simulation – Tkay Maidzka
One of the greatest pop tunes to come out of Australia in years. Should have been an international hit.
10. Nullarbor – Lower Plenty
A long, dusty drive when the scenery stays the same but the air is alive.
9. Try – Hatchie
A shimmering slice of dream pop to rival Galaxie 500, Cocteau Twins and that one Cranberries song you like.
8. True Lovers – Holy Holy
Ripped straight from the John Hughes film of our dreams.
7. Covered In Chrome – Violent Soho
Did you know the American edit of this cut out the HellFuckYeah part, which is like editing out the songs from Grease to make it flow better?
6. When? – Holly Throsby
A timeless tale of heartbreak to end one of the most wonderful Aussie albums ever crafted.
5. Feels Like We Only Go Backwards – Tame Impala
A psychedelic serpentine smash straight outta 1967.
4. Bliss – Bored Nothing
A broken, beautiful song from a brilliant songwriter who didn't get his time in the sun, and burnt out way too early. R.I.P. Fergus.
3. Is This How You Feel? – The Preatures
An Australian classic from the very first beat.
2. Keith St. – Oh Mercy
A warm breezy pop tune that recalls Crowded House at their very best.
1. Down The Lane – Royal Headache
Could be from any era, any city, any lane. A perfect song.
---
The Music Network
Get our top stories straight to your inbox daily.