BRING agency & EA Games put Benee square in The Sims set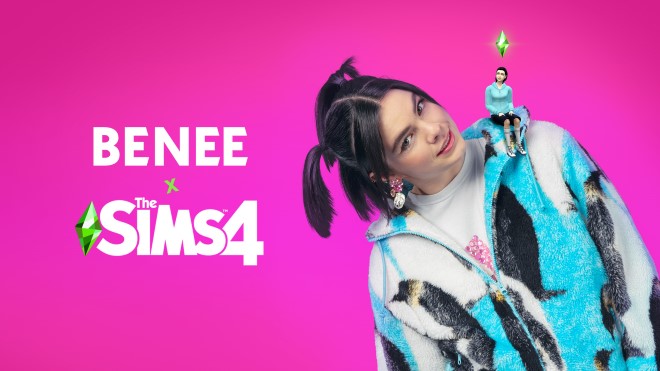 As an avid player of the super-popular life simulation video game The Sims, New Zealand international break-out act Benee has had a dream come true.
In her new video 'Kool', she gets to step into the game's suburban house set, hanging out with her avatar and doing what its virtual Sim characters do in their daily lives.
Benee also recorded 'Kool' in Simlish for players of The Sims 4 to enjoy her music in-game.
This virtual visit to the set was made possible by games producer EA Games and Universal Music Australia's creative agency BRING as part of a game-changing integrated global campaign.
"The Sims has an incredible community made up of Gen Z and millennial women, aligning to Benee's fan base, and we knew it would be a perfect combination," James Griffiths said, executive creative director at BRING.
"Benee is a huge fan of the game and this exciting idea kick-started a collaborative project that brought gaming and music passion points together.
"The music video for 'Kool' is a culmination of months of work and truly let Benee add her own mark to The Sims culture."
Added Craig Auld, marketing director for APAC, "The Sims is deeply integrated into pop culture, and it's amazing to see a rising star like Benee embrace the game's spirit for her music video.
"It was great to work with BRING and Universal Music Australia to bring this project to life.
"The music video embodies the game's creative and whimsical nature, and we can't wait to see how fans react to the video, as well as hearing 'Kool' in Simlish."
The collaboration was the meeting of two 21st century cultural phenomenon.
Since it launched in 2000 by the Maxis studio, The Sims generated worldwide sales of 200 million.
Benee's 2019 release 'Supalonely' was already a hit in Australia, the UK and US with 2 billion streams before it was adopted as a COVID isolation theme song this year.
The video notched up 70 million views, while its use in a myriad of TikTok clips added a further seven billion views.
BRING worked closely with the Maxis development team to design her original Sim avatar, bringing Benee to life as a character in The Sims.
The 'Kool' video was created by BRING's production partner Augusto with both music and gaming fans in mind, and combines the NZ artist's music with the quirkiness of the life-simulation game.
Produced by music video director Allan Bibby (Pharrell Williams, Rhianna, Coldplay) and Michelle Walshe, it showcases Benee inhabiting two worlds.
One is set in The Sims featuring the singer-songwriter embracing the role of a Sim and all of the comical nuances that go along with it; and another as herself in the real world controlling her Sims avatar.
"I wrote 'Kool' about people out there that seem effortlessly cool," she explained. "I'm nahtt like that! I'm a fan of The Sims and it's been supa exciting working on this collaboration.
"I hope fans of the game and my listeners love the video."
The Benee and The Sims collaboration marked the launch of BRING's new initiative, Brand Relevant & Authentic Video Entertainment (B.R.A.V.E.).
"With B.R.A.V.E., we are able to unlock opportunities with one of the world's most-watched content pieces on the internet: music videos," explained Adam Ireland, general manager, BRING.
Ireland added: "These creative artist assets drive millions of organic views and in a world of 3-second content reigning supreme, still lead on meaningful engagement.
"B.R.A.V.E. offers the next frontier of product integration, providing brands the ability to collaborate deeply on a music video with artists we know are popping, or are about to blow up.
"We deploy our global insights around music fans to design highly engaging content and build eco-systems that support the conversion of artist fans to brand fans."
The campaign centres around the original 'Kool' music video, with content rolling out through social and digital channels over the next month.
The Music Network
Get our top stories straight to your inbox daily.