Amyl and The Sniffers are charging in the U.K. chart race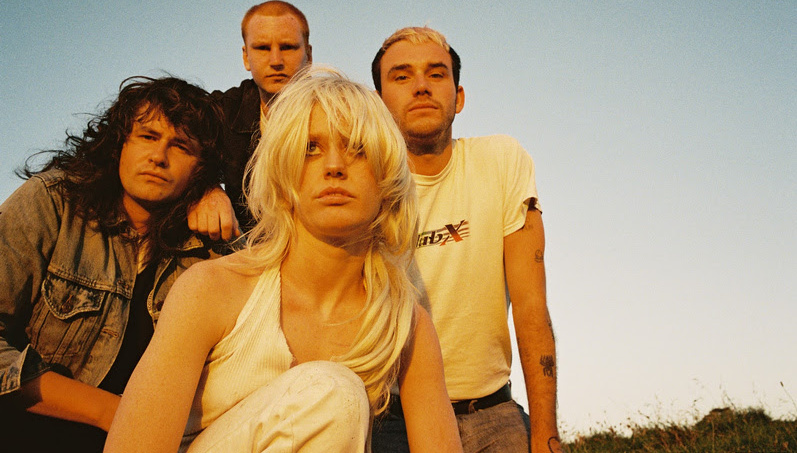 Amyl and The Sniffers can almost smell a Top 10 debut in the U.K.
The Aussie punk rockers' second album Comfort To Me fired away to a No. 11 start on the midweek chart album, just behind a resurgent ABBA Gold.
Wherever it lands when the Official U.K. Albums Chart is published late Friday, its entry point should eclipse the group's career best, a No. 91 for their 2019 self-titled debut.
Watch Amyl and The Sniffers' 'Guided By Angels':
That fast start is helped by a big splash in the Rolling Stone and the NME this week, a title that once hyped the Aussies as "the most exciting live band on the planet right now."
Led by explosive frontwoman Amy Taylor, the four-piece has risen from the underground into globe-trotting, indie cover-star status in a matter of years.
Formed in Melbourne back in 2016, the band self-released two EPs and a handful of singles before signing with King Gizzard and The Lizard Wizards' Flightless Records label in Australia and joining the band on a 22-date tour of the U.S.
A recording deal followed with ATO Records for North America, as did endorsements from Gucci, an SXSW showcase, and Geoff Travis' iconic Rough Trade signed them up for the rest of the world, becoming the first Australian band on the label since The Go-Betweens.
Watch Amyl and The Sniffers' 'Hertz':
Released in May 2019, Amyl and The Sniffers' first LP earned Album of the Week honours on Double J, 3RRR and FBi radio, hit No. 1 on the Australian vinyl chart, was shortlisted for the Australian Music Prize, and went on to win Best Rock Album at the ARIA Awards.
Another breakthrough came in 2020, when American Association of Independent Music (A2IM) awarded Amyl and Co. the award for Best Punk / Emo Album, and soon after, they signed with Mushroom Music Publishing.
Comfort to Me was penned during the Australian bushfire season of 2019-20, and subsequent pandemic.
Spanning 13 meaty tracks, the set was recorded at Melbourne's Soundpark Studios with producer Dan Luscombe, mixed by Nick Launay, and mastered remotely by Bernie Grundman.
Stream Amyl And The Sniffers' 'Security':
Amyl and the Sniffers won't be fenced in, they don't care for titles, and they're more than the sum of their parts.
"People want to limit me, and limit us, everywhere we go," Amy tells RS. "They'll pigeonhole us, and if you step to the left or right of that, they'll crucify you. I just think it's bullshit, because everyone can be everything."
Check out Amyl and the Sniffers' interview on the Modern Australian Underground Podcast on Spotify and Apple. 
This article originally appeared on The Industry Observer, which is now part of The Music Network.
The Music Network
Get our top stories straight to your inbox daily.