Amrap Chart Wrap – Community Radio Takes On Fresh Tracks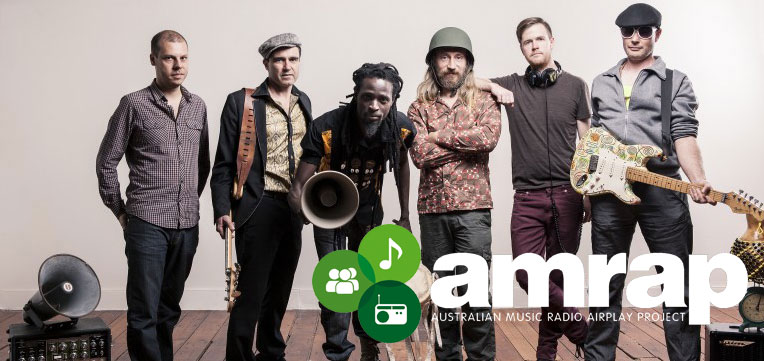 The Amrap Metro and Amrap Regional Charts offers a snapshot of what's gaining airplay and attention on community radio. The charts show the Top 10 tracks ordered for airplay by community broadcasters through Amrap's AirIt music distribution service.This week we see a number of chart debuts and an opportunity to catch a great live-to-air broadcast from a charting artist.
The Public Opinion Six's latest single Jappo took #1 of the Amrap Metro Chart.The pumping afro-beat track is up from the #4 position last week and also landed at #10 on the Amrap Regional Chart. Jappo just featured in PBS Melbourne's weekly top ten releases. Check it out online here on Adrian's Attic at Edge Radio Hobart.
Paul Kelly's Keep On Coming Back For More (feat. Clairy Browne) stayed at #1 of the Regional Chart for the third week running and moved three places down to #5 on the Amrap Metro Chart. It's getting community radio airplay in every State and Territory including Brisbane's 4ZZZ, Melbourne's Triple R, Byron Bay FM and on Perth's Harvey Community Radio where the music video is featured on Not the Planet of Sound.
Perth's Pond took #2 on the Amrap Metro Chart, up from #8 last week. Their warped and wonky track Zond also crossed over to the Amrap Regional Chart, coming in at #9. Pond are performing live-to-air today in the Triple R Performance Space so stream here from 6:25pm. Melbournians tune in on 102.7FM, or listen back to Test Pattern if you missed it.
NSW garage rockers New Regulars debuted at #4 on the Amrap Regional Chart with Shut Up. They're gaining traction across community radio nationally, from Western Australia to Queensland and down to Victoria's Mountain District Radio.
Melbourne's Dorsal Fins debuted at #6 on the Amrap Metro Chart with the warm horns and tight vocals of Mind Renovation. The recent 'Unsigned Artist of the Week' on Sydney's FBi Radio is gaining traction on Metro Community radio including here on Perth's RTR, Brisbane's 4ZZZ, and Melbourne's Triple R.
A host of other acts have stuck around in the charts from last week including Bobby Alu, Jeff Tynan, Husband and Mitch Capone.
Check out the full charts at www.amrap.org
The Music Network
Get our top stories straight to your inbox daily.